---
10-31-14 - The Malaysian flag has a moon, sun or star, and red and white stripes, the latter resembling the flag of the US which makes me do occasional double-takes and then go oh yeah. Must look that up. A rickshaw driver who drove us around an area of Melaka (Malacca) - small enough for us to have walked but still we enjoyed his guidance and banter - took us to a Melaka (sp?) tree that he said the city and state was/were named after. He said that Malaysia comes from Malay and Asia. Took a boat ride on the river in the center of town and saw a small crocodile. At our small hotel in the historic district, a hundred years ago a Chinese home, the receptionist showed us a map of where to go in the area. The first thing he circled was the Hard Rock Cafe. I said that that is the last place we'd want to go. Actually it was. We had great salads there so big we just ate the leftovers for lunch on the train on the way back to KL And the to-go containers are so good we're bringing them back to Bali. Taking the commuter train at the KL station had to make sure not to board a pink car - for women only.
---
10-30-14 - Talking with Wai Leng, our hostess in KL of Chinese ancestry, she agreed with my layman's take on the progress in SE Asia coming mainly from the Chinese due to their Confusion culture and that's why Japan excels as well. The emphasis on education, merit, progress, manners. There were other conservative forces holding them back until the West ignited the spark in the 2nd half of he 1800s. I suppose in the West it was some chemistry of the Abrahamic tradition (Judism/Christian/Islam) and the Greco-Roman getting things going till we had all these labor saving devices and so forth leading to the massive transfer of carbon in the ground to carbon in the air and our possible demise after untold millennium of stability. It's sure been fun though feeling so superior and getting to drive and fly around. Bet I can get some more educated comments from some of our buds. I'll try. - DC
---
10-29-14 - Kuala Lumpur such a mix of people. A Philippine served us dinner at a Japanese stall last night, a guy from Nepal rang us out at the grocery store, a Mexican gave us directions near the Indonesian Embassy where we met two Swedish women. Locals 61 % Muslim - the women in hijab and soft material, colors blending differently than the rainbow Indian Tamil sari both flowing to the floor, Chinese in tee shirts and pants randomly selected - vibes closest to us slob Americans.
---
10-28-14 - Couldn't get into the Indonesian Embassy today because I had shorts on. Two European women with shorts on got in last time. Maybe the sign wasn't up. A cab driver had baggy pants in his trunk he tried to sell me for 20 ringgits. No way. Anyway, also no problem. Katrinka got both our passports with the visas we wanted so we don't have to leave Bali for six months which means I'll be able to plug away on all this nonsense with fewer interruptions. Meanwhile, four more nights in Malaysia, two of them in historic Malacca. Tonight spent some time with two little girls feeding live crickets to the schools sugar glider.
---
10-27-14 - There seems to be an endless variety of Chinese food here in Malaysia. Dinner tonight several firsts in a neighborhood place we walked to. Must get Katrinka to describe it. Wai says that in America she gets them to give her real Chinese food, not what they serve most people. She says that two menu approach is common abroad. I was sort of out of it from a cold treated with capsules of Chinese herbs from Wai's mom's garden and the drive back on the toll road through verdant rain forest and thought maybe couldn't eat much but ate a lot and drank many little cups of smoky Bole (sp?) tea. And like the old jokes about how you're hungry an hour later, I never feel too full or heavy after a Chinese meal here. And the price was good - about seven bucks each.
---
10-26-14 - Rode with Wai and kids a couple of hours north of KL to Ipoh, Malaysia, where her mom lives and which she says is one of the top ten cities in the world for US expats. All the way a divided four lane freeway that goes from Singapore into Thailand - through lush greenery and approaching Ipoh beautiful mountains jutting up with sheer cliffs and caves. At lunch Wai said there's the best tofu in the world here - it's the water - and her young son taught me thank you in Cantonese. Just say, "Door chair" he advised, and drop the Rs. Now at another mall - chair by outside glass wall, storm approaching, matcha latte, high winds. Love monsoon season.
---
10-25-14 - Dim Sum lunch at a fairly funky old place - so many varied yummy - before venturing to the new mall here way on the outskirts of massive KL. Got some reading glasses and am sitting at a Starbucks doing vital cuke work and waiting for Katrinka. The only ATM in the mall is out of order and the Starbucks couldn't read my cards the woman said because there's no smart chip on them. I said that's okay I'll just sit here and work and wait for my wife. A moment later I was brought the orange juice I couldn't buy and was told that the person in line behind me had bought it for me - young Chinese local. People here are so nice. I noticed it with the staff at the Dim Sum place - not officially, formally friendly and obsequious as staff in some Asian countries I won't mention that lost WWII but really friendly and nice. Yesterday a woman on the train went so out of her way to help us find the Indonesian Embassy making phone calls, walking with us, asking people on the street. I had to tell her she could go on and we'd find it from there, really it's okay. And then a man I asked did a Google Maps search and said we were looking for the wrong address, that they've got two addresses on their site, and he stopped a cab and told him where to take us. Come to think of it Japanese will do that too, they can be very out of their way helpful. My first experience in Kyoto in 88 was a guy buying my bus ticket and riding with me thirty minutes all the way to where I was going and then heading back to where we'd come from. Memories too many to mention or even count are coming up. And come to think of it even more, whenever I've told people in Japan or elsewhere how helpful and generous people there are, they tell me how helpful and generous Americans or Europeans were to them and then I hear good things about Africans and Mid-easterners as in Saudi Arabia and I remember Trungpa's talking about people's basic goodness and I know that holds true in the big picture even for the guy on a motorbike in Seminyak that months ago snatched the handbag of the woman I was talking to at the embassy yesterday and the suicide bomber who killed dozens in Baghdad.
---
10-24-14 - Went to the Indonesian Embassy in KL this morning and applied for six month visas. Then walked to the Petronas Twin Towers and hung around that area till late, getting back to the school where we stay twelve hours after we left. Walked in the park in front, had tea and food, visited the aquarium with a tunnel surrounded by ocean life - mantra rays and sharks overhead and to the sides. Saw a movie - multiplex just like the states and everything at least that clean. Light show with the fountains in the pond at night, locals crowded around to enjoy it. An interesting mix of Moslems, Hindus, Buddhists, Daoists, and Christians and a colorful mix of women's wear. The scene reminded me of a 2/3 scale of Dubai at night in front of the Burj Khalifa - the tallest building in the world. The Twin Towers were that until 2004. I walked around them that year and things are much more built up, modernized, malled and towered and posh now - the old neighborhood is gone. In fact, a great deal of what we experience in KL is extensive malls with everything American, European, Chinese, Japanese, Malay - anything to buy eat one could want including great cheap local food. A little different from Lembongan, the island we just came from, where I couldn't buy a pair of reading glasses to replace either of the two pair that happened to break there. Motorbikes for taxis and not that many of them. One extreme to the other.
---
10-23-14 - Katrinka got a DVD stuck in her Mac which made it sound all the time like a little animal was trying to get out. We were on that island and couldn't do anything about it but returned yesterday, went to the Mac shop a long way across busy Denpasar and they got the little animal out and I guess kept it as a pet. Then we flew to Kuala Lumpur to get new visas for Indonesia. Tomorrow morning to the embassy which will be closed in the afternoon I'm led to understand as it's Friday and that's a Muslim holy day. And we're tired. Nighty-night.
---
10-22-14 - Ran into a fellow Texan today in Lembongan when Katrinka and I were packing to leave. He has lived on the tiny island of Ceningan that's between Lembongan and Nusa Penida. There's a little bridge that goes over there that's so narrow that when motorbikes come by one has to press against the side and pray. Anyway, he co-founded the Aquatic Alliance - check it out. And here's an article on him and and his co-founder Helen Mitchell and it in the Indonesian Expat called Aquatic Alliance: Research & Conservation of Manta Rays in Nusa Lembongan - but they're concerned with a wider sphere than just Manta Rays. He mentioned that the shark population is way down and listed some types he used to see more when diving - I forget the names but I remember he said they weren't the type that bite. - posted in - Engaged Buddhism/Current Events as well
---
10-21-14 - Fixed the bad link to the Memorial Page - try to check all the links when post but connection on this island so poor can barely upload to begin with at times - at others it's fine. Yesterday Katrinka and I walked to the village on the narrow, sandy, bumpy road past thatch shanties, people carrying goods in baskets at the end of poles balanced on their shoulders. Often looks like Baja California with cactus. It's fairly dry here. Went forty minutes all the way to Warung 99 (Warung is restaurant) where many of the boats from the big island of Bali come in. Barefoot men and women wading through the water unloading boats. The big stuff is tackled by groups of women - took eight to bring the large coils of cable up the cement steps to load on the back of a truck. Tried the one ATM and it was broken.
---
10-20-14 - Prof. John Nelson of USF report and photos of a major cremation in Bali around this time last year.
and posted on John Nelson's cuke page created today.
---
10-19-14 -
We're staying at the end of the road to the Mangroves by the reef in Lembongan. Met a scuba diving teacher named Alberto from Mexico who's friends with Adi who runs this place, LOA, with his family. Alberto said he's tried to get property down here but they don't want any foreigners moving in. It's really low key. Sunday. Asked Katrinka to take photos at the back with the falling in old thatch and other makeshift huts, locals hanging out by some motor bikes banter kids laughing one youngster naps. Electricity is out for a few quiet hours a day. Sometimes when it's on staff/family/kids watching soaps or cartoons on communal flat screen that was probably installed by owners with guests in mind. That's the norm. Hey - they read my mind. It's off. Wrong - electricity went off again. Now it's back - with Sponge Bob in Indonesian.

---
10-18-14 - We went by fast boat with two outboard motors at 8am this morning to snorkel with really big Manta Rays off the coast of Nusa Penida, the big island next to Lembongan. I read they get up to 22 ft. across but these looked more like six to ten. Water was a little rough but surfer Adi whose family runs the place we're staying led the way pointing at dark figures approaching. They ride near the top, big mouths open for plankton. One brushed gently by me. Awesome. Recalled Jake Fishman telling me once south of Acapulco having one unexpectedly swoop right over him. Then to Crystal Bay with colorful fish and huge colorful coral varied coral clusters. A reverent sense of the vast majesty of life and the nameless wonder it reflects.
Starting Saunters 2 today and moving posts previous to this month to Saunters 1. The file got too big.
---
10-17-14 - Went out this morning at six in the kayak for floating zazen. Hours at the Zenbook. Now later afternoon. Ocean breeze, kelapa muda - young coconut - as is - drinking with straws from the severed top. Just tried it with a bit of lemon first time. Good. Dogs here are nice, playful, romp in the tidepools, sit at our feet - nothing to protect, no walls, almost no doors. Local color - the staff, five, all family, watch Indonesian TV - outnumbering the guests now just Katrinka and me as the day guests have left to catch their boats. Little rat that lives under the deck just grabbed a paper napkin and darted back in.
---
10-16-14 - Had to get a motorbike ride into the village to upload. I guess this is a village. Welcome to Bali Edo Deli. Didn't realize at first that we've got the only guest cabin at LOA. Their main business is people who come around to the mangrove area of Lembongan for a look, to have a drink or a meal. That's how we came the first time. Our boat arrived at ten in the morning and before it left at 3pm, we had a driver take us around on the bumpy roads to see the seaweed farms and views. We stopped here in the Mangroves for lunch, walked around, and found this place - the only place here to stay we know of other than a homestay down a ways across the road. Yesterday and today a group of about twenty Japanese followed a guide down the beach to somewhere. Way off in the distance we can see Bali's highest Mt. Agung beyond the snorkel boats and deep blue water.
---
10-15-14 - Son Kelly's mom Daya Goldschlag used to kayak around the SF Bay all the time. Katrinka's son Seth left us the inflatable kayak he brought and today for the first time kayaked. Went out to where the boats bring folks to snorkle and scuba and a skipper of one little rig, Maxi, suggested we trade for a while. Climbed into his boat and he into mine. A nice interlude talking with a Spaniard and a Jakartan who loaned me his mask and snorkle so I could inspect the brightly colored fish below. Paddling back came upon a snorkler the back of whose head, posterior, and heels reminded me of Katrinka. It was she. Had wadded and swum out. Tried to tow her back in but it was too hard so had to leave her out there with the coral and starfish.
---
10-14-14 - Rode over in an outboard powered catamaran with boxes of tile and a few other fureigners taking twice as long as the fast boats. The Bay of Bali was fairly calm but after a wave of dizzy hit when I wrote a note, put the pad away and stared at the sea ahead. Lembongan, an island that's part of the Province of Bali. We're staying at Loa Beach House Mangroves - owned by Japanese which right now is all can get on that site - look at the photos. The Internet here is okay. This is more like the image one gets thinking of Bali - especially if can get a break from the Indonesian soaps coming from the TV in the Kitchen next door. Walked out a couple hundred yards in shallow warm sea in aqua shoes careful not to step on any coral or starfish.
---
10-13-14 - Got everything packed up today for our landlords to store down the street at the home while we're away for 18 days. Nice old Nyoman was to come at five to truck it down but he arrived four hours early with more boxes and was a great help getting everything ready - fitted stuff in containers, taped boxes and wrote our names on them, and a lot more. Tomorrow morning he'll drive us and other stuff to the 10am boat for Lembongan. Have to wade into the water to get on it. I've watched people boarding the early one when I've walked down there in the morning to have tea at a little stand on the beach. Katrinka gave Nyoman some cheese and homemade sambul which is what they call their salsa - but this is her Mexicanish version.
Got a bunch of Suzuki lecture early edits to get together before going to sleep - 85 or so of them the only edited versions we've got. Now there are only the verbatim versions of these posted on shunryusuzuki.com. Soon the early edits will be there as well. And will feature them one by one here on cuke when the Wind Bell lecture series is finished in a couple of months.
Oh yes - the Internet might not be so good where we're going for the next eight days. Hope I can upload. - dc - posted in Saunters
- dc
---
10-12-14 - Bule, or foreigners, sometimes warn that you can't trust locals in biz deals but Widya, our landlady has twice returned a goodly sum of loot that she said we'd overpaid for rent. She and her hubby David are very responsive as in having ceiling fans installed when we asked and storing all our stuff in an interim while we're gone for 18 days before returning with social and cultural visas and moving back in next door. Then for six months we won't have to leave. I promised Katrinka while we're gone I wouldn't work over eight hours in a day. I think she's got an exaggerated idea about that.
---
10-11-14 - Gasoline here in Indonesia is subsidized and is about half that in the US which is half that in Europe and in Indonesia it went up by 44% last year and is getting ready to go up by at least that much again early next year. Taxis are pretty cheap now but transport and food prices will rise. People will not be happy about that. Maybe mass transit will improve and the plethora of vehicles will diminish, their sizes shrink. Sunset time - outside it's glowing pink.
---
10-10-14 - Katrinka has found that hanging some charred bamboo helps with the smell of things as it absorbs odors caused by dampness or making bathrooms without the proper traps to create a barrier to noxious odors which are common here in Asia including Japan.
---
10-09-14 - Earliest example of human art found in Indonesia - I guess the word "human" is extra but it sounds better to me with it - dc- posted in Saunters because it's what's happening in these parts.
---
10-08-14 - Just getting ready to watch the rising of a full moon in full eclipse. Here's a page for it for Denpasar. Lots of ceremonies going on. Fantastic music and processions on the beach, one with a row of at least 100 women dressed in beautiful traditional garb balancing tall baskets of offerings on their heads followed by men in white playing dreamy gamelan music. They came down the street to the beach onto the sand then down it the back up to some temple.
Here's a photo got from this page (which has many more great such photos) that looks pretty much like that procession just described.
---
10-07-14 - Some drizzles this morning. First precipitation in a couple of months as I recall.
---
10-05-14 - A Gamelan medley
---
10-04-14 - For the 2nd day in a row, there was several hours of traditional Indonesian gamelan music coming from the school next door. Here's a few minutes of simple gamelan music with explanatory notes. What was coming from the school was more complicated and varied with occasional vocals.
---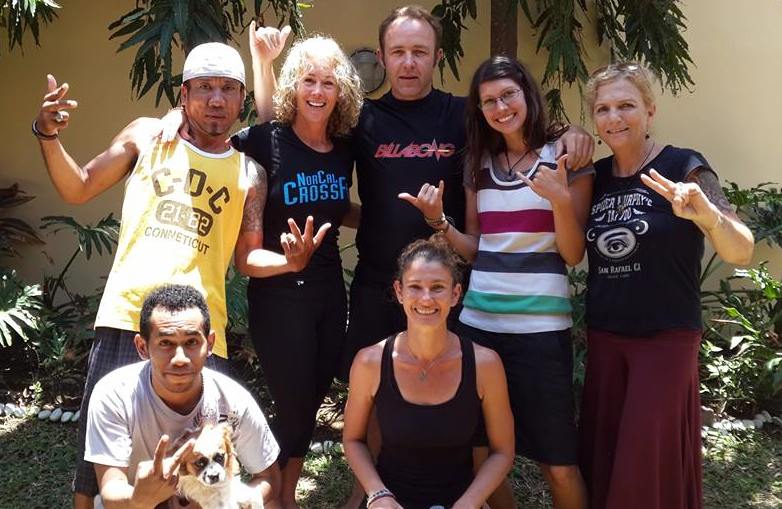 10-10-03-14 - Photo of folks at The Lighthouse Bali, a substance abuse program center Katrinka has been involved with. Photo by Scott who's on top middle. Alice to the right is the founding director.
---
10-02-14 - USF John Nelson eight month Far West Passage Blog - Bali page.
And be sure to see the post with other links about his new book, Experimental Buddhism: Innovation and Activism in Contemporary Japan, at 9-29-14 on the What's New page.
---
10-01-14 - Some Bali observations
Humming kites, humming and whistling bamboo poles stuck in rocks or sand at the windy beach.
Admiring a thatch roof. A bird lands and takes a piece of straw for its nest.
Watching ants on a path stopping to greet each one that comes from the other direction. One is screwed up wandering in circles.
Waiter sleeping on a bench near where we are eating lunch.
The Asian, not just here, use of "too" to mean very as in, "Good day for business. Too many people."
Sometimes the whole island seems to have run out of ink - trying to make out the figures on a receipt from a machine that badly needs a ribbon change.
---