---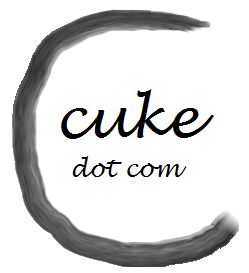 WHAT'S NEW
(daily posts Zen and nonZense)
- and what was new before that back to '99
Hit What's New to go to cuke blog
---
Places to go in cuke - a page of links within this site
New this year: All SFZC Wind Bell publications 1961 - 2012 with Shunryu Suzuki lectures and comments featured.
People index (partial)
---
table of contents of this site
---
Books by and about Shunryu Suzuki
All SFZC Wind Bells and Suzuki Lectures from them.
---
Engaged Buddhism/Current Events
---
Donate to the Crooked Cucumber Archives (Cuke Project) and cuke.com
---
---
We want to continue. Please Donate. Thanks. - dc
---
Search includes cuke blog (where What's New is). Place an "and" to narrow search. Example: Hoitsu and Eiheiji - Put quotes around exact search string.
Cuke is so vast and such a mess, it's often easier to find things on cuke by using that search box. That's how I usually do it. - dc
---
Cafe Press Cuke Basket
the outlet for tee shirts and stuff from cuke.com
---
cuke-annex (for nonZense)
Climate Change species threat thus a threat to zen practice
---
Anything that is written and published in one way or another, and this counts as one way, is automatically copyrighted. Also, anything on this site that is not already owned by others may be used freely but if there is money to be made then it has to be shared. Same goes for my other sites and the cuke blog. In the event of my passing this material all belongs to my heirs with the same stipulation. If anyone makes money on it it should be me or them but I like it all to be available for free. - David Chadwick, 2-23-16, Sanur.