---
Cost of the War in Iraq

(JavaScript Error)
---
---
---
---
---
---
---
11-29-10 - In praise of … Chalmers Johnson - from the Guardian
RIP to the political prophet who warned eloquently of the perils of empire and the urgent need to dismantle it. - dc
---
8-28-10 - MLK's emphasis toward the end of his life was to work for peace. This article from WagingPeace states it well and simply.
---
And speaking of peace, here's a month old piece by Ralph Nader on the War in Afghanistan.
---
8-05-10 - Hiroshima Day - time to go see Countdown to Zero
---
7-24-10 - Don't Blame BP - a pinched image short
---
7-16-10 - Forecast of an EMP destroying solar storm and what to do about it.
---
7-08-10 - Save Sakineh from Stoning in Iran
Happy to see progressive commentator Cenk Uygur on MSNBC - here bemoaning Obama's economic strategy.
---
7-05-10 - Thanks to Richard Speel for sending:
Don't be afraid of a flag...Sometimes it blows and other times it waves...

Have a peaceful day of interdependence!
Joseph Campbell was pro flag and I looked for a quote from him on it 
but couldn't find one. Cuke is neutral. - dc
---
7-04-10 - Put Away the Flags
by Howard Zinn
Happy July 4th!
---
7-01-10 - Join the Peace Team to help us end the occupation of Afghanistan as soon as we can.
Posted in Out of Afghan!
---
6-12-2010 - Remembering Jacque Cousteau, a timely post.
---
6-09-2010 - Noam Chomsky and Ralph Nader - I don't think either should run for president, but to me each in his own way sure cuts through the established propaganda and assumptions. - dc
---
5-28-2010 - Wealth gap grows between black and white Americans. Bad.
---
5-06-10 - The Fog of World War II: Setting the Record Straight on D.T. Suzuki by Nelson Foster and Gary Snyder [ filed in the Brian Victoria department]
---
5-02-10 - From the Final Broadcast of the Bill Moyer's Journal: Plutocracy and Democracy Don't Mix
---
4-29-10 - FAIR article NPR Touts Pro-Nuke 'Environmentalists' including a look at Stewart Brand - see 4-24-10.
Bill Gates TED talk on how we've got to innovate to zero carbon emissions before long and how.
What's the official cuke position on all this? A I wrote to a friend recently: standing with hands in pockets and mouth agape going duhhhhh.
---
4-26-10 - A response to Stewart Brand's pro nuke energy spiel of 4-24-10
Just to add my two cents: I've thought for some time now that Brand is not primarily an environmentalist. He's a technologist first and foremost. I find his stand on nuclear power reprehensible. But I don't find it nearly as reprehensible as Judy finds it reprehensible. She's really bugged by the renewed interest. If you haven't already read it, read "The Party's Over" by Richard Heinberg. I find it nice and clean and clear and devoid of technophile delusions.
from Mark Bittner and here's a link to his partner Judy Irving.
***
From Transition Culture, a series on Why nuclear power is not the solution (he just sent a link to #4 but I put here the whole series-dc)
Why Nuclear Power is a Non-Response to Peak Oil – Part 3 – because if it Goes Wrong it Goes Really Really Wrong…
There's an element to the lifeaftertheoilcrash site that I don't like. The survivalist bit. But there was some good information about nuclear power, which is why I sent the link.--Mark B
---
Mark writes: An understanding of this is somewhat dependent on an understanding of "Peak Oil," an extremely interesting and way-of-life-changing topic that, so far, has received very little attention. I recommend Richard Heinberg's site as a starting point: http://richardheinberg.com/. And as I mentioned, his book, The Party's Over, is a great primer.
---
---
---
4-24-10 - Stewart Brand - rethinking green on FORA-tv. I love to have all my cherished assumptions about something undermined. - dc
The Long Now Foundation's link to rethinking green.
The book: Whole Earth Discipline: An Ecopragmatist Manifesto.
See his annotations to this book at his website.
---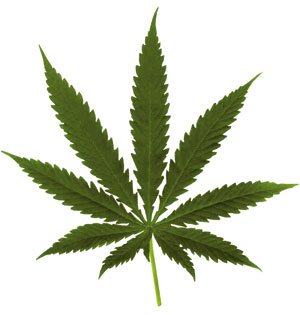 4-20-10 - Today's the big day for pot. Why?--that's right - kids from around here (Marin County, CA) started it. May people be persecuted for using pot no more. See NORML and Legalization of Marijuana dot com and MPP. I don't use it or anything but caffienated tea - but I don't use persecution either--that most harmful and addictive drug. That's why cuke dot com enthusiastically supports harm reduction - reducing the harm from drugs and the war on drugs (read war on people).
What is harm reduction?
Harm reduction on Drug Policy dot org
---
4-18-10 - Los Alamos Lab's CMRR-NF project would send wrong message to world By Willem Malten in the Santa Fe New Mexican - another posting in the Nuclear (pronounced like "new clear") Threat section4-17-10 - Updating the Species Threats section - nuclear threat department.
---
Significant movement on nuclear weapons reduction - but not really getting below species threat level, still within psychotic planet definition - featuring Jonathan Schell's April 2010 article Reaching Zero in the Nation with other links and reports.
---
11-29-09 - Congratulations and may the force be with you to Sarah Weintraub for her position as new director of the BPF. You might be thinking, 'You mean the British Property Federation?' Nope. 'Then it's the British Plastics Federation! How wonderful!' Nope. 'Does it have anything to do with Band Pass Filters to attenuate frequencies?' No no no. I'll give you a hint. It's in Berkeley. 'Oh, she's the new director of the Berkeley Packet Filter used by some Unix systems? But that's not the name of an institution. It's a filter.' That's right and you're wrong. It's the Buddhist Peace Fellowship.
The BPF just sent me an email stating, "We are happy to endorse the World March for Peace and Nonviolence, coming to San Francisco on December 2!"
And this notice proudly goes to cuke's CurrentEvents\EngagedBuddhism section - as does the next one.
---
11-30-09 - European Parliament passes resolution: Vietnam must curb human rights violations
---
12-05-09 - Best of luck to:
May your venture succeed.
---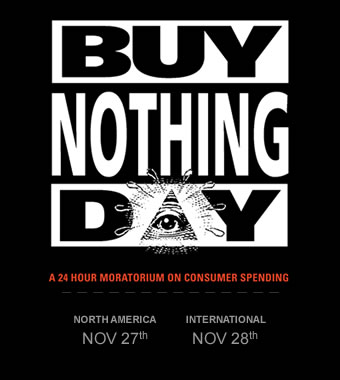 11-27-09 -
Quick! Go out and buy nothing!
---
filed in CurrentEvents\EngagedBuddhism
---
11-26-09 - Common Dreams, for the discriminating cuke-EngagedBuddhist.
---
11-25-09 - The Regressive Antidote. This guy would have been fun to have as a political science teacher. Boy does he trash Obama. But I know he wishes Obama and all of us well.
11-19-09 - Guilty until proven innocent? Where? Most places if the government really wants to get you. We hear about China, but one place that's overlooked is Japan. It's pretty extreme there. I remember a young woman teacher who got arrested by accident but still had to sign a confession before they'd let her go. Read this.
---
11-07-09 - Roots of Peace dot org - Founder Heidi Kühn and her hubby Gary (I think) are on their way to Afghanistan to do their mine-removing thing. We wish them a safe and successful journey.
Let me take a moment to stick in a link to the Huff Post's post on Gorbachev saying the US should learn from Russia's experience and get out of Afghanistan and US National Security Adviser James Jones Skeptical about Troop Request. - in Out of Afghan!
---
Afghanistan: Groundhog day - Guardian UK - in Out of Afghan!
---
11-06-09 - May the US Invasion of Afghanistan Come to an End ASAP - in Out of Afghan! - a new page in the CurrentEvents\EngagedBuddhism section.
10-28-09 - Keeping up with the Clear View Project and their present fundraising drive.
---
10-27-09 - Eric Arnow - Letter to Barak Obama
---
10-22-09 - Shunryu Suzuki and the war. What did he do? It's a question that keeps popping up so here's the latest exchange on the subject. - DC
---
10-17-09 - Vietnam: Sharp Backsliding on Religious Freedom - Harsh Crackdown on Followers of Buddhist Peace Activist Thich Nhat Hanh
---
10-16-09 - Food day praise for Brazil and China, New Zealand and the US on the bottom - of action to meet the cry of world hunger. - Think of this fellow USAers... [more by dc in dchadmisc]
---
10-15-09 - American Drug War dot com
Ron Paul strikes again - this time on the war on drugs, especially pot.
---
11-10-09 - Time-lapse proof of extreme ice loss - thanks Steiner
---
---
10-09-09 - Obama wins Nobel Peace prize. Wow. Rather than receiving this award for what he's done, it's obviously encouragement for the direction he's turned to - to eliminate nuclear weapons being the most significant, but for more than that. They mentioned global warming attitude shift as well. Maybe this is a proper approach in these times of serious threats to the survival of our species. By this I mean that it's not unreasonable to think there's not much time for action and why not use the award to applaud promising intentions. Now I hope there's more movement toward holding his feet to the fire to reduce the damage of our foreign policy and other threats to world peace and species survival. - dc
---
10-04-09 - Comparing health care to fire care - thanks
---
10-03-09 - Frank Rich on Obama at the Precipice as Kennedy was with a pointless, futile, massively deadly, destructive war.
---
10-02-09 - On the peaceful use of space
---
10-01-09 - Happy October - In Germany anyway. It's yesterday evening in America still but I don't know when I'll be able to post next so it's going up now.
And now for a statement of personal conviction. I think there is a dangerous amount of hysteria in the US of A at the present - I guess it could be called political hysteria. I think that it is important for each of us, at least me, to do what we can to help to cool it off, to counter it or redirect it, to stand up and be counted, write letters to the editor, talk to neighbors, encourage media not to stir it up, pray, meditate, visualize, practice loving kindness, crack jokes, etc. Or maybe you think that doing nothing is best cause whatever one tries to do will just add to the problem - sort of a Taoist approach I guess. I'm packing to go on a trip right now (see yesterday's entry) but will get back to this as soon as I can. In the meantime, I'll remember the helpful mantra from my childhood (as mentioned in Thank You and OK!):
When in trouble
When in doubt
Run in circles
Scream and shout
Peace,
DC
---
9-23-09 - Bija: the Seeds of Freedom from Willem Malten's blog.
---
9-22-09 - The 2010 Project Censored book is out.
---
9-09-09 - Sane (to DC) comments and links on the current health care debate going on in the US.
---
9-02-09 - Krugman's article on where economists went wrong remind me of the importance of not taking our assumptions too seriously in other fields as well - like Buddhism etc.
---
9-01-09 - Willem Malten sends thoughts on food and climate change.
---
8-27-09 - US Campaign for Burma - don't forget.
---
8-19-09 - Buddhist Peace Fellowship - lot's of new stuff to keep up with.
---
1-23-09 - A message from Green Gulch
We are celebrating the cease fire and the hope that our new President will increase the chances for peace. Obama's first phone call was to Mahmud Abbas. The article in Time acknowledges Eric's unflagging intention….. and here again his blog link.
With gratitude and love, emila
---
8-10-09 - The Wrong Diagnosis
Andrew Weil on the current health care debate.
---
8-02-09 - Sri Lanka in a bad state. Thanks John Steiner
---
7-31-09 - Crooks and Liars is not only a great site for short videos of and links to what's happening in the news like this cool move from the house floor and this clip from my fave, Thom Hartmann, there's an occasional far out flick like this. it's also got a great selection of music videos usually put on at the end of the day. And there's the Late Night Music Club with a wonderful array of music at the end of the day - like this great piece by Cab Calloway and two great dancers.
---
7-29-09 - Sarah Robinson writes on our future.
---
7-25-09 - The Ubiquitous Matrix of Lies
---
6-30-09 - Congratulations Al Franken! and condolences to Buddhists and Other Spiritual Seekers Opposed to Progressive Comedian Politicians.
---
6-28-09 - Clear View Project & Adopt a Monk - Clear View has taken responsibility for BPF's (Buddhist Peace Fellowship) Burma Project
---
6-26-09 - UN INTERNATIONAL DAY IN SUPPORT OF VICTIMS OF TORTURE
---
5-30-09 - Why torture has failed.
---
3-19-09 - Homelahttp://www.homelandgitmo.com/nd Guantanamos - immigrant detention in the US
---
3-10-09 - Maine Town Passes Ordinance Asserting Local Self-Governance and Stripping Corporate Personhood
---
3-06-09 - Sarah Weintraub writes about
The Dar Papaya Project - Documenting Youth for Peace
---
2-05-09 - ClubOrlov: Social Collapse, Best Practices - a talk to the Long Now Foundation by Dmitry Orlov - thanks Willem Malten
---

1-22-09 - From this article in UK Guardian - it's all off the new White House website. Filed in Species Threat/nuclear war
The other notable shift in US foreign policy announced today was a strategic decision to move towards a "nuclear free world", through bilateral and multilateral disarmament. "Obama and [Vice President Joe] Biden will set a goal of a world without nuclear weapons, and pursue it," according to the agenda. It is a long term goal. The US will maintain a "strong deterrent as long as nuclear weapons exist", but begin to take steps on the "long road towards eliminating nuclear weapons".
The development of new nuclear weapons will be stopped, a sharp change from the Bush administration that pushed for a new generation of warheads, and the new administration will work with Moscow to take US and Russian missiles off their current hair trigger alert, while seeking "dramatic reductions in US and Russian stockpiles of nuclear weapons and material".
---
1-21-09 - Check out WhiteHouse.gov - stuff worth looking at. Read A National Day of Renewal and Reconciliation - Obama's first proclamation. It's a bizarre twist of events in our CurrentEvents\EngagedBuddhism section.
---
Snopes in direct contradiction of fervent anti-Obama cuke readers' assertion that Obama is the anti-christ.
---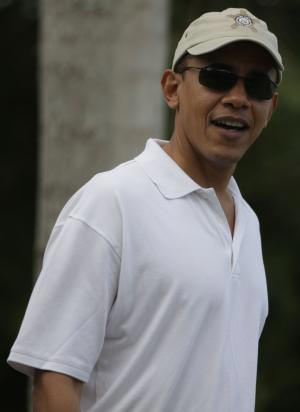 1-20-09 - The whole staff at cuke.com welcomes our new president. We look forward to opposing his policies when they promote the continuation of war, imperialism, corporatism, and the destruction of the planet, and hope our hope proves true - that he will do much less harm and encourage our higher angles a bit. Saw the inaugural with son Clay and fellow students and teachers and parents on wide screen TV followed by pancakes. What a day. Now enjoy Obama Girl and Obama Duet and Li'l Yani rapping Obama Made Me Proud (thanks Gene DS).
---
1-19-09 - One of the great liabilities of history is that all too many people fail to remain awake through great periods of social change. Every society has its protectors of the status quo and its fraternities of the indifferent who are notorious for sleeping through revolutions. But today our very survival depends on our ability to stay awake, to adjust to new ideas, to remain vigilant and to face the challenge of change." - Martin Luther King Jr. (thanks Barry Vesser)
And let us remember today what the mainstream tends to conveniently ignore about Martin Luther King - that toward the end of his life he was marginalized for his emphasis on, his passion for peace, for ending the war in Vietnam. - dc
---
1-17-09 - The National Religious Campaign Against Torture reminds us that torture is a moral issue, enlists religious organizations to join in opposing torture and works toward a change of policy by the US government.
---
1-15-09 - The informative Free Speech TV
---
12-14-08 - Thom Hartmann on Countdown - a great commentator on the political, social scene - and he goes deeper. See his website.
11-22-08 - Massive imprisonments underway in Burma and what to do
---
11-05-08 - hallelujah!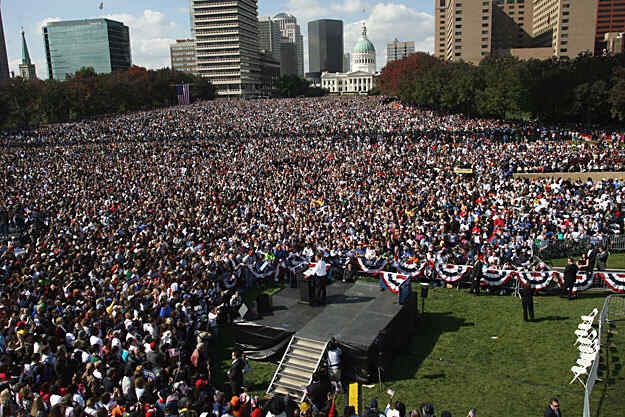 Barak Obama speaks to a crowd of over 100,000 on October 18th
If you look in the distance there, you can see a building with a greenish-copper
dome. That's the Old St. Louis Courthouse. For years and years, slaves were
auctioned on the steps of that courthouse. The Old Courthouse used to be called 
the St. Louis State and Federal Courthouse.
Back in 1850, two escaped slaves named Dred and Harriett Scott had their petition
for freedom overturned in a case there. Montgomery Blair took the case to the US
Supreme Court on Scott's behalf and had Chief Justice Roger Taney throw it out
because, as he wrote, the Scotts were 'beings of an inferior order, and altogether
unfit to associate with the white race, either in social or political relations, and
so far inferior that they had no rights which the white man was bound to respect.
Text from unknown source - thanks to Jane Bay for passing it on and for a hallelujah email as well.
---
On Obama's Victory Speech, a note from elder son:

This is one of those moments I was born too late to experience………..until now, 35 years in. The delivery of sincerity, hope, vision, depth, transformation and eloquence is so powerful it transcends whether or not our species' terminal direction can be changed. It speaks to our soul, to the higher elements of existence. It reminds us of the divine in humanity.

Love to you all,

Kelly Chadwick
---
The whole cuke.com staff sends its condolences to Buddhists for McCain Palin, Zennists for Nader, and Mahayanists for Barr.
---
11-04-08 - It's a big day in the USA. How's the betting going?
---
11-03-08 - Cuke picks Talking Points Memo as the best site to follow polling and election results. Bill Moyers says he starts his day with TPM.
---
Huffington Post's Voting Problems section is excellent.
---
---
---
10-25-05 - Obama or McCain? Cuke.com presents both sides - you decide.
---
Zennies for Obama submit these videos:
Ron Howard's dynamite Obama ad (with Andy Griffith and Henry Winkler)
Yes We Can - traditional version
Kelly Chadwick's email to his conservative friends
---
Buddhists for McCain present their case:
Why women should vote for McCain/Palin
Why I'm Voting Republican - reasons from many sources
---
10-24-08 - Doctor Laments Brush-off of Iraqi War Dead - Tom Paulson of Hearst Newspapers on the research of Dr. Les Roberts. Here's another article by Paulson on Roberts from last year.
---
10-17-08 - Thanks to Shunryu Suzuki disciple Ron Browning for sending the latest on election fraud.
Block the Vote by Robert F. Kennedy Jr. & Greg Palast in the current issue (#1064) of Rolling Stone.
The Kennedy-Palast revelations go far beyond the sum of questionably purged voters recently reported by the New York Times. Read more about this and how to get the comic book in the cuke.com Election Fraud department.
---
10-12-08 - Love Naomi Wolf, warning about America's slide into fascism
End of America - the movie from Wolf's book
---
10-11-08 - Why the GOP Is Nuts About ACORN
Here's the CBS report on registration purging
Ten ways the McCain/Palin GOP is now stealing the Ohio vote
These reports filed in the Election Fraud department
---
10-10-08 - BBC-TV: "Set up to steal it again."
Is 2008 already fixed? - Greg Palast
"A lot of Europeans wonder: Why are Americans so crazy, they keep reelecting this guy?" Well the answer is, we don't! They keep stealing these elections! And they stole it in 2000, they stole it in 2004, and they're all set up to steal it again!" - Robert F. Kennedy Jr. on BBC Television Newsnight
Read about ACORN which registers voters and the phony voter fraud case against them so their registrations can be thrown out. Here's a follow up on how the media is buying into it.
---
Deregulation sank the Titanic.
---
10-09-08 - New York Times - States' Actions to Block Voters Appear Illegal (and they're talking swing states) - Filed in the Election Fraud section.
---
10-03-08 - Some links to articles on lose your house lose your vote and other election fraud
---
10-01-08 - the conspiracy worth your time - election fraud. Tonight's CBS evening news covers this under-reported subject that most Democrats have been shying away from even though it is costing them elections, like for instance the last two presidential elections. Take a look at:
New Study Details Massive Voter Roll Purges Underway in At Least 19 States
Brennan Center for Justice Report on Voter Purges (released today).
Look at past links in the cuke election fraud section.
tomorrow - something Buddhist I promise - dc
---
9-23-08 - A new book on the sham of political polls by an insider.
---
9-20-08 - An Open Letter From a Former Religious Right Activist
---
9-16-08 - NRCAT - Torture is a Moral Issue - a reminder
---
9-15-08 - Greg Palast on voter suppression
Listen to the report on the Air America Radio's Thom Hartmann
filed under election fraud
---
8-06-08 - Hiroshima Day - ICAN - International Campaign to Abolish Nuclear Weapons. One article on the threat of accidental nuclear war with Russia, possibly the #1 threat to the human race even today. Filed in Species Threats under #!.
---
6-26-08 - Thanks to John Cusack and Keith Olbermann for doing their bit to remind us that we're in a war, a war we forget and which networks are neglecting - check out 2 minutes a week. Remember - it's not just those bad crooks running the US, it's all of us allowing this to happen - forgetting the human toll of Iraq and, oh yes, that other war.
6-13-08 - If you haven't seen this slide show on Dubai you might be interested - filed in CurrentEvents\EngagedBuddhism (thanks Kelly).
Compare the Green Mega City of the future - if we survive (thanks JR).
---
5-07-08 - UN - Myanmar a Major, Major Disaster
Campaign for Burma BBC - aid arriving
---
5-03-08 - Free-floating Mainstream Madness. Thinking about Steve Tipton's new book and reflecting on the confused state of awareness in our country these days, I get carried away with another pinched image short, this one political. - dc
---
4-30-08 - Cenk Uygur is a bright and humorous commentator on today's political scene. Here he reframes the debate on patriotism.
---
4-24-08- From Truthout --- Bomb Bomb Iran by summer's end? - thanks Taigen - added to the Iran attack department.
---
4-23-08 - The Story of Stuff - thanks Ron Browning
---

4-22-08 - Happy Earth Day!
---
4-20-08 - End the war on people called the war on drugs, stop our addiction to filling our jails and prisons this way - bring on harm reduction and sanity.
Today we feature Drug War Facts - marijuana on the new Harm Reduction Page
Also, see in today's dchad misc - Shunryu Suzuki on drugs and alcohol
---
4-14-08 - Who Hijacked the Justice Department to Swing Elections? See Election Fraud.
---
4-13-08 - Are We Ready For a Minority Report Made Real? - more on this later.
---
4-10-08 - National Religious Campaign Against Torture has a new Banners Across America Campaign.
The Torture Drawings the Pentagon Doesn't Want You to See
A Torture Debate Among Healers by Amy Goodman
A conversation with the director of new documentary on torture, Taxi to the Dark Side
---
4-09-08 - Nothing posted today because Clay and some of his fellow students and I went to SF to see the torch go by which we didn't see and which we didn't think we were going to see because we already knew the route was being changed but we did have a great time watching pro Tibet protesters chanting "Free Tibet!" in the face of pro China protesters chanting "One China!" in their faces and people arguing but all in a rather civilized tone. I thought that the plight of persecuted Tibetans in China was not going to be addressed this way but I just watched.
---
4-08-08 - Al Gore: New thinking on the climate crisis
---
4-06-08 - View the BPF (Buddhist Peace Fellowship) page on Tibet and statements on Tibet, Burma, and Darfur.
The Dhamma Brothers (from Freedom Behind Bars Producutions) - thanks to dharma bro Ron Browning
---
4-05-08 - Say no to a new generation of nuclear weapons.
---
4-04-08 - Martin Luther King Is Still Silenced - In his last year of life King condemned American militarism and was taunted not by racist whites but by the MSM (mainstream media). But we don't see that in retrospectives. - in AlterNet
---
3-28-08 - A news item I find interesting because I was affected by so many older Japanese telling me their experiences and thoughts about WWII, memories many would deny. Sort of like in the US. - dc
---
3-27-08 - Meditative Peace Walk Across the Golden Gate Bridge in support of the monks in Burma - Wednesday, April 9, 2008
---
3-26-08 - Andrew Main writes on the current issue concerning China and Tibet.
3-25-08 - Free Countries Must Defy Chinese Blackmail and Greet the Dalai Lama

3-24-08 - Comment on the Current Tibetan/Chinese Conflict - Excerpted from Gelek Rimpoche's Sunday Talk, March 16, 2008 - thanks Howie
---
---
3-21-08 - Petition to end violence in Tibet - thanks to a few of you.
An additional request concerning the violence in Tibet from Barrie Mason - I am asking my friends and aquaintences to take a minute and speak up in behalf of Tibet. Since the 1950's China has been repressing the Tibetan culture which had flourished undisdisturbed for hundreds of years. The Dalai Lama's incredible patience and wisdom in dealing with his people's situation is testament to the teaching that the Tibetan culture could share with all of us. There are many ways to take action, saying a prayer might be one. You can call the San Francisco Chinese Consulate at 415-674-2900 and ask that China refrain from violence against the Tibetans. Take care, Barrie
---
A request concerning the violence in Israel from Emila Palmers at Green Gulch Farm - My son, Eric and three grandchildren live in Sderot, the border town to Gaza which gets all the rockets. He and a Palestinian friend from Gaza have a website. Please look at it. They write about their daily life in the war zone. They are circulating a petition they initiated and I am trying to get as many people to sign it.
---
3-19-08 - Washington Monthly - No More, No Torture, No Exceptions includes links to many other statements on torture. Also see: National Religious Campaign Against Torture
---
3-17-08 - Statement of Senator Barack Obama on the situation in Tibet - Chicago, IL | March 14, 2008
---
3-16-08 - So much now in the crazy dream-realm of social/political historical space-time happening. Don't know what to say. Here, this is what I'll suggest:
AlterNet and Salon.com and Bill Moyer's Journal and Talking Points Memo and The Huffington Post and Crooks and Liars and Media Matters and Common Dreams and Truthout and Truthdig.com and Thom Hartmann and Joe Conason and Air America Radio and Daily Kos and Eschaton and James Wolcott and Juan Cole and Max Blumenthal and Tapped and Greg Palast and Buddhist Peace Fellowship and is there any site you'd like to add?
---
3-13-08 - Spitzer & America's Perverse Ethics by Rabbi Michael Lerner known for Tikkun Magazine. Check out Tikkun dot org. He's also a co-founder of The Network of Spiritual Progressives. Anyway, this brief article by him on the recent Eliot Spritzer scandal states my thoughts more eloquently than I did to Clay last night when I said that if Spritzer had just supported corporate pilfering, mass murder, and mayhem he'd not be in trouble. Our leaders with our permission through war and pollution born of individual and corporate greed are causing millions to die, millions more to suffer disease and homelessness, brutalizing and torturing many more - the most extreme stuff on and on. We barely pay attention. But if they get caught kissing and hugging the wrong person then they must be banished! Clay said I was guilty of hyperbole. "How so?" I asked. "They do more than kiss and hug," he said. -dc - (thanks Gregory) filed in CurrentEvents\EngagedBuddhism
Greg Palast on the Spritzer mess
---
2-12-07 - The Folly of Attacking Iran - from Just Foreign Policy dot org
See their brief and informative video on the folly of attacking Iran
---
2-10-08 - Global Warming: Nine Things that Will Put us Over the Edge
---
2-08-08 - A World Without Armies
Report on the international conference
"Remembering Nanjing (Nanking)"
70th anniversary of the Nanjing Tragedy
See the PDF of the report with photos
Read more
thanks Kaz Tanahashi, a participant, for alerting cuke of this
---
2-06-08 - The Tenacity of American Militarism
What Progressives and Other Critics Don't Get about the U.S. Military By William J. Astore
---
2-05-08 - National Popular Vote - States join forces against electoral college: A piecemeal approach may be the only way to kill the anachronistic institution - Los Angeles Times Editorial.- from last June but appropriate for this election day. Thanks to MK - dc
---
Two recent articles sent by Taigen (see Taigens' Peace and Justice Page:
The Gulag Comes To The USA: A Political Prisoner: The Don Siegelman Case By Ernest Partridge
Creeping Fascism: History's Lessons By Ray McGovern
---
1-23-08 - James Carroll on the nonsense and danger of the term Islamo-fascism -
---
1-18-08 - National Religious Campaign Against Torture - Sign the Statement of Conscience, check on pending legislation in the News About Torture and What You Can Do About It box.
See Countdown: Torturers Like Us
---
1-16-07 - Arnie Kotler's Koa Books strikes again with:
Oakland • Santa Rosa • Santa Cruz • Berkeley
January 17 - 21, 2008 - SCHEDULE-times

Colonel (Ret.) Ann Wright -- Joined by Daniel Ellsberg in Oakland and Berkeley --
Will Read from her new book,
Dissent: Voices of Conscience - read more about it on the Koa Books web site.
---
1-13-08 - More on THE CONSPIRACY WORTH PAYING ATTENTION TO in the Election Fraud section.
---
1-11-08 - Burma Witness: Journey to a Land Cloaked in Fear by Hozan Alan Senauke - sent in by Taigen Dan Leighton. Found links to it in Atrocity News, Urban Travelers, Russian Girls CQ (really), Berkeley Zen Center for a PDF, among others.
---
1-01-08 - What will be the big story this year?

Is this the big story? Creeping Fascism - Ray McGovern interview or Naomi Wolf's interview on The End of America - thanks Taigen

How about election fraud? It's incredibly under-reported.

On the other hand, maybe GLOBAL WARMING will render the loss of our democracy insignificant. There's info everywhere on that. How about Al Gore's site, especially his speech accepting the Nobel Peace Prize. -

thanks Kelly
But I'd better link to these contrasting views to save myself the trouble later.

And let's not forget Burma.
---
12-18-07 - Comparing Climate Change Policy Networks by Jeffrey Broadbent, University of Minnesota - what one Suzuki student is doing to save our collective ass.
---
11-08-07 - Here's a neat quick video that explains the writer's strike - please support it if there's any way you can. Check out Huffington Post for more on this. The writers have a little problem in that they're striking against the folks who control the news, media in America becoming more and more controlled by a few jumbo corporations.
---
11-06-07 - Block Burmese JADE (Junta's Anti-Democratic Efforts) Act of 2007:
Get Your Representative to Co-Sponsor! - in the Burma Crisis info and action page
A "Paper Coup," and Blackwater Eyes Midtown Manhattan By Naomi Wolf
Silence is Complicity - Address by Mayor Ross C. "Rocky" Anderson on October 27, 2007
both those from Taigen.
---
10-24-07 - Don't Let the World Forget About the Saffron Revolution - This Wednesday, October 24th, is an important day for Burma. It is: 1) United Nations Day, 2) The day when Aung San Suu Kyi will have been under house arrest for a total of 12 years, and 3) One month since the uprisings in Burma were at their peak. The US Campaign for Burma will be marking this day with a host of actions around the world.
Burma Crisis info and action page.
10-18-07 - 16 things we can all do to help the Burmese monks and citizens
10-17-07 - Don't forget Burma!
10-14-07 - Andrew Main sends A Grand Misjudgment, another side of the Al Gore getting the Noble Prize story. And look beyond that to the site it's on, Counterpunch.
And here's more comment on Gore's prize - Of Spoils and Spoilsports - with lots of links to even more commentary and opinion on what it's Al about.
And to add yet a third link to today's CurrentEvents\EngagedBuddhism offering, read The 'Good Germans' Among Us By FRANK RICH in The New York Times, October 14, 2007 in which he contends: "BUSH lies" doesn't cut it anymore. It's time to confront the darker reality that we are lying to ourselves. It's about torture and how we know it's happening and can't say we don't.
---
10-13-07 - Hurray for Al Gore winning the Noble Peace Prize! It could turn out that through a bizarre twist of events, Ralph Nader saved the world. Nah - it's probably too late anyway, but good try Al and all! (Idea stolen from Josh at Talking Points Memo) - DC
Read what Scott Ritter has to say about stopping the rush to war with Iran in Robert Scheer's Truthdig.com.
See Iran Attack page.
---
10-08-07 - Two views on why doesn't the government do anything about Burma.

10-06-07 - TARA - A poem by Philip Whalen we recite for the Burmese today (and for all others).

10-04-07 - More on Burma - to read and to do

10-02-07 - Burma update - and it's not good
9-30-07 - Our rosy future, according to Freeman Dyson - thanks to jr. And thank goodness there's no more reason to worry.
---
9-28-07 - Myanmar soldiers attack Buddhist Monks. The latest from the US Campaign for Burma. Reuven passes on this link to Avaaz with their efforts to stand with the Burmese protesters. And, thanks to, swallowing, President Bush for focusing on these events.
Taigen's report has more links plus an unconfirmed report of the brutal slaughter of monks.
---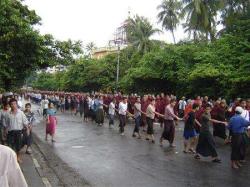 9-25-07 - Read Taigen Dan Leighton's brief comments and suggestions on the events in Burma (which include the following).
On the Buddhist Peace Fellowship site: Two Actions You Can Take to Support the Monks and Nuns of Burma
People link hands as they accompany monks marching in a protest against the government in Yangon, September 24, 2007. Tens of thousands of people joined streams of Buddhist monks on marches through Myanmar's capital on Monday in the biggest demonstration against the ruling generals since they crushed student-led protests nearly 20 years ago. REUTERS/Democratic Voice of Burma
May we not see a repeat of the slaughter of monks and laypeople in '88. Pray for peace. - DC
---

9-11-07 - Remembering the day six years ago when the whole world mourned with us and now mourning how we as a nation have turned that universal sympathy into antipathy. Since then hysteria fueled by greed, hate, and delusion have led the way, not the way pointed to by Jesus or Buddha or any of the great wise ones. We've poured gasoline on the fire and wander around choking and blinded by the smoke. We seem to be determined to join with forces of world suicide. Shiva, the destroyer, dances his eternal dance. - DC
click thumbnail to enlarge
9-10-07 - Listen to Scott Ritter at a book event for his new book, Waging Peace: The Art of War for the Antiwar Movement. See Iran Attack page.
---
8-31-07 - Sexy Senators and suggested consequences
---
8-16-07 - There is no center in politics by George Lakoff
Look at this interesting grid - Progressivism is not dead - on Blast Off.
This is one for the It IS Happening Here page.
---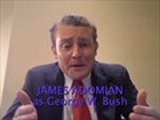 Friday August 10 - Welcome to the Bush Blog. It's time to stop attacking him and let him speak for himself so that we here at cuke can continue to uphold our commitment to be fair and balanced (great how that phrase has become a cause for ridicule).
---
Thursday, August 9, 2007 - Remembering Nagasaki from the website of the Exploratorium, a great institution in a great building in San Francisco.
---
8-08-07 - Saw this last night. Horrors. - DC - Orwell Rolls in His Grave - "About the manipulation of the media by America's ruling elites solemnly stokes the resulting flames of angry discontent... Exploding the myth of the American media's liberal bias." - BBC - CurrentEvents\EngagedBuddhism
Also in the same section - President Bush Vows To Protect Us [Crooks and Liars link] from the Evil Zombiefascists [my.break link]
---
Tuesday, August 7, 2007 - Tearing what's left of my hair about the Protect America Act - - vomit, scream, retch, bang head on wall. Distraught DC email to Senator Dianne Feinstein about her voting for this despicable bill - the beginning of a new page called It Is Happening Here. Also links to articles and video.
---
Monday, August 6, 2007 - It is most appropriate on this day to have received A World Without Armies report from Kaz Tanahashi. It is a good day to remember and be thankful for those who are working for peace, or, negatively, working at turning back the doomsday clock. Like the BPF. Go to Space War dot com for Current Nuclear Threat Worse Than During Cold War. Check out PSR who brought us the Nuclear Freeze Movement 25 years ago. Lot of people think that ended the problem. Ha ha ha laughs the WSC. See Species Threats #1 here on cuke for past posts on this. - DC
---
Sunday, August 5 - all is lost
---
Saturday, July 28 - WHY DO THEY HATE US?
U.S. has chance to lessen Muslim resentment
By Mohsin Hamid
July 27, '07 - Jimmy Breslin on Impeachment and various links on the case for impeachment.

July 26, '07 - More Impeachment Links
---
7-24-07 - Learn more about The Yes Men, featured recently on Bill Moyer's Journal. Here's The Yes Men's website. They are naughty, throwing monkey-wrenches into globalization and mega-corporate profiteering.
---
7-23-07 - Swami Beyondananda Calls for Impeachment

7-22-07 - Try this

7-20-07 -IMPEACH 'EM BOTH NOW
7-17-07 - Saw Maxed Out: Hard Times, Easy Credit and the Era of Predatory Lenders, a documentary film, one of many I've seen in the last few years exposing various evils of how our society functions, or should that be - of our dysfunctional society?
---
7-09-07 - 'Supporting the troops' means withdrawing them By William E. Odom [former head of the National Security Agency] from Nieman Watchdog.

Lieutenant General William E. Odom, U.S. Army (Ret.), is a Senior Fellow with Hudson Institute and a professor at Yale University. He was Director of the National Security Agency from 1985 to 1988. From 1981 to 1985, he served as Assistant Chief of Staff for Intelligence, the Army's senior intelligence officer. From 1977 to 1981, he was Military Assistant to the President's Assistant for National Security Affairs, Zbigniew Brzezinski. 7-08-07 - The New York Times finally states in today's powerful lead editorial, The Road Home, that, "It is time for the United States to leave Iraq, without any more delay than the Pentagon needs to organize an orderly exit."
---
7-05-07 - LIFE SENTENCES: COLLATERAL SANCTIONS ASSOCIATED WITH MARIJUANA OFFENSES on the CCLE website (Center for Cognitive Liberty and Ethics) sent by the Marijuana Policy Project.

cuke.com supports Harm Reduction and an end to the war on people called the war on drugs. See this entry from earlier this year.
click on thumbnail to see ACLU decriminalization ad
---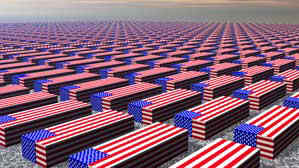 7-04-07 - Happy Fourth of July from cuke.com!
Read Howard Zinn's Put away the flags from the Progressive.
And check out Josh Marshall's video editorial, Happy Fourth of July from everyone at TPM! - Talking Points Memo.
And what the heck, why not Keith Olbermann's request.
Now here's a true patriot - to the country of all people! - thanks to David Cohen for this and Zinn and Keith links.
And I wish I could link to yesterday's column on the easily solved for 50 cents a person worldwide health problem of worms by NYTimes's unique Nicolas Kristof but it's subscription only. He's into big picture third world stuff that's mostly forgotten - like the world's biggest war since WWII - in the Congo and still going. See his Wikipedia page.
---
6-13-07 - Go to Colbert Nation to see Liz Wolf's son Josh Wolf on the Colbert Report - June 12. Way to go Josh.
---

click on thumbnail to enlarge
5-31-07 - Much more juicy light shed on the real conspiracy to rig US elections.
---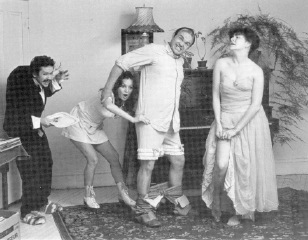 Left: cuke.com staff at work
Where cuke.com staff goes for our current events news. Some old, some new - not necessarily in this order: Bill Moyers Journal. Bill says he starts his day with Joshua Marshall's Talking Points Memo and ends it with Jon Stewart's Daily Show. That's TV of course, but they do have their web site as does another cuke favorite, Stewart's protégé, Steven Colbert in his Colbert Report. While we're on TV, must plug the recently truly unleashed fanatic, Keith Olbermann with his MSNBC show, Countdown. Here's Keith's blog. I don't have TV but get clips off these shows from the first site I go to on the Internet, the excellent Huffington Post and the next one, Crooks and Liars with its pithy daily video feeds and news updates plus some neat music videos. Let us not forget to mention David Brock's Media Matters - great analysis of daily mass media mush, Robert Scheer's Truthdig.com, Truthout.org., and for some old-fashioned info - BBC News - International Version (online pull-down menu comes w/Firefox). I also find Taigen's almost daily e-mailed articles to be an excellent addition to what I get off the Internet. Get on Taigen Dan Leighton's social/political forwarded article email list by emailing him at taigen108@gmail.com. Check out Taigen's Peace and Justice Page on this site. In the car, I have XM satellite radio and, when I'm not listening to jazz, blues, comedy, or 50's music, I tune in to Air America Radio, channel 167. My favorite talk show host there is Thom Hartmann. His new book (of 20 or so) is Screwed: The Undeclared War Against The Middle Class. This guy is very level-headed.

There are many other excellent web sites and blogs for news and commentary and the links for them can be found on these sites. Go forth and inform oh great beings of planet earth and may we all benefit. - DC
---

4-24-07 - Election Fraud vs Voter Fraud - Brief email chat between Taigen and DC, links to various reports and articles on one of the key and mainly disregarded stories behind the firing of the attorneys by Gonzales. The conspiracy most worth bringing to light - that of Republican or Roovian election stealing and voter suppression. Just another day's addition to the growing section in Current Events on rigged elections (previous posts).
---
4-17-07 - Save Small and Independent Publishers threatened by new postal rate hikes that will give them huge increases, reversing traditional rates that helped them to survive. Go to www.stoppostalratehikes.com. Time Warner seems to be behind this. If so, shame.
---

4-05-07 - Anyone who's following the news knows that it's no longer "Free Josh Wolf!" Now it's Josh Wolf's Free! Go here to see the last post with many links herein on the plight of America's longest jailed journalist as he's been called. It's all over the news and the web. Here's a LA Times article - Blogger freed after 226 days in prison. Here's the First Amendment Center's article, Now-freed Josh Wolf went to jail ... why? And here is the SF Bay Guardian's summation of the whole thing which, from his mom, Suzuki student Liz Wolf (see cuke.com interview), who worked non stop on his case - getting people to sign petitions, write judges, newspapers, legislators, sending out constant links to articles, and so forth. I don't know his father, Len Harrison, but he too was on the case, maintaining a daily vigil in front of the federal building at Larkin and Golden Gate in San Francisco. Anyway, welcome back to the outside Josh!
3-03-07 - Free Josh Wolf! Go to Josh Wolf in Jail page.
---
2-22-07 - See Thoughts on the DVD of An Inconvenient Truth in DC Misc.
---
2-17-07 - A link to a slide show with pictures of Tehran, Iran, and a song by Cat Stevens. In Iran Attack.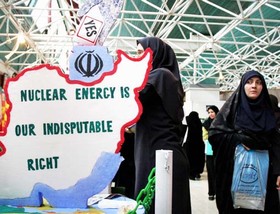 2-10-07 - More on the US coming ever closer to acting on the long held Bush administration plan to attack Iran. See the new Iran Attack page, a special section in the Current Events section of the Digressions section of cuke.com. The inclusion of this section is vehemently opposed by our dharma siblings, Buddhists in favor of Neocon Wet Dreams. They are working up a position paper as I type. - DC
---
2-9-07 And now, since it's my birthday, some more treasonous links sent to me by fellow traitor Taigen Dan Leighton who's now in Chicago.
But first read Chalmers Johnson on Robbing the Cradle of Civilization sent by Gregory Johnson.
The rest of these links were moved to Iran Attack page.
---
cuke staff current events news picks
---
For what it's worth - Shunryu Suzuki on War and Peace
---
DC comments on this page.
---