5-24-11 - Last Day in India
"You know why they call waste baskets and trash cans dust bins here?" Clay asked me.
"No, why?"
"Because all they do is collect dust."
"Where'd you hear that?"
"Just made it up."
"Stand up quality."
Last night Clay and I sat on the porch of our room here at luxurious (to us) Sea Breeze Hotel in Mahabalipurim - splurging in our last days in a $27 a day room, spending $12 for our dinners (combined). This is like ten times what we've been living on most the time. On the porch we took turns reading from Basic Lessons on India's Wisdom by Swami Muni Narayana Prasad, the guru of the Varkala ashram, first ashram in the Narayana Gurukula. He was in Fiji and this book is constructed as a series of questions and answers between him and a young Fiji Hindu wanting to know more about Hinduism as a practice. It's a book focused on the Isa Upanishad, for young people and seems like a good, simple intro to this most ancient spiritual system with teachings "not to be believed in but understood." He makes a point that the Upanishads are the core teachings of Hinduism.
To make the reading and listening more interesting, Clay and I read it with different voices. In my first reading the boy was read with the persona of the questioning boy in the old TV science show, Mister Wizard, and the guru was played by Gomer Pyle from The Andy Griffith Show. In Clay's reading the boy was the commanding voice of John Cena from World Wide Wrestling and the guru was a generic redneck. In addition we'd throw in bogus lines to test if the other was listening. We both feel enriched from the experience.
The same guru, Prasad, suggested that when I go to Kanyakumari (at the tipy-tip bottom of the India sub continent) that I visit the cave where the famous Narayana (in Prasad's name too) meditated. Actually he just said go to Maruthwamala and Swami Tyagi told me why and gave me more specific directions. From the Vivekananda Ashram in Kanyakumari the free bus driver, after he'd dropped off everyone else, took me to the bus station and told me what bus to get. That bus dropped me off at an intersection where I asked people where to go but I couldn't pronounce the name right and they didn't know what I was saying till they read my notes. A photographer who happened to live near spared me another bus ride and a long walk and drove me on his motorbike on narrow twisting country roads to the base of a huge sandstone mountain, pointing out his thatch roofs on the way. I looked up and saw a light blue stucco ashram high up on the rocky mountainside and remembered it from the train ride in. Up cemented over stone steps to steps cut in the rock I went past three cave temples to the top one from where I could see more banana and coconut trees than I will surely ever see at any other time in my life.
There was curvy writing about Narayana and other greats who'd meditated there and a quote in English from Narayana: One caste, one religion, one God for man.
I knew he meant that in spirit and didn't mean that he wanted everyone to be Hindus or belong to one institutionalized religion. I remembered that when Mahatma Gandhi came to Varkala to meet Narayana, he asked him what should be done about the Hindus converting to Christianity and Narayana had said something like that if it makes them happy and serves their spiritual needs then it's good.
A sadhu gave me water which I drank and then something white which I put in my mouth - yuck - he and another man laughed - it was the white stuff, chalk I guess, to mark your forehead with. Then he gave me three small bananas and a lime in a leaf and we sat there a while and I put twenty rupees on a plate and walked back down stopping for more offerings and meditation at the other cave ashrams or temples.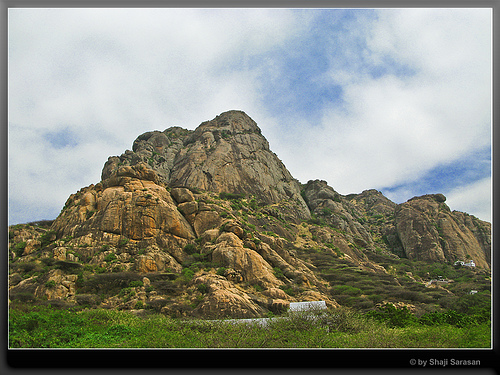 At Kanyakumari I watched sunset while fishermen carefully folded nets, sunrise with lightning, and stood in line two hours to get on a ferry to go to Land's End Rock and walk into the Vivekananda Mandapam - which I think sort of means cave but it's a temple - beautiful building with polished black stone columns and a bigger than him statue of him. It's said he came to that rock to meditate before going to the Parlament of World Religions in Chicago in 1893 where he was a big hit. On an adjoining rock there was the 133 foot statue of Tamil Nadu's most famous poet, Thiruvalluvar from many centuries ago.
On the mainland again I walked through narrow passages past family nests and apprehended fish baking on pavement to the Cathedral which rises like a spired snow castle in the pale skyline of the small city. There I sat staring at the churches Escher floors and went to sleep as is my churchly practice. Back at the ashram, also called Vivekananda Kendra Purim (purim is like a village or section of town) the walls walking in bore quotes from the ashram's namesake. One of them said that it's true that the spiritual path is 1% inspiration and 99% perspiration but that this perspiration manifests the inspiration.
Mainly the quotes from Vivekananda emphasize serving others, all being equal, the greatness of Indian spiritual and philosophical roots, and that India's people have a deep strength that cannot be subjugated and which they will enlighten the world with - my words just remembering.
On the train up north that evening passed the mountain with the ashram I'd climbed to, then took the tracks north past unusually shaped bouldery mountains sitting with a family in second class sleeper listening to the rhythmic chanting of the steel wheels on rails.
Meanwhile Clay was in general ticket sardine city with three heavy packs of treasure heading East to meet up with me. I'd bought general tickets twice when I had to but didn't consider sitting there and didn't consider it to be possible. Just went to second class sleeper where I haven't seen conductors except before a night run.
And now it's the last afternoon and 33 minutes till three when we have to vacate the room. Then we'll make the reception area our room and use their scale and tape to make sure each bag is within Emirates Airlines limits - two check-in and one carry-on bag each and each not to exceed 23 kilos (50.6 lbs). To get an idea of how much we, mainly Clay, has picked up here, we arrived with only carry on. Now there's a dholak drum from his teacher in Ajanta, a violin, and a ton of crystals, stone carving, scarves.. A taxi is to arrive at midnight to take us to the airport.
Wonder if either of us will return. It's been good.
---
next - 6-06-11 - Comment on Chris Boys