Books by David Chadwick
---
DC home base -- DC Writings -- DC Misc
Core Books by and about Shunryu Suzuki
SFZC Bookstore
Bibliography
---
Books by DC
Zen Mind, Beginner's Mind 40th Anniversary Issue with Afterword by DC
Color Dreams for To Find the Girl from Perth
The by Chavid Dadwick
---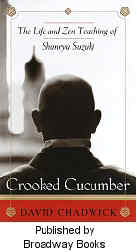 Crooked Cucumber: the Life and Zen Teaching of Shunryu Suzuki. Broadway books, 1999. The biography of Shogaku Shunryu Suzuki Roshi, Soto Zen master, author of Zen Mind, Beginner's Mind, founded San Francisco Zen Center & Buddhist monastery Tassajara, Zen Mountain Center.
Shunryu Suzuki (not to be confused with the great monk and scholar D.T. Suzuki) came to America in 1959 to minister to a small Japanese-American congregation at Sokoji, Soto Zen Mission, on Bush Street in San Francisco.
Click here for bigger picture.
---
"The Catch-22 of Zen." - Taigen Dan Leighton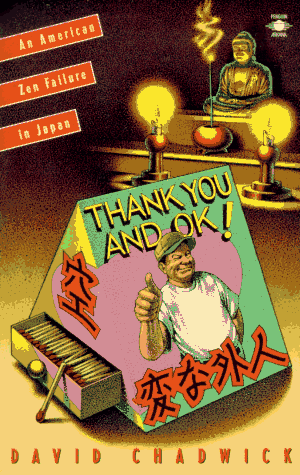 Shambhala link to
Thank You and OK!:
an American Zen Failure in Japan
by David Chadwick
May 8, 2007.
This site's Thank You and OK home page with the whole book going up.

---
Publishing date, October 9th, 2007.
ZEN IS RIGHT HERE: Teaching Stories and Anecdotes of Shunryu Suzuki, Author of Zen Mind, Beginner's Mind

By Shunryu Suzuki
Edited by David Chadwick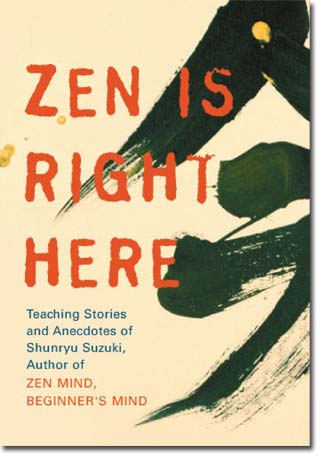 Paperback / Shambhala Publications / 160 pages / 4 7/8 x 7
ISBN 978-1-59030-491-4 / October 2007

Zen Is Right Here (Shambhala link) List Price: $12.95 Shambhala Price: $10.36, you save $2.59 (20%)

Zen Is Right Here home page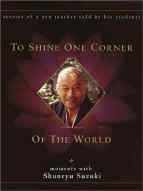 Zen is Right Here was originally To Shine One Corner of the World
---