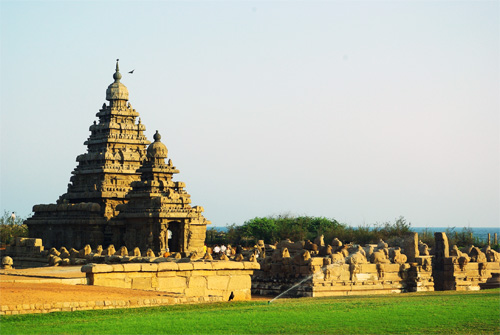 ---
The Shore Temple at Mahabalipurim.
---
4-04-11 - Glory be, I thought, looking down from the edge of the Shore Temple to the beach. I was in Mahabalipurim, taking a few days away from dry and burning Tiru so I could jump in the water periodically while doing all this important work. Katrinka and I came here for her last three days in India and both agreed that this is as good a beach as we've ever known. It's what I'd call a good senior citizen beach - gradually the water gets deeper as one walks out, easy waves one can roll in on, slightly cool to warm water depending on the time of day and movement of the waves - low eighties and up into the mid nineties I'd say. Eighty is standard swimming pool temperature and that feels cool. I've guessed water temperature at the Tassajara baths, my former hot tub, swimming pools for decades. The official ocean temperature out there now is 84 but where I was sloshing around that first day I'd say 93.
This ain't one of the great beaches in Kerala or Goa, but it's got good clear sand on the beach and in the water, not much trash, fishermen and their boats just down a ways, the famous shore temple to the right, steps and a dark, beckoning doorway carved into a giant rock where the water meets the shore. This doesn't matter to me much but in this totally tourist-oriented spot in the off season (because it gets too hot but not for me), I was almost alone. There were a few young Indian guys in the water near me and a few more about 100 yards down by the boats.
Katrinka and I stayed at the more upscale Hotel Sea Breeze with their pool, guard at beach access, and not pricy restaurant with indoor and outdoor tables. It's got location location location but is out of my budget now room-wise. The Lonely Planet highly recommends the Daphne Hotel which is just outside the entrance to the Sea Breeze compound. Katrinka and I had gone in to check it out, didn't want to awaken the employee sleeping on the floor by the desk so we went into the courtyard all green with trees and plants, a parked car and motorcycle, wicker chairs and a bench swing, looked into a couple of open ground floor rooms which were basic with mosquito nets.
Same thing when I went there a few days ago to see about a room except there was no employee at all to be found so I went up top to ask the people adding another floor, shirtless men in white skirts (what call?) mixing cement on the floor, women in sari carrying sand up three flights in metal containers on their heads and in their hands. They called out but no answer. I ran into a European who was staying there and found out he was paying 350 a day for his room. Good. I sat in an office chair and nodded off till a man showed up who showed me an upstairs room, not one with a view that Katrinka had asked me to check out, window to courtyard, but I didn't care about that. It was fine. How much? I asked.
"Four hundred."
"How about 350?"
"Two fifty? This way."
We went down the stairs, out the back gate, and across a narrow alley into another building where he called out. A woman came. They showed me a room upstairs with no mosquito net but everything else was fine - had a so-called bathroom which didn't smell, actual mattress covered by the typical table cloth like sheet that just covered the top, no extra to tuck. And, he pointed out, there was a TV. "Two fifty?" he asked.
"Yes," I said. Great. I would have paid 400 for the other room if not for this fortuitous misunderstanding. They brought another sheet and a towel. The Ritz.
"Lunch now?"
"No - I've just eaten."
"Dinner?"
"No that's okay." I wanted to go out.
Eat breakfast with us tomorrow?" I guessed with him and his wife. Sure. Oh good, I like eating with Indian families like I do some in Tiru.
The bus ride had taken about five hours from Tiru with two changes because I didn't want to wait for a direct or semi-direct. Don't need to know where to get off or on. Just tell the conductor and some others who understand the city name you're saying which usually takes a bit of repeating, say where you're going and everyone will help you. You just flow along in their kindness.
The bus stand in Mahabalipurim is right by its best known site, the Shore Temple and a short walk around it to where I stayed - on the Western tourist side. The bus stand side of the Shore Temple is more of the Indian tourist area. There were many Indians in the water and a sort of carnival atmosphere on the beach - horses to ride, crafts, toys, and food for sale. The time before with Katrinka I'd bought a crunchy fried fish there - no need to debone or skin. Yum. A dog followed me the whole time and I still feel bad I didn't give it anything even though that's my firm policy.
Coming straight from the bus, I walked down a row of stands by the Shore Temple fence, food stands, trinket stands, your name carved on seashell or even rice grain stands, impressive carved religious and non religious item stands, and most very impressive, stone statue and some of them bigger than me stands.
I sat down at a fried fish stand at one of two small plastic tables - after washing my hands before eating - as they do - using a cup floating in a bucket, I got a hefty chunk of fried fish with masala sauce- the man said it was a round fish and he held out his hands a foot in diameter. Also got some rice and masala fish sauce that was hot both ways so that as it cooled I couldn't tell - and what he called tomato soup. Learned how to say rice and fish in Tamil because he called it out to everyone who went by - forgot it immediately. Good cheap meal.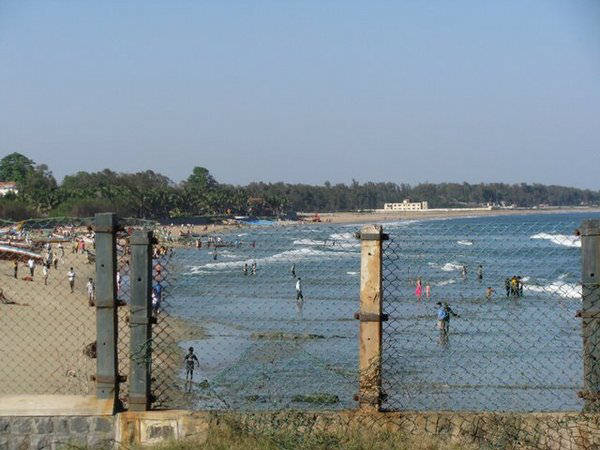 View of Mahabalipurim beach from Shore Temple fence. This side is used by Westerners and Indians. A few fishing boats are visible on the left.
---
I met a woman named Rani. She was middle aged, a little, chubby, and cute. She was holding a menu.
"Lunch?" she asked, tilting her head side to side.
"No thank you, I already ate."
"Rice? Dosa? Lunch?"
"No, no, no thank you."
"Dinner? Fish?"
"No thank you."
"Breakfast tomorrow?
Oh, I see. I thought those other people were a couple and wanted me to eat with them. She's showing me a menu with the usual - muesli, omelet, corn flakes and milk. Indian food too.
"Breakfast included?" I asked.
"Yes."
"I don't have to pay?"
"Yes."
"But lunch and dinner I pay?"
"Yes," always moving her head and shoulders sometimes too, sort of swinging as she answers.
I chose omelet, chapatti, and tea.
"When eat?" she asked.
"How about eight thirty?"
"Yes."
OK, that's out of the way. "Is this your place?"
"Yes."
"Is that your card?" I said pointing to a stack of cards.
"Yes." She gave me a card.
"Ah, Rani Guest House. This is yours?"
"Yes."
"Is it related to Daphne Guest House next door?"
"Yes."
"Is it the same?"
"Yes."
"Do you own them both?"
"Yes."
"We're you born here?"
"Yes."
We went on like that for a while longer. She seemed to understand, I thought, though her English vocabulary was small.
Arrived Monday afternoon and left Thursday at four. Made a deal with the Sea Breeze to have use of their pool for that time for a nominal sum which sounds to me like an amount that has a name but which means an insignificant amount. Set up shop at an outdoor table of the restaurant. Ordered tea by the pot. Back to room for a nap. Rani also set up a table for me on the edge of the porch upstairs and brought me tea. A sunset dip then back up the steps from the beach to my sandals and tee shirt inside hotel property. The smiling sweet guard is there, always someone there, even in the dark of morning. He admonishes me for bowing to him.
"No. Don't do. You big man. Me little man. Me [he puts his hands together and bows]. You big man. Me. No you." He's said this to me before and I understood it better this time.
Two young Indians are standing there looking out, maybe college students. "He's very traditional, isn't he?" I say to them. They smile.
"No," I say to the man. "You are Ram. I am Ram. They are Ram." Ram bows to Ram. Buddha bows to Buddha. Krishna bows to Krishna."
That totally got the guy. He started chanting Hari Krishna and went into some other chants. After that he bowed to me grinning and let me bow to him and seemed to enjoy it greatly.
Watched National Geographic show on Dubai. Katrinka called. Sleep under fan which I pretend is an approaching airplane and me a seagull about to be sliced into strips as I clog the engine and bring the beast down to crash in the ocean.
Morning early walk, three English newspapers for five rupees. Share with a few foreigners and Indians at a tea stand. Breakfast was alone and okay. They didn't seem bound by the 8:30 agreement. They hovered over me. Asked Sea Breeze hotel clerk if there's an ashram or temple or place where people meditate. He said, as others had, no, but suggested sunrise at the beach which Katrinka and I had done. Of course. I bowed to him and called him my swami.
Walked on narrow almost empty streets over to the other side of the shore temple to get another fried fish and rice on banana leaf lunch.
Back at Rani house she came up to me. "Dinner?"
"No thanks."
"Fish?"
"No thanks."
She brought out some fish just like I'd just had and quoted me prices three times what I'd just paid.
"No thanks."
"Breakfast?" No, thank you.
"Chapatti?" No thanks.
"Omelet?"
"No thanks."
"Breakfast?"
"No thanks. "
"Bill for breakfast?"
"Bill?" I stopped. "For today breakfast?"
"Yes."
"Pay for today's breakfast?"
"Yes."
Oh - I reviewed our conversations and realized that none of the answers she gave were necessarily correct but at least there was a fifty-fifty chance of some of them being so, better than the clocks that are only accurate twice a day.
"How much?" I asked. Wow. It was too much. And the tea the day before was added. No problem.
Last two days I got the buffet breakfast at the hotel for a little more than that - and sat there and worked till time for a dip.
Walking back to the bus stand past dejected Muslim Kashmiri venders. One stops me. "You never brought your wife here like you promised." Better to say "wife" than "partner" here which can connote "immoral, evil agents of Satin" to some people.
"Sorry, but I realized that your merchandise it too beautiful and reasonably priced and she might want to buy something. Give me some cards and I'll send others to you who I am not financially related to." He liked that and gave me some cards which I put with Rani's.
Took a roundabout route past the tipping boulder and wonderful, ancient carvings in the rock formations nearby.
---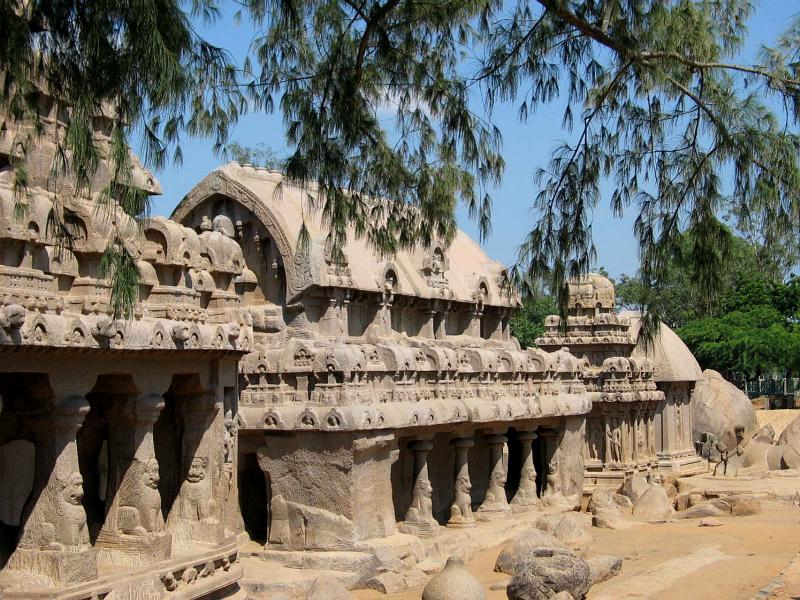 ---
My favorite was the life size elephant.
---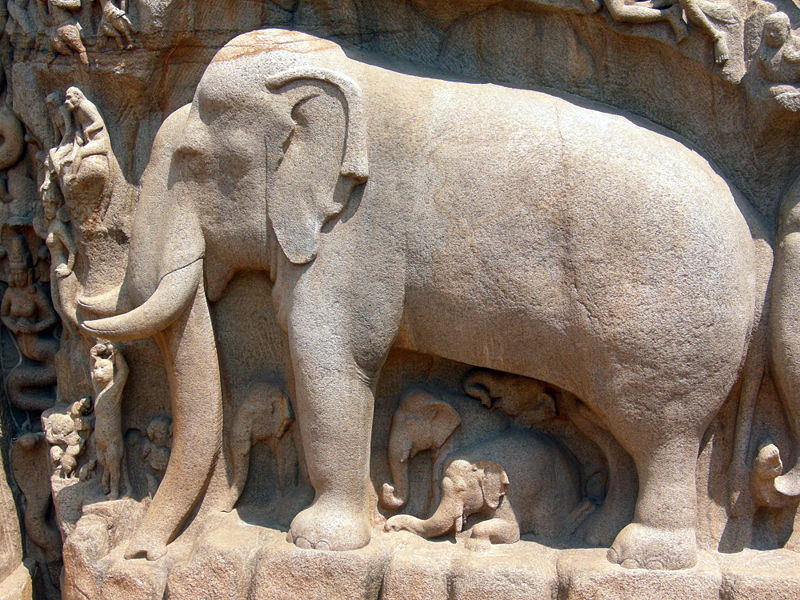 ---
Strolled past one man after another hammering chisel into rock, the finished and partially finished results of their work in astounding multitude. The ancient tradition still alive.
---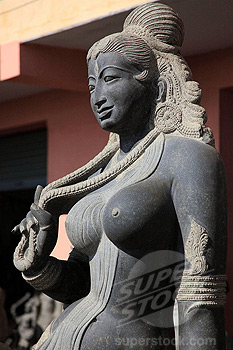 ---
Waiting for a bus, avoiding the samosa and other fried goodies, bought a long cucumber from a woman. She sliced it in two and sprinkled on salt and red pepper.
A man came up to me who walked with a cane. He stuck out his hand. His eyes were bloodshot and had no pupils. "I am blind," he said.
"You really don't have to tell people that," I said handing him a five rupee coin, "Unless they're blind too."
Our bus was full and we were all smushed together and as we pulled out of town I was amazed again at the incredible amount of stone and stone sculpture, and the size some of the Buddhas and Ganeshes, past mountains of watermelons and crowds of peasants and I was grateful for my fortunate birth, and the good fortune of being with these good people, sharing with them what Buddha once called this realm of endurance.
---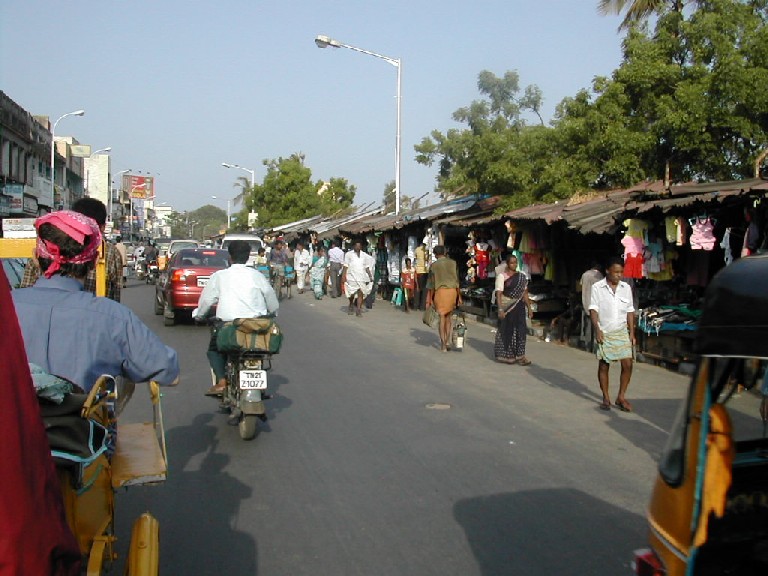 Tamil Nadu street scene
---
Tamil Nadu people
---