Cuke Audio Podcasts

Cuke Audio is a project of Cuke Archives
preserving the legacy of Shunryu Suzuki and those whose paths crossed his
- and anything else that comes to mind.
---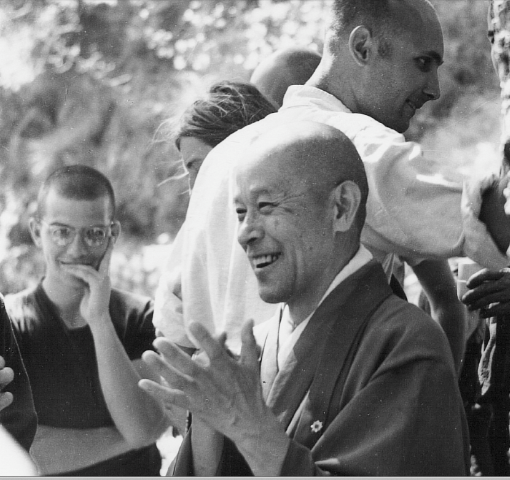 Approximate Schedule:
Tuesday: Reading drafts from a work in progress - Tassajara Stories.
Thursday: Life in Bali with guests
Saturday: phone chats with Zen related guests
M/W/F: Mini-podcast vignettes, currently reading from Brief Memories of Shunryu Suzuki and others
Podcasts up to Now [for the most up-to-date listings see Podbean Cuke Audio]
Guests on Zen related podcasts listed in order of most recent (Click name for their Cuke page; podcast links go to Cuke Audio Podbean, our host. Click ⇵ headings to sort.)
When ⇵
Then
Who/Links ⇵
Later
2021-06-12
Jeff Broadbent | Podcast

- Guest Jeff Broadbent on Taihaku Priest who founded Shao Shan Temple in Vermont.

2021-05-29
Joshu Sasaki | Podcast

- Joshu Sasaki was the founding teacher of the Cimarron Zen Center in Los Angeles in the mid-sixties. He died not that long ago at 107.

2021-05-22
David Schneider | Podcast - David Schneider, author of Street Zen on Issan Dorsey and Crowded by Beauty on Philip Whalen, talks about his new book--Goods: Short Stories.
2021-05-15
In Memory of Jay Simoneaux | Podcast

- Jay Simoneaux remembered by DC while reading Peter van der Sterre's Everyday Zen talk on Jay.

2021-05-09
Sandy Hollister (Memorial) | Podcast

- Sandy Hollister began practicing at the SFZC in 1967. She died last month April 7, 2021.

2021-05-01
Ed Brown | Podcast

- Edward and DC talk about Tassajara ghost stories.

2021-04-17
Eugene Bush | Podcast

- A Cuke Archives guest joins us--Eugene Bush of the Arcata Zen Group. A rerun from 2020 early May but this time not embedded in a long podcast. Gene shows us how he washes his hands in the pandemic.

2021-04-10
Mary Quagliata | Podcast

- Mary Quagliata was an artist who became an early Shunryu Suzuki student. She's still both.

2021-04-03
Barrie Mason (RIP) | Podcast

- Barrie Mason was a student of Shunryu Suzuki who died a few days ago. I read from her cuke.com page. She tells about her experience with living at Zen Center and with our teachers and of how we first came in contact with Green Gulch Farm.

2021-03-27
Carl Bielefeldt (reading) | Podcast

- Reading from a Carl Bielefeldt talk on Dogen's Mountains and Waters Sutra

2021-03-21
John Palmer | Podcast

- John Palmer, the younger brother of Loring, came to San Francisco at his brother's insistence to enjoy the psychedelic scene at its very beginnings. This almost four hour podcast is his shaggy dog story filled with highs, dealing, women, children, wandering, and arrests and incarceration. He's been on a lot of trips but the one that's stayed with him the longest is zazen - and the memory of Shunryu Suzuki saying to treat ones thoughts as clouds in the sky and let them pass.

2021-03-13
Michael Phillips | Podcast

- Michael Phillips is an old friend and for decades a key advisor to the SF Zen Center. Herein he tells about how Greens Restaurant got going and how it developed.

2021-03-07
Nicole Baden | Podcast

- Nicole Baden is a disciple of and teacher under Zentatsu Richard Baker who's working with him in Colorado on a book for a couple of months, after which she'll return to Johanneshof, the Dharma Sangha center in the Black Forest of Germany, where she is the director.

2021-02-27
Jeff Sherman | Podcast

- Jeff Sherman came to the San Francisco Zen Center in 1968. He practiced with Shunryu Suzuki, Richard Baker, and Katharine Thanas. Now he's with Josho Pat Phelan at the Chapel Hill Zen Center. And there's more to his story.

2021-02-21
Charles Hoy | Podcast

- Charles Hoy was a student of Shunryu Suzuki, Richard Baker, Chogyam Trungpa, and others and life who now lives in Santa Fe where he takes a nice cold bath outdoors every morning.

2021-02-12
Elizabeth Sawyer | Ken Sawyer | Podcast

- Elizabeth and Ken Sawyer have the Back Porch Zendo in Sonoma County, California. They were students of Shunryu Suzuki and Dainin Katagiri and there's more to them than that.

2021-02-06
Jeff Broadbent | Podcast

- Jeffrey Broadbent was a student of Shunryu Suzuki, Robert Bellah, and Lewis Lancaster who studied and taught at the university level in Japan and studied Zen there as well. He's a professor of sociology at the University of Minnesota.

2021-01-29
Judyth Weaver | Podcast - Judyth Weaver is a Tai Chi and Sensory Awareness teacher who studied dance in New York and Tokyo and Zen in Kobe and came to the SF Zen Center in 1968. And much more. Check her out further at judythweaver.com.
2021-01-24
Tim Ford | Podcast

- Tim Ford was a student of Shunryu Suzuki. He recently retired after forty years of general contracting.

2021-01-14
Joan Amaral | Podcast

- Joan Amaral is the founding teacher of the Zen Center North Shore in Beverly, Massachusetts. In 2005 she was the jisha, attendant, to Mel Weitsman for a practice period at Tassajara. After getting to know her some, she'll share some memories of Mel who recently retired as the abbot of the Berkeley Zen Center, died at home just a week ago at the age of 91. Photo of Mel and Joan (if you can see it) by Shundo David Haye.

2021-01-08
Mel Weitsman (Memorial) | Podcast

- Mel Weitsman died yesterday, January 7, 2021. He was 91. Mel was in charge of, then priest of, then abbot of the Berkeley Zen Center from 1967 to the summer of 2020. Herein I read some tributes from his Carling Bridge page and Facebook and then play a brief phone chat he and I had back in April when he was our first podcast guest. Mel was a great priest, person, and dear friend. - dc

2021-01-02
Ken Ireland | Podcast

- Ken Ireland is a Buddhist now living in Dharamsala who was a Jesuit initiate, studied with Claudio Naranjo, Issan Dorsey, Richard Baker, and John Tarrant.

2020-12-25
Steve Frost | Podcast - Stephen Frost is a Catholic priest, artist, and writer on spiritual matters who has studied art, Buddhism, and world religions deeply. Learn more at wp.nepsis.com. The early photo is from his 1985 ordination.

2020-12-24
Warren Lynn and Jerry Ray | Podcast

- Warren Lynn and Jerry Ray are friends of mine from Fort Worth, Texas, my home town. They studied with a spiritual teacher there named Alden Truesdell. Christmas piano music by Bonny playing at Riviera Sanur Xmas eve.

2020-12-19
Yehudah Alan Winter | Podcast - Yehudah Alan Winter was the first Zen student to live at Tassajara. He talks about that, being a nurse in Covid days, Compassionate Listening. and his and his wife's experience doing Your Personal Ceremony dot com.
2020-12-13
Liz Wolf Spada | Podcast

- Liz Wolf Spada was an early and young Tassajara student. She shares memories of Shunryu Suzuki and also talks about Chogyam Trungpa. She became a Christian as she said she would back then and still practices zazen. She was an elementary school teacher and is now retired.

2020-12-05
Mark Lewis | Podcast

- A phone chat with Mark Lewis who practiced with Shunryu Suzuki, Dainin Katagiri, and Jean Ross in Carmel, starting while in high school in Carmel.

2020-11-28
Paul Discoe | Podcast - Paul Discoe is a master builder and designer, ordained by Shunryu Suzuki, who studied temple carpentry for years in Japan and brought it back to the US. Check out his O2 Artisan's Aggregate at O2aa.com.
2020-11-21
Robert Halpern | Podcast

- Robert Halpern was an early student of Taizan Maezumi, Shunryu Suzuki, and Chogyam Trungpa who now lives in Halifax.

2020-11-15
Mel Weitsman (another chat) | Podcast

- Mel Weitsman recently stepped down as abbot of the Berkeley Zen Center where he first went to be the head of in 1967. Seems like 91 is a good age for retirement. Today we talk about, among a few other topics, Shunryu Suzuki's radiation belt.

2020-11-08
Erik Storlie | Podcast

- A phone chat with Erik Storlie, early Shunryu Suzuki student and author.

2020-10-30
Paul Lee | Podcast - Paul Lee is a theologian, humanitarian, and visionary who taught philosophy at UC Santa Cruz, an old and dear friend of Richard Baker, an early friend of Zen Center & Tassajara. See ecotopia.org.
2020-10-24
Arnie Kotler | Podcast - Arnie Kotler studied Zen with Shunryu Suzuki, Richard Baker and Thich Nhat Hanh, founded Parallax Press and how has Arnie Kotler Editing services - arniekotlereditingservices.com. He comes is at 12:20.
2020-10-10
Richard Levine | Podcast

- Richard Levine practiced with Shunryu Suzuki, was the great Buddhist scholar Edward Conze's secretary, an assistant to Richard Baker, and became a medical doctor.

2020-10-03
Loring Palmer | Podcast

- Loring Palmer was an early mentor of mine who began practicing with Shunryu Suzuki in 1964. He later became a student of Chogyam Trungpa. He didn't stop there.

2020-09-26
Daya (Dianne) Goldschlag | Podcast

- Daya Goldschlag is a Zen teacher and body worker who studied with Shunryu Suzuki and was my first wife and mother of our son Kelly. - dc

2020-09-19
Jack Elias | Podcast

- Jack Elias was a student of Shunryu Suzuki and Chogyam Trungpa who now is a transpersonal hypnotherapist.

2020-09-12
Lew Richmond | Podcast

- Lew Richmond is a disciple of Shunryu Suzuki, founded the Vimala Sangha in Mill Vally, has written books on aging and practice, and is a fine musician.

2020-09-05
(Remembering) Della Goertz | Podcast

- Della Goertz started practicing Zen with Shunryu Suzuki a few weeks after he first arrived. This podcast takes her from way back then to her last days at 99.5 years old.

2020-08-29
Barton Stone | Podcast

- Barton Stone joined Shunryu Suzuki for zazen very early on. He's a peace activist, expert carpenter, gardener, poet, and now practices Zen with Jisho Warner. We'll have the phone chat, read his poems and an old interview and hear his late son Alan on lead guitar with a DC song named Fooled by Everything.

2020-08-22
(Remembering) Yvonne Rand | Podcast

- Yvonne Rand, who died on August 19th of this year, was a close student and advisor of Shunryu Suzuki who studied with many teachers and taught many students - and a dear friend.

2020-08-15
Les Kaye | Podcast - Les Kaye is the abbot of the Kannondo Zen Meditation Center in Mountain View south of San Francisco. He's the author of three books including Zen at Work. Les wrote a piece which I, DC, read. Next I read an interview with him from Zen & Business dot com, then from my own notes, then from his Sweeping Zen Interview. Good stuff.
2020-08-08
Bill Porter | Podcast

- Bill Porter is a translator and interpreter of Chinese Buddhist and Taoist poetry and texts, with books on Chinese Hermits and travel. His pen name is Red Pine.

2020-08-01
Steve Tipton | Podcast

- Steven M. Tipton is C.H. Candler Professor Emeritus of Sociology of Religion and Senior Research Fellow at Emory University, Candler School of Theology and is a dharma brother who studied with Shunryu Suzuki and a close friend.

2020-07-25
Willard Mike Dixon | Podcast - We know him as Mike, a very early Shunryu Suzuki student. His professional name as a quite successful artist is Willard Dixon. He's also an excellent jazz musician, playing the sax. The phone chat is sandwiched between my comments on him and reading from his interview on cuke.com. The podcast ends with a song I wrote in 1978 for a work of his called The Painting on the Wall. - dc
2020-07-18
Peter and Jane Schneider | Podcast

- Peter and Jane Schneider were Shunryu Suzuki students and are the founding teachers at the Beginner's Mind Zen Center in Northridge, on the edge of Los Angeles. They were both at the first practice period at Tassajara in 1967 and lived in Japan for 22 years.

2020-07-11
Danny Parker | Podcast - Danny Parker is a Zen Priest in Florida who studied at the SFZC when he was 21 then got involved with Zen again years later, becoming a student and dharma heir of Ed Brown. He recently edited a book of Ed's lectures called The Most Important Point. He's done and is doing a lot more.
2020-07-04
Paul Rosenblum | Podcast

- Paul Rosenblum was a student of Shunryu Suzuki and is the vice abbot of Johanneshof, Richard Baker's retreat in the Black Forest. Paul comes in at 20:57 after some intoductory words, Dear Dave, and Pause to Meditate.

2020-06-27
Vanja Palmers | Podcast

- Hans Vanja Palmers is a Zen teacher who was at the SFZC centers for years, ordained by Richard Baker, transmission from Kobun Chino. He talks about his life, Zen story, work with animal rights, and psychedelics, and dangerous flying. He has a center in the Alps near Lucerne and another in the mountains of Austria. After a tangent filled introduction by DC, Vanja comes in at 21:25.

2020-06-20
Mel Weitsman | Podcast

- A phone chat with Mel Weitsman, abbot of the Berkeley Zen Center.

2020-06-13
Richard Jaffe | Podcast

- A phone chat with Richard Jaffe who is an alum of the San Francisco Zen Center and a Buddhist Scholar who's focused on clerical marraige and family life in Japan and on the writings of DT Suzuki.

2020-06-06
Kazuaki Tanahashi (and Fred Harriman) | Podcast

- Kazuaki Tanahashi is a calligraphic artist, a translator of Dogen and a peace activist. Both are long time friends of mine who are just now meeting.

2020-06-06
Fred Harriman | Podcast - Fred Harriman is a translator of Japanese who helped a great deal with Crooked Cucumber.
2020-05-30
Taigen Dan Leighton | Podcast

- Taigen Dan Leighton is the founding teacher of Ancient Dragon Zen Gate in Chicago, a translator and author of a number of books.

2020-05-24
Edward Brown | Podcast - DC with Zen teacher and dharma brother Edward Brown, author of the Tassajara Bread Book among others on food and Zen and life.
2020-05-15
Paul Shippee | Podcast

- Paul Shippee, Shunryu Suzuki and Chogyam Trungpa student and much more, tells a way-seeking mind story of his life.

2020-05-05
Peter Schneider and Fred Harriman | Podcast

- At 30:40 - Zen teacher Peter Schneider. At 1:41:52 - Talk with Fred Harriman, master translator

2020-04-21
Eugene Bush of the Santa Cruz ZC and Arcata Zen Group | Podcast

- At 16:47 we have a guest, Eugene Bush of the Arcata Zen Group in CA with a novel approach to hand washing.

2020-04-14
Paul Discoe and Mel Weitsman | Podcast

-  Zen stuff begins at 18:22 with a phone conversation with Sojun Mel Weitsman, the abbot of the Berkeley Zen Center in CA.
For the first ten weeks there was one podcast a week uploaded on a Tuesday. They were like a variety podcast. The first podcast titled May All Beings Be Happy was a general introduction.
After that, there were six a week and settled into a schedule which continued with a chapter and comments on Crooked Cucumber on Tuesdays. See the Notes on Crooked Cucumber page for links to online text and podcast chapter readings with comments by DC.
See Anecdotes from Zen Is Right Here for links to online text and podcasts of chapters from the book Zen Is Right Here.