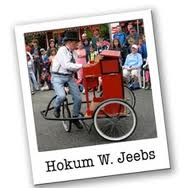 2-21-11 - Hokum was happy just before he was murdered - and gave Doug an interesting instruction
Sitting gazing at Mt. Arunachala today, I thought about dear friend Hokum Jeebs who was just stabbed to death in his home in Seattle [see notice, links, and comments below] and how he'd told mutual friend Doug McKechnie immediately before his death over the phone how happy he was and to be sure to include in his (Doug's) email signature a photo that would reflect the mood of whatever notes he would be sending out in the future. Doug picked up on Hokum's suggestion - eventually.
After I got the note briefly informing me of Hokum's murder, I wrote photographer and musician Doug. And then Doug wrote to his list:
Hokum, the night he was killed, he and I had a long conversation, as we often did. He told me how happy he and Anita were, how balanced in life he felt. Ironic.
One of his suggestions to me in that conversation was that I create different photos for my emails to reflect the mood of the missive. He was always coming up with stuff like that. And he was mostly spot on.
It certainly came home to me when I got an email back yesterday from David Chadwick, the Punk Monk of the SF Zen Center for whom Hokum had played piano years ago, saying how upset he was to learn of the circumstances but that Hokum probably would have been delighted with my 'gleeful grinning picture' at imparting the news. I immediately changed the pic.
Doug included this pensive sketch of him drawn by his mate Dee a couple of years back during a camping trip.
rather than this one which came with the original notice: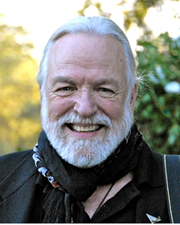 Here's a 2-18-11 note from Doug about Hokum
Dear Hearts,
We all knew and cared for and loved this man. His legacy is complex and tapestropic. Yes, I know, not a real word and yet it ought to be. For his life was a tapestry and it was tropic, a land unto itself. All really extraordinary lives are.
The exoskeleton of daily media promotes the gross and distorted about any and every event, not deliberately but by the nature of its cycle. Because of this, this will be the last of any gleanings from the web that I send you about Hokum unless you specifically request I continue to send you reports.
Frankly, I don't see a reason to pay anymore attention to the final floggings of a possibly prurient news story, particularly this one.
OTOH, using Google Alerts and typing in Robert Stable and/or Hokum W Jeebs will yield daily reports and a variety of present and past circumstance. Try googling yourself. Very instructive.
At some point in the future there will be a gathering, perhaps more than one.
I look forward to that.
Much love,
Doug
http://gallery.mac.com/dougmck1#gallery
http://themarsh.org/myt_pastperformances.html
http://gallery.me.com/themarsh#101370&bgcolor=black&view=grid
Hokum is a particular song type of American blues music - a humorous song which uses extended analogies or euphemistic terms to make sexual innuendos. This trope goes back to early blues recordings, and is seen from time to time in modern American blues and blues-rock.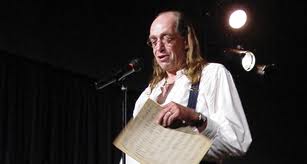 ---
from cuke 2-17-11 - Just received word that old friend Hokum Jeebs was stabbed to death in his home in Seattle. Hokum was the one man band street artist in San Francisco who, among other things, arranged occasional tuba extravaganzas.
More at West Seattle Blog and Clownlink.
Lots more on the Internet about Hokum. Farewell to another dear friend. -
Hokum once made a recording of my song, Away with Me. I'd love to get a copy of that record which was a small 45 or maybe 33 with two songs on each side. Check out several versions of this song, none of them attaining excellence, at defusermusic.com on the complete song archive page. It's number 446. - dc
---
2-19-11 - Hello everyone…My name is Shelley and I have been a great friend of Hokum's since 1989…
I know our hearts continue to break with the shock and loss…the reality is going to take a long time to unfold…
Having been to his home and shared so much of his food and love…I also know many of Hokum's ABSOLUTES…and NOT watching the news was one of them…
Since this nightmare started I have chosen to honour Hokum by not taking in the news that is coming but to truly throw my focus into assisting Anita wherever possible and focusing my energy into all that was great and good…remembering and holding on to all the laughter and grace from our Hokum and I know there are so many of us that were lucky enough to have been included. I am also asking that those of us in the inner sanctum keep trying to do the same…to remember, to highlight and to hold on dearly to all that was great and good about Hokum…we cannot let his tragic ending be the only part of the story…His story that we are now left to tell.
My heart is broken .
Please remember …Hokum W Jeebs…(the W stands for…'WHATEVER')…UNBELIEVABLE.
Shelley Switzer, Artistic Producer
Edmonton International Street Performers Festival
---
Stabbing victim's partner says life was 'rich, full, exciting'
By Sara Jean Green
Seattle Times staff reporter
Dr. Anita Shaffer has a three-inch stack of condolence cards sitting in a drawer in her office at the Polyclinic on Seattle's Capitol Hill, but she can't bear to open them.
Someday, she'll read the messages from friends and patients, but right now, the pain is too fresh after the violent stabbing of Professor Hokum W. Jeebs, Shaffer's domestic partner of 14 years, who was killed Feb. 16 in their West Seattle house.
She described Jeebs as "a tenderhearted soul" who attracted artistic types into his orbit. He had five full-size pianos and could play dozens of songs from memory: "He had so much music in his brain, it would just flow to his fingertips," she said.
She acknowledges their relationship may seem odd to others: "A straight woman living with a gay man might seem like an unusual relationship to people, but boy, it sure worked for us," she said.
Angelo Felice, who moved to Seattle from Binghamton, N.Y. in mid-December, was charged Tuesday with first-degree murder in connection with the fatal stabbing of Jeebs, 60, in what police have characterized as an attempted robbery gone awry. Felice, 19, is being held in the King County Jail on $500,000 bail.
According to charging documents, Jeebs — a retired vaudeville performer whose real name was Robert Stabile — first met Felice on Feb. 14. A friend had warned Jeebs to be wary of Felice, and an acquaintance of Felice's later told police that Felice had talked of robbing Jeebs, who grew medical marijuana in his basement, charging papers say.
Shaffer said she and Jeebs spent the night of Feb. 15 the same way they always did: She got home from work around 7 p.m., fed the feral cats she cares for, and then went downstairs to the mother-in-law apartment where Jeebs lived to eat dinner and play Scrabble.
Jeebs was "a fabulous cook" who usually won their nightly Scrabble matches, Shaffer said.
"That Tuesday night, I actually won. If I knew it was our last game, I would've let him take it," she said.
At 9:30 p.m., Shaffer went upstairs to her bedroom, which is above a garage off the main house. "I knew he had someone coming over later in the evening but we kept our private lives private in that regard. I considered it his business," she said.
According to charging documents, Jeebs picked Felice up from a West Seattle convenience store and brought him home after Shaffer had gone to bed. The two men allegedly smoked marijuana and methamphetamine and Jeebs apparently began "hitting on" Felice, charging papers say.
In an interview Wednesday night, Shaffer, 61, said she never worried about the men Jeebs brought home: "I never worried for my own safety. I would occasionally worry for his safety and that ultimately proved to be correct."
A few minutes after midnight, Shaffer said she woke to the sound of Jeebs screaming on the deck beneath her window. Someone — she's certain it was Jeebs — threw a rock through the pane in what Shaffer thinks was a desperate attempt to get her attention.
She put on her bathrobe and dialed 911. Jeebs, she said, stumbled up the stairs to a landing outside Shaffer's bedroom and fell to the floor. "He said, 'Anita, I've been stabbed,' " Shaffer said.
She screamed when she saw his blood-soaked shirt and grabbed towels to apply pressure to his wounds. She said she left him briefly, to unlock the door for the police, and when she returned he told her, "I'm dying," she said. "Then he died."
"Hokum's courageous actions probably saved my life," she said.
The police, she said, believe Jeebs was taken by surprise and stabbed from behind, suffering a fatal wound before he was stabbed twice more. But instead of dying immediately, Jeebs ran from his killer, luring his attacker onto the back deck, Shaffer said.
"There was blood in every corner of every room of the house. I think his killer must have been chasing him around," she said.
Jeebs "could've run up the stairs to my bedroom, but he knew the man would follow him and I would be injured as well," Shaffer said. Once his attacker had fled, Jeebs "used his last ounce of strength to come up the stairs to me so we could be together in that last moment," she said.
"Our house was full of music and wonderful, interesting folks," Shaffer said. "It was a really rich, full, exciting life, and it goes beyond saying that I will miss it terribly."
Sara Jean Green: 206-515-5654 or sgreen@seattletimes.com
---