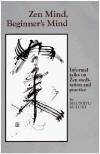 REPETITION "If you lose the spirit of repetition, your practice will become quite difficult."
The Indian thought and practice encountered by Buddha was based on an idea of human beings as a combination of spiritual and physical elements. They thought that the physical side of man bound the spiritual side, and so their religious practice was aimed at making the physical element weaker in order to free and strengthen the spirit. Thus the practice Buddha found in India emphasized asceticism. But Buddha found when he practiced asceticism that there was no limit to the attempt to purge ourselves physically, and that it made religious practice very idealistic. This kind of war with our body can only end when we die. But according to this Indian thought, we will return in another life, and another life, to repeat the struggle over and over again, without ever attaining perfect enlightenment. And even if you think you can make your physical strength weak enough to free your spiritual power, it will only work as long as you continue your ascetic practice. If you resume your everyday life you will have to strengthen your body, but then you will have to weaken it again to regain your spiritual power. And then you will have to repeat this process over and over again. This may be too great a simplification of the Indian practice encountered by Buddha, and we may laugh at it, but actually some people continue this practice even today. Sometimes without realizing it, this idea of asceticism is in the back of their minds. But practicing in this way will not result in any progress.
Buddha's way was quite different. At first he studied the Hindu practice of his time and area, and he practiced asceticism. But Buddha was not interested in the elements comprising human beings, nor in metaphysical theories of existence. He was more concerned about how he himself existed in this moment. That was his point. Bread is made from flour. How flour becomes bread when put in the oven was for Buddha the most important thing. How we become enlightened was his main interest. The enlightened person is some perfect, desirable character, for himself and for others. Buddha wanted to find out how human beings develop this ideal character--how various sages in the past became sages. In order to find out how dough became perfect bread, he made it over and over again, until he became quite successful. That was his practice.
But we may find it not so interesting to cook the same thing over and over again every day. It is rather tedious, you may say. If you lose the spirit of repetition it will become quite difficult, but it will not be difficult if you are full of strength and vitality. Anyway, we cannot keep still; we have to do something. So if you do something, you should be very observant, and careful, and alert. Our way is to put the dough in the oven and watch it carefully. Once you know how the dough becomes bread, you will understand enlightenment. So how this physical body becomes a sage is our main interest. We are not so concerned about what flour is, or what dough is, or what a sage is. A sage is a sage. Metaphysical explanations of human nature are not the point.
So the kind of practice we stress thus cannot become too idealistic. If an artist becomes too idealistic, he will commit suicide, because between his ideal and his actual ability there is a great gap. Because there is no bridge long enough to go across the gap, he will begin to despair. That is the usual spiritual way. But our spiritual way is not so idealistic. In some sense we should be idealistic; at least we should be interested in making bread which tastes and looks good! Actual practice is repeating over and over again until you find out how to become bread. There is no secret in our way. Just to practice zazen and put ourselves into the oven is our way.