cuke.com - an archival site on the life and world of Shunryu Suzuki and those who knew him.
home what's new bibliography interviews stories and more if you look around
---
Letter of Support for the Cucumber Project from Huston Smith
Cucumber Project Letters of Support Huston Smith cuke link page
2012 Drive to Raise Funds for the Crooked Cucumber Archives
Do-it page with Goals - Support Statements - Budget - Contributors - Posts
---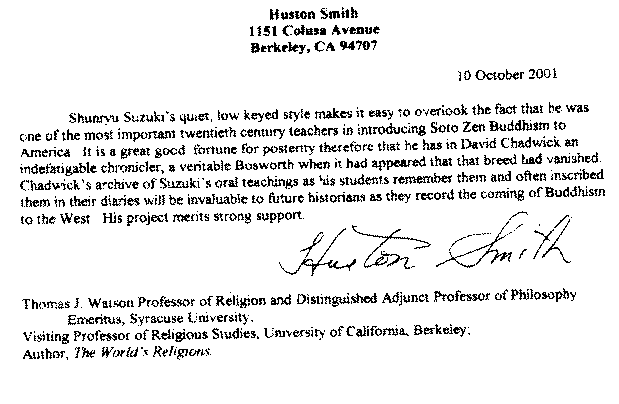 ---
Transcription of letter of support for the Cucumber Project from Huston Smith
***********
Huston Smith
1151 Colusa Avenue
Berkeley, CA 94707
10 October 2001
Shunryu Suzuki's quiet, low keyed style makes it easy to overlook the fact that he was one of the most important twentieth century teachers in introducing Soto Zen Buddhism to America. It is a great good fortune for posterity therefore that he has in David Chadwick an indefatigable chronicler, a veritable Boswell when it had appeared that that breed had vanished. Chadwick's archive of Suzuki's oral teachings as his students remember them and often inscribed them in their diaries will be invaluable to future historians as they record the coming of Buddhism to the West. His project merits strong support.
[signed - Huston Smith]
Thomas J. Watson Professor of Religion and Distinguished Adjunct Professor of Philosophy Emeritus, Syracuse University,
Visiting Professor of Religious Studies, University of California, Berkeley,
Author,
The World's
Religions.
---
Cucumber Project
Go to What's New