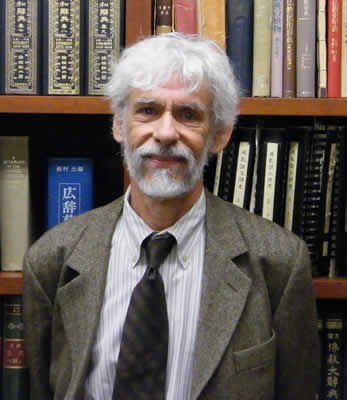 From The Human Experience - inside the Humanities at Stanford University
The link on that page to an interview with him is broken (as of this writing long ago). Here is a working link: Shinyo-en Foundation interview with Carl Bielefeldt = There are some other broken links on that page.
Draft of Carl's 1998 excellent talk at Stanford Sati Foundation Shunryu Suzuki conference on Suzuki's historical and teaching background.
Carl has been involved with Gil Fronsdal to some extent with Shunryu Suzuki's college thesis. Here's a page for it with an outline and more info. The above Stanford Seti Conference talk starts with Carl discussing it.
Section of the Fall/Winter 1998 Windbell with Carl's Sati conference talk
Shunryu Suzuki teachers and heirs page
Transcript of talk Carl gave on Suzuki at Tassajara July 21, 1999 on the Mountains and Rivers Sutra
(with audio link) - Abridged version and whole talk
Two excerpts from the talk for Brief Memories: Suzuki on this sutra and on Shingon and Soto Zen

---

From Stanford's Dept. of Religious Studies page for Carl
Carl W. Bielefeldt
Evans-Wentz Professor (California-Berkeley)

Specializes in East Asian Buddhism, with particular emphasis on the intellectual history of the Zen tradition. He is the author of Dogen's Manuals of Zen Meditation and other works on early Japanese Zen and serves as editor of the Soto Zen Text Project Co-Director of the Ho Center for Buddhist Studies. Professor Bielefeldt received his Ph. D from University of California at Berkeley.
Curriculum vitae on Stanford site (on cuke) Publications on Stanford site (on cuke)
---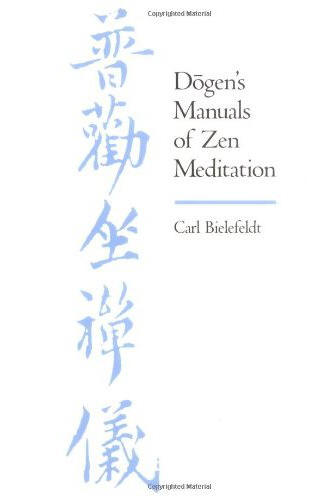 Dogen's Manuals of Zen Meditation - UC Press link - Amazon link
Carl is a co-author of Traditions of Meditation in Chinese Buddhism (Studies in East Asian Buddhism, No 4 - U of Hawaii Press link - Amazon link
---
Carl and his wife Fumiko did real time translation of interviews with Shunryu Suzuki's family, joining Peter and Jane Schneider for those sessions in 1971 and 1972. See Interviews on the right side, the Japan side that have *** after the title. I'm now (8-13-11) checking to make sure all of those interviews are on cuke. They were re-assessed with comments added by Fred Harriman in the late nineties.
---
The western notion of karma meaning "you sow what you reap" is simplified and untrue according to Professor Carl Bielefeldt, an expert on the history of Japanese Buddhism. Bielefeldt sheds new light on the often misunderstood Buddhist force and shows how it might fit into a higher ethical code. He invites his audience to step outside their own cultural domain and behold this intriguing way of thinking.
---
Carl Bielefeldt in SFZC Wind Bells

1974 Wind Bell (inside front cover)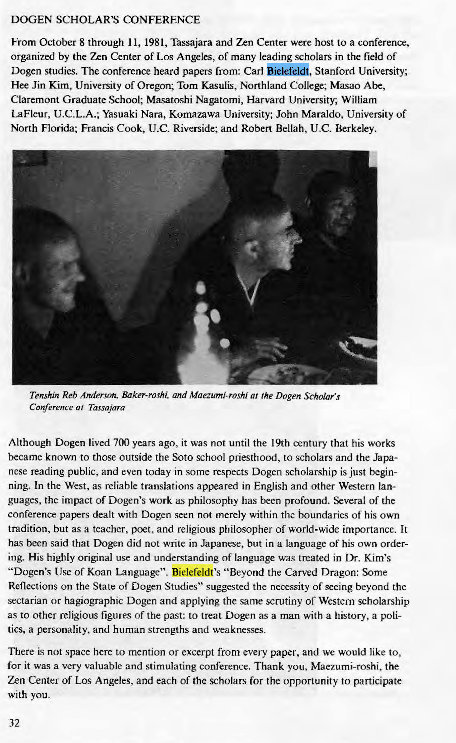 Summer 1983 Wind Bell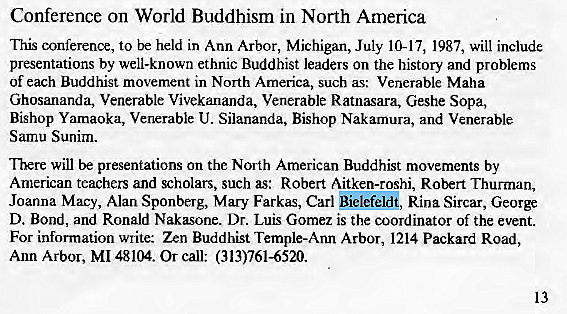 Spring 1987 Wind Bell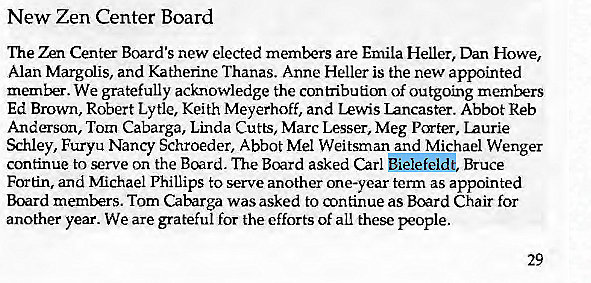 Spring 1989 Wind Bell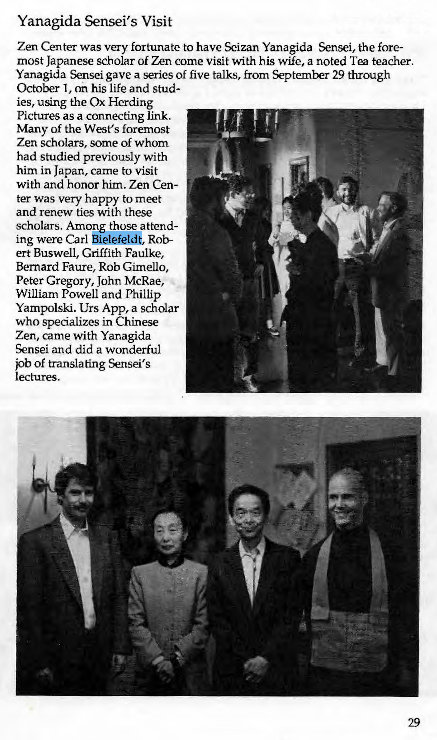 Fall 1989 Wind Bell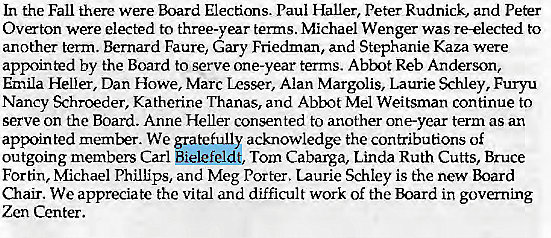 Zen Center News - Spring 1990 Wind Bell, p. 27

Vinaya Conference at Green Gulch Farm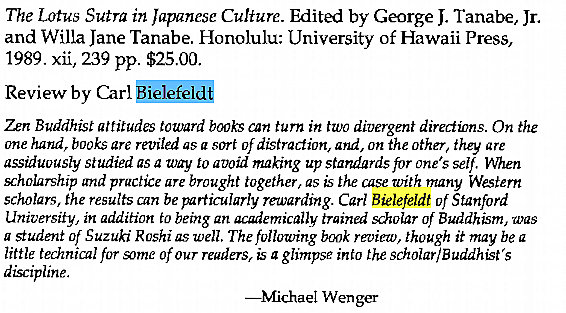 Fall 1990 Wind Bell - pp. 21-23

Fall 1991 Wind Bell - pp. 28 - 32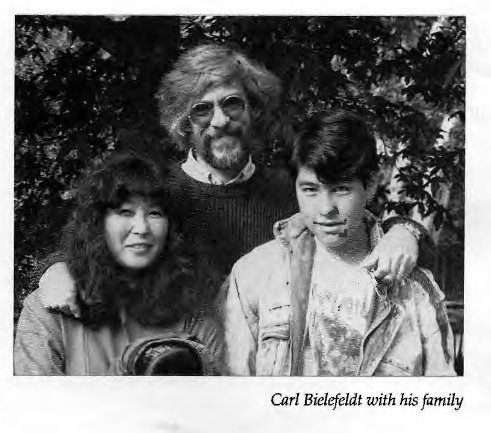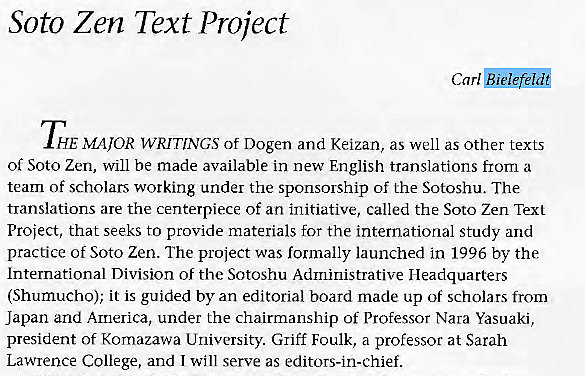 Review from Spring Summer 1998 Wind Bell - pp. 8-9
Fall Winter 1998 Wind Bell - Sati Center Conference on Shunryu Suzuki pp. 6 - 31 including Carl's talk on Soto Zen at the Beginning of the 20th Century - pp. 17-24 from either link.
---