---
THE AUDIO-VISUAL ARCHIVE of the LTWA - the Library of Tibetan Works and Archives
Project manager - Lama Karma Khedup
LTWA home page
LTWA Archive Project Main Page
---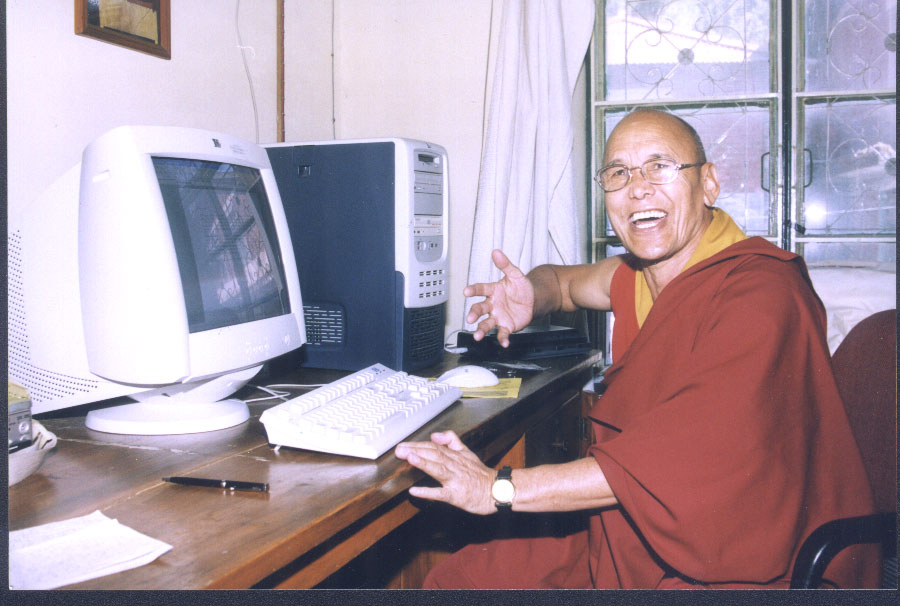 To volunteer, email Karma Khedup <karmakhedup@yahoo.com>
Let me know how it works out - DC <dchad2(at)sonic(dot)net>
Later - I'm sure they'll take volunteers by now.
8-27-04 - Right now Lama Khedup cannot accept any volunteers until he gets more funding to buy a new server. He recently wrote: Unfortunately, the position of volunteers working at the library's sound archive is not available. Because, we still remain unchanged regarding the major facing difficulties of the server storage facility. The Library of Tibetan Works and Archives (LTWA) is still raising funds for the requirement of sound server storage project. The library is taking only those volunteers who have with such technical background of digitizing needed for sound archiving. Therefore, at the moment we are unable to place volunteers this year, unless we fully install the required facilities.
I really want to help them get the money they need to continue this work and think that the best thing I could do now is to write an article on this project complete with photos which I have and to try to get it published and try to drum up some support from the US Tibetan Buddhist community. - DC
6-28-04 - Seeking a volunteer or volunteers to work on this archive.
I hope someone can respond to this. Karma Khedup is a wonderful person, would be a delight to work with, the LTWA is in a pleasant and low key location with short walks to lots of stimulating Tibetan and Indian cultural experiences. There are daily lectures by Rinpoches on Tibetan Buddhism in the building where he works. Living there is so cheap that you save money by not being somewhere else. - DC
---
Karma Khedup says: "He/she will be provided a rent free accommodation, a simple room with commonly shared toilet and bathroom. Also, he/she can avail regular courses on Buddhist philosophy and Tibetan language and library facilities. I would like to know their background and skills. Volunteer's work depends on the interest of the volunteer. We are flexible and they can work full day or half day basis. Usually most of the volunteers work five full days a week with Saturday and Sunday off. There will be also no work during the public teachings given by His Holiness the Dalai Lama.
---
6/14/04 - Exactly a month ago Karma Khedup wrote to me (I apologize for taking so long but I've been asking around):
I was wondering if you happened to know of anyone, who is willing to come and volunteer here at the Tibetan Library. A basic knowledge of digitizing software and general computer skills is preferable. I would be extremely grateful for the assistance due to the magnitude of the project that is being undertaken here. At present I have a volunteer worker from Britain who will be with me for around another five weeks before he returns home.
I again look forward in receiving many thoughtful suggestions and advice in future.
With kindest regards, yours sincerely,
Karma Khedup
In-Charge of Audio/Visual Section,
LIBRARY OF TIBETAN WORKS & ARCHIVES,
Gangchen Kyishong,
Dharmsala - 176215,
H.P., India.
Tel (Off.): +91-1892-222467, 226095, 201347
Fax: +91-1892-223723
Email: ltwa@gov.tibet.net
Website: www.tibet.net
---