SHOGAKU SHUNRYU LINEAGE

from Dogen - translated by Taigen Leighton

------See the kanji for Shunryu Suzuki's lineage

Shunryu's teaching lineage and dharma heirs with photos

Groups in Shunryu's Lineage and Related

Sati Conference page - Carl Bielefeldt and Richard Jaffe on Suzuki's Soto Zen background, teachers, lineage
---
Shunryu Suzuki page on Wikipedia has a thorough lineage list though don't know how well it's kept up.
Copied and pasted to bottom of the page 12-08-17
---
Dharma groups in or related to Shunryu Suzuki's lineage - incomplete, always needs updating
---
---
Sweeping Zen Shunryu Suzuki Lineage Section
---
Check out this lineage page on Terebess at the bottom has the two lineages of modern Soto Zen which are from Nishiari Bokusan up top and Harada Sogaku who was Yasutani's teacher.
Taigen Dan Leighton's lineage chart - Dogen to Shunryu
Wikipedia Zen Lineage Charts - includes incomplete but lengthy Shunryu Suzuki lineage
Cuke page on groups related to Shunryu Suzuki lineage - incomplete
---
11-29-14 - Dainin Katagiri and Shunryu Suzuki lineages depart as far back as Keizan. The Suzuki lineage follows Gasan Joseki after Keizan, and Katagiri follows Meiho Sotetsu after Keizan. This brings to mind the thought that there should be a lineage page on cuke where such info can be gathered - including writings on not getting too caught up on the validity or importance of it all. Will make this this first such post there and as I stumble on related material will add. An interesting note - to me anyway on lineage. Thanks Valorie Beer- dc
---

11-30-14 - Click on thumbnail to enlarge
Back side o DC lay rakusu with kanji written by Suzuki received at the lay ordination at SFZC, August 25, 1970 for a number of people - like 20 or more. Reading from the right is the robe chant, then the date, gotta ask about the next line, then his name Zenshin Shunryu some title, and mine Kisan Zenyu koji (lay person). Robe chant on this page of short verses from the Austin ZC.
The first lay ordination was 1962 for about 13 students. Suzuki was a little discouraged with the follow-up on ordinations and waited a while to do more. There was a kids lay ordination in the summer of 1970 at Tassajara and this one in August. The last was in 1971 for a bunch. In time will get these details more nailed down including priest ordinations - mine Nov. 1971. - dc - more in DC-SR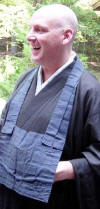 The Rakusu and the Precepts by Kuden Paul Boyle (from Chaple Hill ZC site) - with a nice photo of him in a similar rakusu - blue - though mine was smaller. People always remark on how small it is. I sewed it and maybe got some help.
Click on thumbnail to enlarge
---
Lineage from Wikipedia page on Shunryu Suzuki - copied 12-08-17

Shunryu Suzuki (1904—1971)[11]
Richard Baker (born 1936)
Hoitsu Suzuki (born 1939)

Tenshin Reb Anderson (born 1943)

Sobun Katherine Thanas (☸ 1927—2012)
Ananda Claude Dalenberg (☸ 1927—2008)
Zengyu Paul Discoe (born 1942)
Chikudo Jerome Peterson (☸ 1928—2010)
Eijun Linda Cutts (born 1947)

Jisan Myochu Tova Green (born 1940)
Keimyo Doshin Dario Girolami (born 1967)
Kyoshin Myoten Wendy Lewis (?—present)

Jakujo Gary McNabb (born 1943)
Furyu Nancy Schroeder (?—present)
Myo Denis Lahey (born 1951)
Taigen Dan Leighton (born 1950)
Meiya Wender (?—present)
Leslie James (?—present) lay entrustment
Setsuan Gaelyn Godwin (born 1951)

Dojin Sarah Emerson (born 1971)

Kiku Christina Lehnherr (?—present)
Taiyo Lipscomb (?—present)
Kokyo Henkel (born 1966)

Ryuten Paul Rosenblum (?—present)
Philip Whalen (☸ 1923—2002)
Issan Dorsey (☸ 1933—1990)
Chikai Yaku Jun (Harper Leah) (born 1946)

Sojun Mel Weitsman (born 1929)

Josho Pat Phelan (?—present)
Mary Mocine (?—present)
Myoan Grace Schireson (born 1946)

Jane Myokaku Schneider (?—present)
Myosho Baika Andrea Pratt (born 1960)

Shinshu Roberts (?—present)
Daijaku Judith Kinst (?—present)
Soshin Teah Strozer (?—present)
Chikudo Lew Richmond (?—present)
Peter Yozen Schneider (?—present)
Shosan Victoria Austin (?—present)
Dairyu Michael Wenger (born 1947)

Darlene Su Rei Cohen (☸ 1942—2011)

Susan Ji-On Postal (☸1940—2014)

Myozan Dennis Keegan (?—present)
Ebony Song (1956-present)

Horyu Ryotan Cynthia Kear (?—present)
Sarita Tamayo-Moraga (?—present)

Mark Lancaster (?—present)
Marsha Angus (?—present) lay entrustment
Bernd Bender (born 1958) lay entrustment
Jamie Howell (born 1945) lay entrustment

Hozan Alan Senauke (born 1947)
Maylie Scott (☸ 1935—2001)
Fran Tribe (☸)
Gil Fronsdal (born 1954)
Edward Espe Brown (born 1945)

Danny Parker[

citation needed

]

Ryushin Paul Haller (born 1947)
Myogen Steve Stucky (☸ 1946-2013)
Steve Weintraub (?—present)
Zoketsu Norman Fischer (born 1946)

Do-An Robert Thomas (?—present)
Shokan Jordan Thorn (?—present)
Ingen Breen (?—present)
Bruce Fortin (?—present)
Arlene Lueck (?—present)
Daigan Lueck (☸ 1931—2015)
Shinko Rick Slone (?—present)
Gloria Ann Lee (?—present)
Myphon Hunt (?—present) retired
Gyokujun Teishin Layla Smith (born 1946)
Eihei Peter Levitt (1946—present) lay entrustment
Mick Sopko (?—present) lay entrustment

Zenkei Blanche Hartman (☸ 1926—2016)

Kosho McCall (born 1946)
Seirin Barbara Kohn (?—present) retired
Gengetsu Jana Drakka (born 1952)
John Daniel King (☸ 1935—2001)
Ryumon Hilda Guitierrez Baldoquin (?—present)

Jakusho Kwong (born 1935)
Keido Les Kaye (born 1923)

Misha Shungen Merrill (?—present)
Jean-Yves Leclerc (?—present)
Om Devi Reynolds (?—present)
Cornelia Junfu Shonkwiler (?—present)
Etsudo Patty Krahl (?—present)
Jintei Harold Little (?—present)

Robby Ryuzen Pellett (born 1956)