Shunryu Suzuki Bio Info
Chronology of Shunryu Suzuki's life
One hundred and eleven years ago today, Shunryu Suzuki was born - 3600 words
Crooked Cucumber Comes to America - 3300 words
Crooked Cucumber: the Life and Zen Teaching of Shunryu Suzuki - 450 pages
Autobiographical and some Historical Material
in Suzuki lectures - through 1968 - 1969 - 1970 - 1971
December 2006 Wikipedia Entry on Shunryu Suzuki
---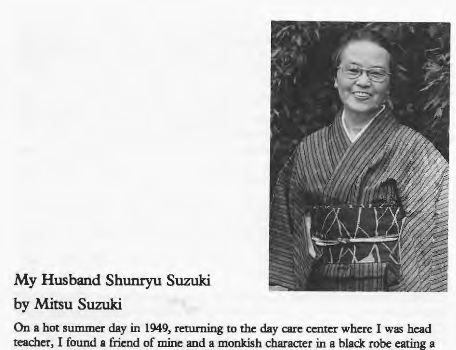 My Husband Shunryu Suzuki by Mitsu Suzuki from Wind Bell fall 1986 - Mitsu
---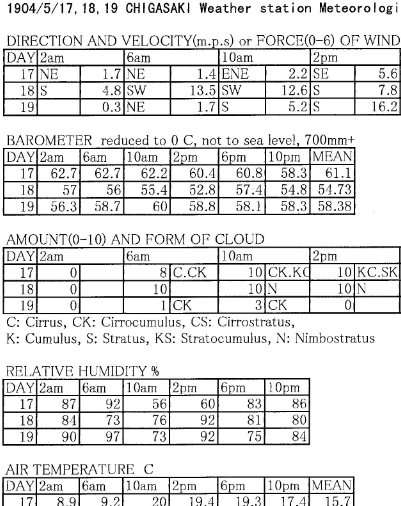 Weather report for time and place of Shunryu's birth (Thus, the opening sentence of Crooked Cucumber)

Suzuki obituaries

Card for Shunryu Suzuki 100th birthday bash - Suzuki 100th birthday bash

Yasumasa Amada's list of papers on Shunryu Suzuki including Kozuki Shigeo's. Kokoro no Furusato (Hometown of the Heart), Nikkei, Tokyo, 1994. [A eulogy to Shunryu Suzuki from one of his wartime students.
---
Basic Family info
Father - Butsumon Sogaku and Mother Yone Shima
Half brother Yoshinami Shima. Sisters Aiko and Tori.
Shunryu first wife name unknown. Marraige annuled due to her health problems and inability to be a priest's wife.
Shunryu's 2nd wife Chie Muramatsu and her mother who lived at Rinsoin, Kinu Muramatsu
Children with Chie - Yasuko-daughter, Hoitsu-son and dharma heir, Omi - daughter died c.1964, Otohiro - lives in San Francisco.
Chie died in 1952.
Shunryu married Mitsu who's daughter is Harumi Matsuno
Yasuko married Iwao Oishi. Children info to come.
Hoitsu's wife is Chitose. Their children are daughters Narumi and Kayoko and son Shungo who's a priest like Hoitsu and married to Kumi and they run Rinsoin.
Otohiro's wife is Mitsuyo. Their daughters are Takako and Kazuko