Interviews by DC in US, Sept.93, Feb.96.
Interview by DC, April '94 in Japan.
Interview on her life by Kazuaki Tanahashi
On her life with Suzuki-roshi by Tanahashi
2013 Birthday Greetings
More from Japan - with old Suzuki students, April '94 by DC
from R O U N D A B O U T Z E N
TWO POEMS AND CONVERSATIONS WITH SUZUKI ROSHI by Mitsu Suzuki
Excerpt from Bodhisattva Archetypes by Taigen Dan Leighton
7/06/01 - A letter from Mitsu Suzuki
9-22-13 - Mitsu Suzuki letter to DC - JP -
Mitsu to DC - translation with JP -
4/08/03 - A letter from Mitsu on Buddha's birthday.
See Temple Dusk: Zen Haiku, a book of Mitsu Suzuki's poetry, in the bibliography.
See a few photos with Mitsu in them in the Photo Gallery.
See other interviews with members of Suzuki's family on the Interview link page. - on the right side under Suzuki
---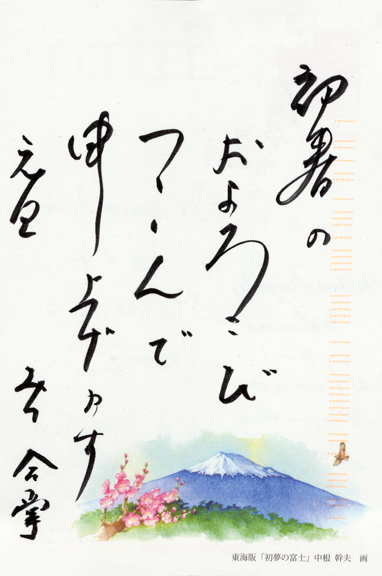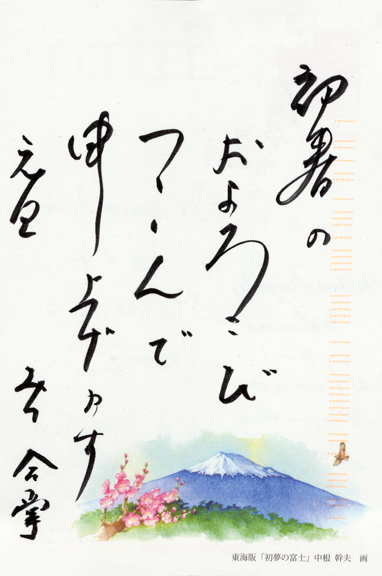 2-18-11 - Here's a New Year's card sent from Mitsu Suzuki, Mrs. Suzuki, Okusan, Shunryu Suzuki's widow, to Daya Goldschlag. Tozen Akiyama Roshi kindly translated it as
"I wish you Happy New Year," literally, "I respectfully say the joy/delight of the beginning spring."
Hatsuharu no
oyorokobi
tsutsushinde
moshiagemasu.
Gantan Mitsu Gassho
This was sent before the conventional Western New Year. In Japan they use the new calendar and the old calendar for different purposes. They have a way of not erasing the old when they add the new. The traditional New Year in Japan, China, and all Asia I guess, is early February, the beginning of spring, the traditional seasons beginning about six weeks earlier than in the West, when there's a hint of the season. Sort of like Groundhog Day being the hint of spring. - dc
---
4-24-13 - Posting yesterday's Happy Birthday to Mitsu Suzuki one day late. See - it's down there now as if it were posted yesterday. However, personal congrats were sent to her via Rinsoin (Shunryu Suzuki's temple in Yaizu now son Hoitsu abbot). Just couldn't remember when it was. The SFZC event for her birthday doesn't stipulate what the date is. Wasn't sure of the date. Searched and found it here. I guess that's right. I'm sure it's elsewhere on this site or in my notes but Binging was easiest.
Normally I don't think about her birthday - they aren't a big deal to Japanese in my experience - but Richard Baker at Crestone got hold of me because they wanted to send her a birthday greeting so I sent him the Rinsoin email address which is Shungo's (Hoitsu's son, Shunryu's grandson.) I don't remember hearing Shungo speak English but he's doing a good job now with English email. Crestone sent her a video of sesshin attendees singing Happy Birthday. He responded:
We received the letter, photos and movie for my grandmother.
So she received them and the letter was translated by me today.
She was very happy and inspired.
So she was admired you and your members energetic activity.

She said to me in earnest, "It is just important zen practice for me that how to finish my life",
and said "Please come for pickup me from nirvana soon. Suzuki roshi." as a joke.

Thank you very much.

nine bows,
Shungo
So I, DC, sent a birthday greeting from 1st wife Daya Goldschlag (who was close) and me to Mitsu via Shungo and received this from Shungo: She said to me by phone yesterday,
"It's just important zen practice for me that how to finish my life".
There was an event for Mitsu at the SFZC earlier in the month but don't see her birthday date mentioned.
I just noticed that on the SFZC site it says "This April in Japan, she will be turning 99 and in our way of counting, 100" but that's not right. Unless I'm making a senior mistake, , it's the opposite: this April she will turn 99 in our way of counting and in Japan's 100. Born 1914 - same as my recently late mother, Ahdel. In Japan you're one at birth cause their one means 1st year.
---

4-23-13 - Happy Birthday Mitsu Suzuki!
[posted on What's New]
---
letter from DC in Japanese to Mitsu Suzuki 2001
---
---
Thereís much more on her on cuke.com that can be found by searching within the site from the Index or Whatís New pages for Okusan, Mrs. Suzuki, Suzuki Sensei, and Mitsu.