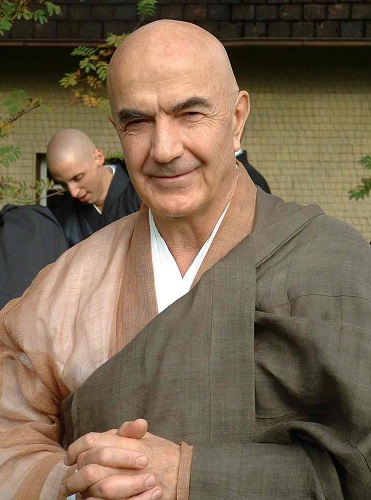 Zentatsu Richard Baker Roshi is a dear friend and teacher of mine who has been completely supportive of cuke archives, work, projects, and me and mine all the way back to before Tassajara at Sokoji. - DC
Born March 30, 1936
---
2-11-17 - Zentatsu Richard Baker in the SFZC Wind Bells - Wind Bell excerpts
1963 - 1971 - Shunryu abbot
1972 - 1973 - Zentatsu abbot
1974 - 1979 - Zentatsu abbot
1983 - 1987
1988 - 1998
1999 - 2012
Zentatsu lectures from the Wind Bell - in one PDF. They're all linked to individually as well from the Richard Baker in Wind Bells links above and here below.
Dharma from Zentatsu on Dharma Sangha site
Richard Baker talks at City Center when Shunryu Suzuki died and other material (pdf)
WB 73, p6 - Comments at Shunryu Suzuki's Ashes Ceremony - PDF
WB 70 Summer, pp17-20 - Lecture at Esalen Institute, October 28, 1969 - PDF
WB 73, P40-44 - Memorial Service Lecture (plus bit from Memorial Service), Dec. 23, 1972 - PDF
WB 74, Alan Watts funeral, P6-11 - PDF
- April Sesshin lecture, pp34-40 - PDF
- Awakening the Will Body, P25-31 - PDF
WB 76 - April, Sesshin Lecture, P7-9 - PDF
- June, Inside Out, P10-17 - PDF
- 1973 to Sensory Awareness students, P37-39 - PDF
WB 78, P37-39 - Foreground and Background - PDF
Notes on early Richard Baker Wind Bell interview
---
Richard Baker on his practice with Shunryu Suzuki from an early draft of Original Mind
Original Mind - chapters from Baker's yet published book
Richard Baker on Alan Watts - sent to DC spring 2015
DC on Alan Watts with Baker references
***
Richard Baker's poem for Grahame Petchey read to Grahame shortly before he died
Richard Baker wrote: I looked at your and Julia's emails as I was wondering what to say for the 9 PM Hot Drink [during sesshin], I already had the first simple lines, and then I added the rest in feeling for Grahame.

Finding breathing,

Repeating,

Resting, Waiting.

Past and present
form themselves.

We put this Zendo in this old building,
to sit for awhile and stop
our coming and going.

My old friend Grahame's
in hospice,
maybe, about to die.
Yesterday, "time is short",

his daughter, Julia,

said, he said.

He was president of Zen Center
in '62, I was the Treasurer,
But neither of us knew,
Neither of us knew.

But we read Dogen, Uji,
BeingTime, and the
Diamond Sutra:
"all things are like a dream,
a bubble, a shadow,
a drop of dew
all things must be viewed
like this."

In Uji, Dogen recounts how
Yaoshan asked Mazu,
"What's the meaning of
Bodhidharma coming from India?"

Mazu said,

"For the timebeing have him raise
his eyebrows and blink,
for the timebeing do not have him
raise his eyebrows and blink."

Grahame and I raised
our eyebrows and blinked.


---
---
So much to add here like Baker in Crooked Cucumber and much more. But you can find it all by searching for "baker" in cuke.com's site search. - dc
---
7-03-14 - Richard Baker related archival 2013 Scans
---
Richard Baker figures porminantly the in Zen In America KQED film on shunryusuzuki.com where one can see the whole or parts with several hundred stills.
Some photos with Richard Baker on the cuke photo page and from there via links.
---
Here's a somewhat strange page on Zentatsu at Vipfac.
---
---
---