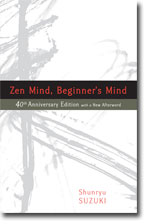 AFTERWORD
Zen Mind, Beginner's Mind at Forty
When Shunryu Suzuki first saw a published copy of Zen Mind, Beginner's Mind, he looked it over for a minute and commented, "Good book, I didn't write it, but it looks like a good book."
That was forty years ago, the summer of 1970. He and a few students were in the foyer of the San Francisco Zen Center's City Center standing around some boxes of the newly published hardcover.
More than forty years before that, in the early twenties, as a young Zen monk strolling through the shops and stands in the bustling trade city of Yokohama, Suzuki had lamented the poor quality of Japanese furniture, toys, and other items bound for export. He wondered why they didn't send abroad the best of their crafts and arts. Maybe someday, he thought, if he studied and applied himself sincerely, he could bring to the West what to him was truly the best his homeland had to offer, the way of his Zen mentors. He never completely let go of that idea, and eventually the knots of duty loosened, an opportunity arose, and he flew to San Francisco carrying a painting and a hidden plant.
Most of Suzuki's students didn't get too excited when Zen Mind, Beginner's Mind came out. We had him and he told us to forget what he said in lectures and put our effort wholeheartedly into zazen and mindfulness. People did study, but his talks weren't thought of as being more important than the sutras, Chinese koan collections, and other Buddhist writings. The most enthusiastic responses came from outside of the community of his students. Today there are other collections of his lectures, a couple of books about him and his teaching, more books and articles with something on him or from him, and much more on the Internet, including all his extant lectures. There are more than seventy groups in his lineage scattered around America and Europe. But Shunryu Suzuki's renown as a seminal spiritual teacher is almost entirely due to this one unique volume.
In 2004 Weatherhill, which originally published Zen Mind, Beginner's Mind, became an imprint of Shambhala. Now in 2010 with this special edition, Shambhala commemorates the fortieth anniversary of the publishing of these celebrated "Informal Talks on Zen Meditation and Practice."
More significant than Zen Mind, Beginner's Mind's consistently impressive sales is its universal appeal. It easily moved past the perimeter of Buddhism into libraries, university classes, and reading groups. It now shows up on almost any list of modern spiritual classics in the West. Laurance Rockefeller said he kept it by his bed. Film director Sam Peckinpah opened it one evening and didn't put it down all night. Basketball coach Phil Jackson refers to it repeatedly in his book, Sacred Hoops. Its influence did not diminish with time. In 2000, Tosca, the Viennese "masters of deluxe soundscapes," released Suzuki, an album dedicated to Shunryu Suzuki. I've seen quotes from it on greeting cards, on the side of a soy milk container.
In How the Swans Came to the Lake, the late Rick Field's sterling history of Western Buddhism, he wrote,
Zen Mind, Beginner's Mind had a fresh, early morning quality to it. Suzuki Roshi spoke with a spare voice, unpretentious and humorous. It was, in fact, an American Buddhist voice, unlike any heard before, and yet utterly familiar. When Suzuki Roshi spoke, it was as if American Buddhists could hear themselves perhaps for the first time.
The Buddhist scholar and Dogen translator Kazuaki Tanahashi commented, "Suzuki Roshi digested Dogen's teaching fully and presented it in his own words in Zen Mind, Beginner's Mind, so if we study Dogen and read Zen Mind, Beginner's Mind carefully we find an invisible but strong connection."
Many readers have a genuine and lasting affection for this book. For a couple of years, a poet named Genine Lentine with support from the SF Zen Center has been working on The Page Project, in which she's collecting scans of people's personalized pages of Zen Mind, Beginner's Mind, notes written in the margins, words underlined, doodles, corners folded. "Held close, passed along," she writes, "left behind, read aloud, consulted in the middle of the night, carried on the subway or bus, Zen Mind, Beginner's Mind seems to engage the reader in a direct and warm conversation."
A year ago, for the fiftieth anniversary of Suzuki's arrival in America, Genine created an exhibition in which each page of the book was represented by someone's contribution, culled from hundreds sent her, including pages translated into Czech, Dutch, Finnish, French, German, Icelandic, Japanese, Portuguese, Russian, Spanish, and Vietnamese. We're not sure how many languages it's been translated into. Genine says there's a student at the City Center who read it in his native Mongolian translated from the Russian version.
Genine has dedicated page 103 to "my friend Lee Briccetti, a poet and Executive Director of Poets House in New York. On the morning of September 11, 2001, she was on her balcony, thirty-one floors up, looking out over lower Manhattan and reading this book, and as she read the line, 'Because we cannot accept the truth of transiency, we suffer,' she heard the first plane roar overhead."
From a letter sent to the Page Project: "Amidst this torment, I looked up. On my shrine sat a copy of Zen Mind, Beginner's Mind, with the back cover quietly lighting the cabin. Suzuki Roshi's kind and mildly-humoured gaze moved me to tears. I took the book from the shrine and opened it at random. I don't recall which chapter I read. Likely it wouldn't have mattered. Suzuki Roshi's words melted my struggle."
Indeed, Robert Boni's photo on the back cover is a key ingredient. It resides on many a wall and refrigerator. Tibetan Rinpoche, Chogyam Trungpa, who called Suzuki his accidental American father, placed that photo on his group's altars along with that of his own teacher. Mrs. Suzuki, however, didn't approve of it, at least when she first saw it, and wondered aloud why a formal photo of her husband in ceremonial robes hadn't been used instead of one taken when he was in his work clothes and needed a shave.
The society photographer Yvonne Lewis used to come with her Zen student comedian son Mark to hear Suzuki lecture in San Francisco. She commented, "Each person's face has two different sides. Suzuki Roshi had a face in which each half was so totally different from the other that I was fascinated by it. The side with the eyebrow up on the Zen Mind, Beginner's Mind photo is the mischievous side and the other is his contemplative side." Richard Baker says that to him "the right side of his face is the calm, normal, conventional person and the left side with the eyebrow up is the enlightened side communicating, showing itself, wondering, skeptical, who are you."
The Estonian poet Jaan Kaplinski refers to this photograph in a poem called "Shunryu Suzuki," translated into English with Sam Hamill.
Shunryu suzuki
a little Japanese living
and teaching in California
couldn't be my teacher
one of my non-teachers
a little lit match from God's matchbox
sea wind soon blew out
somewhere between California and Estonia
somewhere between East and West
between somewhere and nowhere
nobody can find out what remained of him
after the wind has blown and the tide
come and gone - the white sand
as smooth as before - but his smile
from the back cover of Zen Mind Beginner's Mind
has silently infected book after book on my shelves
and perhaps shelves themselves and walls and wallpaper too
Huston Smith, the dean of world religion scholars, was an early fan of Zen Mind, Beginner's Mind. His preface to the book was included later, maybe when it went paperback. Expanding on what he'd written about D.T. and Shunryu back then, Huston said over the phone:
In my introduction to Zen Mind, Beginner's Mind I allude to my experience with Suzuki Roshi. Any way to be affiliated with Suzuki Roshi is a joy as you understand. I wish I had more to add but I remember nothing but the wonderful aura, the peace and presentness of the man, his impact upon me. His contribution was immense. Of the two Suzukis, Daisetsu accomplished a major major achievement by bringing Zen and, in a way, Mahayana Buddhism to America, not single-handedly, because there was Nyogen Senzaki in LA, and the 1st Zen Institute in New York City with Mary Farkas, but as far as the general public was concerned, almost that. And then Shunryu Suzuki comes in in a different mode, because far from the public figure that Daisetsu was, Shunryu was quiet, low key, low profile. And I do think that the two Suzukis had the most impact. I think of them as complementing each other in a very wonderful way.
Huston's comparison reminds me of how once on a bus in New York City when someone asked him if he was D.T. Suzuki, Shunryu replied that no, he's the big Suzuki, I'm the little one.
John Nelson, a professor in the department of religion at the University of San Francisco who teaches classes on Zen and Buddhism, writes,
What caught my attention was the combination of person, voice, and perspective. The person looked at me from the back cover as if challenging my assumptions about Zen and reality in general. His voice on the page had a unique way of expressing key ideas and explaining the commonplace so that it took on new significance. Zen was not restricted to meditation but permeated all dimensions of life and consciousness. To a young man like myself in Kansas who was sorely disillusioned by Vietnam, race and cultural conflicts, and Watergate, the book offered an entirely new perspective on reality and human behavior.
Steve Tipton, a Suzuki student who teaches sociology and religion at Emory University, wrote,
For all the genius of its cultural and canonical translation, the practical wisdom of this book arises from its communal creation, bred by teacher and students listening and talking to each other in the course of sitting, walking, and working together every day. Through the dance of this dialogue, embodied in a way of life reborn over eons and expressed with poetic grace, comes a truly original and compassionate voice so close at hand it can open our eyes and touch our hearts.
The popularity of this book is not so much because people dwell on how great Suzuki was but because he conveys to readers that they are great. He has confidence that you, whoever you are, can understand Zen, Buddhism, reality, truth, yourself. I've interviewed and talked with hundreds of people about their experience and memories of Suzuki, and over and over so many have revealed that he (and usually only he) completely understood and appreciated them. And this connection he had with people in person comes through almost like magic in Zen Mind, Beginner's Mind. Read the online reviews. There are now over 150 on Amazon.com. I think they're the most telling, because they were written not by experts who had an assignment to compose reviews, but by readers who felt compelled to share their impression.
Buddhism had long been established within Asian-American communities when Suzuki arrived in San Francisco to serve as the priest for Japanese Americans at Sokoji, the city's Soto Zen temple. But only a handful of people in the West such as poet Gary Snyder had worked with a teacher and grown deeply involved with zazen. At the same time, Buddhism had been moving gradually from something lofty to admire from afar into something practical that one could integrate into one's life. The Light of Asia, a biography of Buddha published in London in 1879, had sold over a million copies and been made into a movie in 1928. D.T. Suzuki's and Alan Watt's brilliant books on Zen and Buddhism were widely read. Dwight Goddard's A Buddhist Bible inspired Jack Kerouac, and Kerouac and his Beat colleagues inspired many others. Indispensable sutras, early Buddhist texts, and commentary on them became available through scholars such as Edward Conze. Paul Reps and Nyogen Senzaki's Zen Flesh, Zen Bones was a delight. Such skillful and devoted writing over decades had set the stage for what was to follow--people diving with body and mind into the stream of Buddhism.
Buddhist publishing was turning toward books on practice. Enlightenment was being presented as a real possibility, close enough to almost touch. In this vein, Philip Kapleau's landmark Three Pillars of Zen had come out in 1965, and in 1969 Chogyam Trungpa's Meditation in Action was published. Shunryu Suzuki brought the Soto emphasis that enlightenment and practice were one. Rick Fields nailed it with his first sentence in his chapter, "The Sixties": "'Where there is practice there is enlightenment.' This above all was the message Shunryu Suzuki-roshi brought to America." And what is practice? As Suzuki says in this book, "Instead of having some object of worship we just concentrate on the activity we do in each moment."
Zen Mind, Beginner's Mind begins with Suzuki saying that the goal of practice is always to keep our beginner's mind. Limitless and ready for anything, this Eastern tabula rasa is not, however, a blank starting point. It is the point. This is the "mind of purity open to things as they are" or "things as it is" as he sometimes said. Suzuki's first teacher, Gyokujun So-on, stressed the importance of beginner's mind. So had Dogen. I'm reminded of the well-known D.T. Suzuki story of the Zen master who poured tea to overflowing the cup of a visiting professor to illustrate that his guest's mind was so full of assumptions and opinions that there was no room to learn anything. And then there was the wealthy lay sage, Vimalakirti, who had his home emptied of all furnishings in order to truly receive Shakyamuni Buddha's visit. Beginner's mind is the key to awakening to big mind, a favorite term of Suzuki's – big mind, the absolute, our true nature; not small mind, the product of our "silly idea of self." One of Shunryu Suzuki's closest disciples, Silas Hoadley, remembers Suzuki saying in the early sixties, "I've come to destroy your mind." Silas realized that the mind targeted for annihilation was the ego, the small mind, a delusion to begin with, but he said it was still a chilling statement. Suzuki recalled how he and his fellow disciples were losing their beginner's mind in their teens – through innocently seeing Zen as good, special, a means to gain something. He warned about the perils of being attached to any idea, including that of beginner's mind.
We can thank Marian Derby, now Marian Wisberg, for putting together the first draft of this book, as Richard Baker notes in his introduction. Marian, known to many by her pen name, Marian Mountain, also helped to break the veritable taboo against recording Suzuki's lectures which were thought of as only for the moment and the people at hand. Zen, he said, was passed on mind to mind. No doubt that's right, but as he also used to say, it's not always so. After six years in America, Suzuki's English had greatly improved. With his openness, his beginner's mind, he'd come to know his host country and his students more deeply. The time was ripe for him to begin to leave a record of what he sought to share.
We also have Marian's father to thank for asking a question while driving Suzuki from Los Altos to San Francisco. He asked what his personal ambition in life was, and Suzuki, surely because he was not talking to a student of his, said, "I'd like to write a book." When her father passed this on to Marian, she took it seriously. She talked to Suzuki about taping his lectures and putting together a book. He agreed. At about the same time his students in San Francisco likewise began to tape. Of what he said before that time we have some 30 lectures, many just fragments, based on notes. But from July of 1965 to his final season late in 1971, we now have about 330 complete lecture transcripts with the audio as well for all but sixty. We're still finding tapes and transcripts not included in the known archive of his talks. Sadly, all but two of the tapes for the Zen Mind, Beginner's Mind lectures are lost.
Although this book contains the earliest of Suzuki's captured talks, they hold up well in comparison to those that followed. Joseph Galewsky, a Zen practitioner and professor of Earth and Planetary Sciences at the University of New Mexico, has studied and worked with the Suzuki lecture archive. He remarked that these mid-sixties talks from Los Altos, which Suzuki knew were being recorded for a book, are to him the most clear and concise of them all, "with that warm, wise way of talking about the Dharma that has become the hallmark of Suzuki Roshi's teaching."
Rinzai Zen priest Eido Shimano, who since 1965 has led the New York Zen Studies Society, proudly showed me his signed first edition of Zen Mind, Beginner's Mind and with a nostalgic smile said, "I consider Suzuki Roshi not only as one of the great patriarchs of Zen in America, but also I consider myself as one of his hidden students."
Another Zen teacher who emphasized rigorous practice with koans, the late Taizan Maezumi, founder of the Zen Center of Los Angeles, said of Suzuki and his legacy, "Nobody can tell you about the past. What's important is not what happened or didn't happen back then. What's important is what we have here now. Even before this century, all kinds of priests in the Zen tradition came to America. We don't really know why, but until he came, no one started anything that lasted. After him, so much happened. That's what I most appreciate."
In 2000 Weatherhill brought out a new edition and, as with the first one, made little of it. Richard Baker who became Suzuki's sole dharma heir in America and literary executor of this book, corrected a few misunderstandings from his introduction. There were a couple of mistakes in the chapters, too, one being that Suzuki had, with customary absentmindedness, attributed the Sun-faced Buddha, Moon-faced Buddha story to Ummon (Yunmen) rather than Baso (Mazu) – and no one caught it in time or did anything about it for thirty years. I understand that the Japanese translator took Suzuki to task for that in his introduction. It hasn't done well in Japanese. He's been regarded by the Soto Zen establishment in Japan as overrated in the West, possibly because he acted on his own, not within or through their system of which he was quite critical.
Fred Harriman, a brilliant translator I've worked with, whom I regard as an expert on things Japanese, says that in time they will inevitably come to recognize Shunryu Suzuki in his homeland, because he did something very important to them - he brought something completely Japanese to the West and successfully planted it here.
As Maezumi pointed out, we don't really know what happened in the past, but as I see it, a team of people heeded their highest angels to create this book. Marian came up with a manuscript entitled "Beginner's Mind" in which she had minimally edited most of the lectures she'd recorded. Suzuki suggested she pass the manuscript on to Richard so he could edit it. She gave it to him in March of 1967 just as Tassajara was preparing for the first practice period. When he finally read it the following fall, he agreed it was good material for a book—after more work. He worked with it awhile, but he was busy with the growing Zen Center and its fundraising efforts and turned for help to Trudy Dixon, a Wellesley graduate who'd also done graduate studies in philosophy at UC Berkeley. She agreed, even though she was married with two young children and was dealing with breast cancer.
The result was a close collaboration. Trudy and Richard would each meet with Suzuki to clarify what he meant in particular passages, and they would also meet together to discuss how best to express his meaning. Trudy devoted the last working energy of her life to this book - honing the language, organizing the talks into three sections and deciding on the quotation headings. As she was dying she continued to sit zazen, until it became reclining zazen, and finally lying down zazen. She is remembered for her intelligence, spirit, and courage.
In October of 1968, at Suzuki's request, Baker sailed for Japan to further study Zen and the culture it was wrapped in. He went with his wife and daughter, and the nearly completed manuscript. In Tokyo he would find the publisher.
Before me is the unedited transcript of a lecture that Suzuki gave in November of 1965. A sentence in it reads, "In beginner's mind we have many possibilities, but in expert mind there is not much possibility." In the book, through various stages of editing, that became the often quoted, "In the beginner's mind there are many possibilities, but in the expert's there are few." The message is unchanged but it reads better.
"I read Zen Mind, Beginner's Mind," Suzuki said once, "to see what the understanding of my disciples is."
On that day when the books arrived, Suzuki looked one over, made light of it, hung out awhile, and went with his wife back upstairs to their rooms.
****
David Chadwick is the author of Crooked Cucumber: the Life and Zen Teaching of Shunryu Suzuki, (Broadway, 1999) and Zen Is Right Here: Teaching Stories and Anecdotes of Shunryu Suzuki, Author of Zen Mind, Beginner's Mind (Shambhala Publications, 2007).
****
Sources for the quotes in this article, notes, and extensive elaboration can be found at www.zmbm.net.
"Shunryu Suzuki" is reprinted from Wandering Border (1987) by permission of Copper Canyon Press.
For various assistance in doing this article, thanks to Richard Baker, Rachael Boughton, Kelly Chadwick, Mike Dixon, Silas Hoadley, Michael Katz, Genine Lentine, Mark Lewis, Katrinka McKay, John Nelson, Bill Redican, Paul Rosenblum, Peter Schneider, John Tarrant, Steve Tipton, Peter Turner at Shambhala Publications, Dan Welch, Michael Wenger, and ... can't think of anyone else right now. Please remind me. - DC