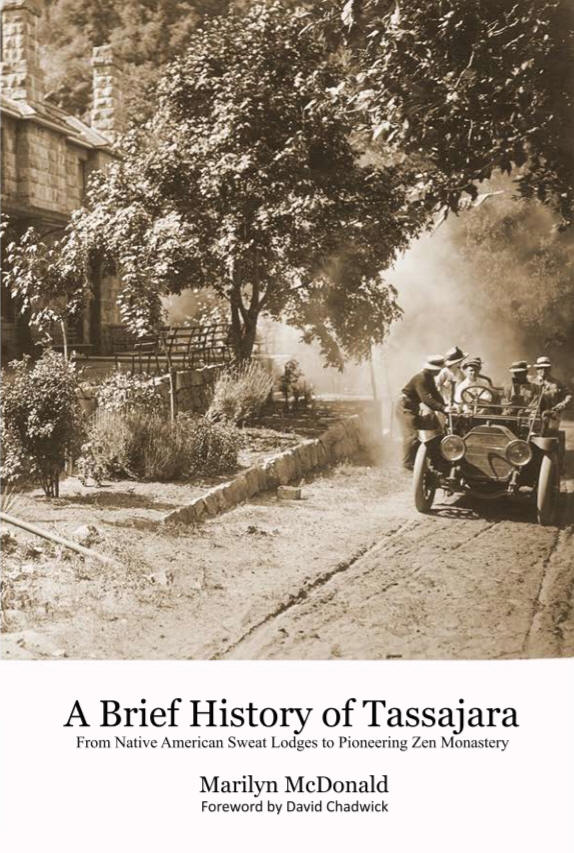 During the Tassajara Zen Mountain Center guest season of 1974, I had the position of head monk, really more of a head student, which allowed me plenty of time to relate to guests as well as other students. I'd run the guest dining room for the first four summers and was accustomed to being with guests. One repeat visitor I was pleased to see that guest season was Jack Novcich. I went over to the dining room toward the end of the meal to say hello to that great old character. That's when I met a new arrival, Marilyn Doyle, who later became Marilyn McDonald. She was sitting across from Jack and was obviously fascinated with a story he was telling about the old days. Marilyn was friendly and curious. She had an immediate interest in the history of the place and, fortunately for her, dear old Jack Novcich was there to talk to her at any length she wished about what he'd seen and heard in the sixty years or so he'd been coming. I saw her and Jack together a lot during her stay. She tells about meeting him in the introduction and he's quoted a few times in this book, the culmination of the years of in-depth investigation that Marilyn embarked on that day.
I got to share some highlights of Marilyn's progress the next year when I was director. By then she knew more about Tassajara history than anyone I knew except Jack. I admired her for sticking with it, and felt we were kindred spirits in that I was focused then in my free time on studying Zen writings and chants in the original. I saw in Marilyn that same sort of drive and suggested that maybe we had the research gene.
After that year I didn't live at Tassajara but returned for short stays in the summer and sometimes would be there when she was, her store of knowledge about Tassajara's past ever vaster. I lost track of Marilyn but would think of her when I'd pick up the scrapbook she'd left us with historical clippings, photos, and stories.
In the late 1980s I got into writing about my experiences in Japan and Zen Center and about the life, teaching, and community of the San Francisco Zen Center's founder, Shunryu Suzuki. A few websites grew out of that work. One, cuke.com, included interviews and background. Early last year I decided to create a page for pre–Zen Center Tassajara history to gather in one place what there was here and there on the site and elsewhere within easy reach. I remembered Marilyn and her work and decided to contact her. I sent a message to Leslie James, a senior teacher in Zen Center, who along with her husband Keith Meyerhoff has been living at Tassajara and Tassajara's way station at Jamesburg for many years. I learned then that Marilyn had passed on just half a year prior and that there had been a service for her at Tassajara. It was sad news to hear and I wished I'd thought of contacting her much earlier.
I brought up with Leslie the possibility of getting Marilyn's material scanned and preserved better, something that I'd thought about for years. I was relieved to learn that Marilyn's friend Mark Stromberg had just recently contacted Keith to discuss making Marilyn's scrapbook more widely available. Before long I was corresponding with Mark and then Marilyn's son Larry Burns. Each of them sent me a pdf of slightly different versions of her book. Larry and his sister, Lee Doyle, wrote a touching remembrance of Marilyn that now resides on a page on cuke.com for her and this book (www.cuke.com/tass-marilyn). In it they wrote:
She was, in many respects, while quite outgoing, a very private person. She was a maverick in all things, refusing normalcy, distrustful of the status quo. She loved gardens, but more so the notion of a hidden courtyard with thick overgrown ivy on high walls separating, as well as protecting her from the world at large. She was an intensely loyal, family-centric person who raised five children, two of her own and three from her second marriage.
From the mid-1970s through the early 1980s, she traveled to Tassajara on weekends during the guest season—May to September. While practicing Zen, she began writing the history of the Hot Springs. She took to traveling widely in Monterey County at every chance, interviewing anyone and everyone who'd been part of the place, from the stagecoach drivers to the cooks. She documented conversations and stories, collected boxes of pictures, and passionately began writing an important part of California history with the skill of a scholar.
Now I find myself back again with Marilyn in the intriguing narrative of this book. I imagine times when there were grizzly bears, trappers, a creek full of fish, a narrow trail leading in just wide enough for a horse, the labor intensive building of the road, the early guests camping out in tents, the twelve hour trip in on the horse drawn stage from Salinas, the early cars, the bootleg whiskey guests would sneak in, the outdoor dance platform, the great old sandstone hotel, and the most evocative—contemplating the unknown thousands of years the Esselen and other Native Americans came for the sacred waters and purifying steam in sweat lodges.

Marilyn had a clear eye and tells this story as it was told to her by people and news clippings—without any romanticizing or unnecessary elaboration. She did a good job on the final brief Zen Center section. I was at Tassajara from a few months after it was purchased and can vouch for most of what she wrote. I also checked things out with others including Tassajara's first head monk and Suzuki's virtual co-founder of the place, Richard Baker, the director for the first few years Peter Schneider, the first head cook Edward Brown who had worked in the kitchen there the year before Zen Center acquired it, Alan Yehudah Winter who was there very early on, and Leslie James for the later years. I found that people were delighted to be reminded of those early Zen days at Tassajara.
A meal chant used by practitioners at Tassajara has this line: "Seventy-two labors brought us this rice. We should know how it comes to us." Many labors likewise brought us Tassajara in unspoiled condition after being tended for millennia by Native Americans and for a century by immigrant stock. In Buddhism, caring for the physical space one inhabits is an integral part of the practice. Shunryu Suzuki said, "Cleaning is first. Zazen (meditation) is second." This book reminds us that while we may have brought a new spiritual lineage into that valley, it met there the ancient spirit of the place and the people who came before.
David Chadwick
March 18, 2018