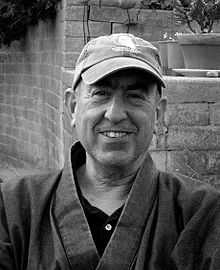 Alan's Clear View Project - Buddhist-Based Resources for Relief and Social Change
Berkeley Zen Center - Alan is the vice abbot. He's all over their site including dharma talks.
Alan Senauke dharma talks on Audio Dharma
Wikipedia page for Alan Senauke
Read about Alan's new book (April 2014) Heirs To Ambedkar: The Rebirth of Engaged Buddhism in India
FaceBook page for Alan's latest music album: Everything is Broken: songs about things as they are ------ Get Everything is Broken on CD Baby
Interview on EcoBuddhism - You Don't Wake Up Alone
Do a web search for Alan Senauke and much will be revealed
Do a site search for Alan on cuke's Home or What's New page. There are pages of links to pages with his name.
3-13-14 - We're in Kuala Lumpur now staying at CLIC (Cooperative Learning Initiative Community) that's in a residential area. It's also a school run by Wai. Her husband is Vidya. I met them through Alan Senauke. - more in Saunters - Wanted to link to something for Alan but there's so much here on cuke decided to make a cuke link page for him. - dc
---