Suzuki Stories | Suzuki Lecture page
---
21-02-15 - Shunryu Suzuki gave a talk at Grace Cathedral in June, 1968
Received the following in an email today (message below). I cut and pasted the pertinent parts below from the publication.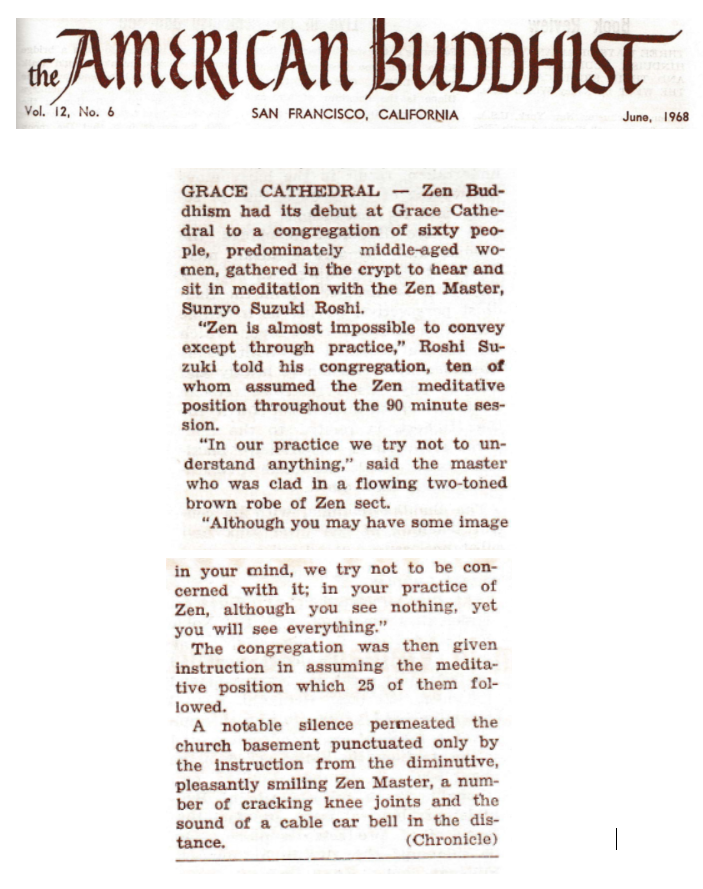 Hi David, I hope this email finds you doing well (under the circumstances). We met back in 2009 at the 50th anniversary event for Suzuki Roshi coming to America, I was one of the speakers for the UC Berkeley academic side of the festivities. My talk was on the transition of American Zen from counterculture into a successful subculture.
While going through some materials for a research project I'm conducting on Engaged Pure Land Buddhism, I came across a tidbit I thought you might not have, and when I searched at Cuke.com, I didn't turn it up. So, I'm attaching it here, in case it's useful for your ongoing project..
Best wishes,
Jeff Wilson
Professor of Religious Studies and East Asian Studies
Renison University College, University of Waterloo
Thanks Jeff! - DC
---
*** Go to Suzuki Stories for more