---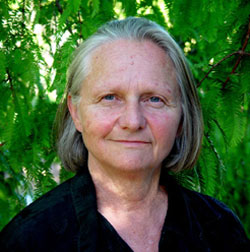 Yvonne Rand Main Page
---
Yvonne Rand is a meditation teacher and lay householder priest in the Soto Zen Buddhist tradition. She began her practice and study of Zen with Shunryu Suzuki Roshi in 1966. Her other principal teachers and mentors have been Dainin Katagiri Roshi, Maureen Stuart Roshi, His Holiness the Dalai Lama, the Venerable Tara Tulku, and Shodo Harada Roshi. Her primary practice path is Zen, augmented by practices and teachings from the traditions of Theravada and Vajrayana. Ms. Rand incorporates insights from western psychotherapeutic traditions in her teaching. She also investigates the relevance of the arts and gardening for training the mind. Ms. Rand is married and is a mother and a gardener. [bio sketch she uses]
---
cuke dot com Interview with Yvonne

Click
here
for Shunryu Suzuki Photo Archive images
and links to all
cuke.com
pages on .
MEMORIES OF SUZUKI Roshi FROM WIND BELL AND DC FILES - #27 - Yvonne Rand
Check out Goat-in-the-Road, Yvonne Rand resident teacher. Note the link to writings. Yvonne was a close student of Shunryu Suzuki's as well as a secretary, advisor, and caretaker. Yvonne teaches in the San Francisco Bay Area and lives in Mendocino Country.
Shunryu Suzuki's Death and her Entry into Hospice Work
Buddhadharma panel on Who Will Teach the Dharma
An Interview with Yvonne Rand by Dayna Macy of the Yoga Journal in the Sangha-E! newsletter (on women's issues)
Expectation - an audio link from Dharma Seed
Hear a talk given by Yvonne Rand - on Audio Dharma dot org
Women's Buddhism, Buddhism's Women: Tradition, Revision, Renewal - Google Books Result - Joan Halifax, Tsultrim Allione, and Yvonne Rand
---
Bill Sterling page (Yvonne's husband)
---
On Facebook
Keeping Yvonne Rand in my heart and practice today. She entered hospice care and is turning toward her transition. Yvonne, a meditation teacher in the Soto Zen lineage began her practice and study of Zen with Shunryu Suzuki Roshi. Later she studied with many other masters.
Yvonne was part of the original advisory group that gave birth to the Zen Hospice Project. I'm feeling deep gratitude for her life, work, and friendship. It was Yvonne who taught me about Jizo Bodhisatva and how to ritually bath a body after death. We did it a number of times together before I introduced the ritual and Jizo statues to our staff and volunteers at Zen Hospice and later to Metta Institute clinicians and students.
Yvonne could genuinely be described as a force of nature, powerful, impeccable, with fierce compassion, great humor, and with a nonstop commitment to dharma practice and the empowerment of women. Yvonne was a brilliant teacher of Buddhist and other teachings on death and conscious dying. She was instrumental in creating the Jizo garden at Green Gulch Farm. A peaceful refuge where we conducted many memorials. Her contributions...too many to count.
I spoke with a friend who was with her yesterday for a beautiful soul to soul meeting. Yvonne despite her recent confusion, would surface into presence and simplicity without perseveration. I trust her access to the mindstream. She has guided so many through this process. She will find her way.
Thank you Yvonne...may your practice guide you.
Gate Gate Paragate Parasamgate Bodhi Svaha
---