Rick Levine
---
Cuke Podcast with Rick 🔊 10-10-20
---
Rick on Crooked Cucumber with errata suggestions - transcription from 11-09-99, full of memories of Shunryu Suzuki etc.
Just the errata from the Levine letter
---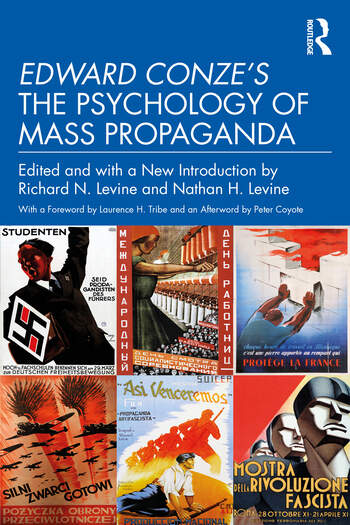 Edward Conze's The Psychology of Mass Propaganda presents a commentary on the psychology of propaganda during the rise of fascism in Europe in the 1930s. It discusses the conditions which generate vulnerability to misinformation in human societies, and thus offers insight into how propaganda may be "withstood." Completed in 1939, during the period of Conze's own inflection from Marxist philosophy to Buddhist studies, the original manuscript was never published and is now in print for the first time. Edited and with a new introduction by Richard N. Levine and Nathan H. Levine. Published by Routledge (on sale April 2023). Amazon link.
---
5-21-19 - Rick tells a story about Pete Seeger
1-06-17 - Rick's calligraph of the Heart Sutra down below - done for Kazuaki Tanahashi & Joan Halifax's book, The Heart Sutra.
---
8-04-16 - Rick Levine and Pat McMahon interviewed for Reed College oral history. - 46 page PDF - really good. - dc
go to cuke Reed College page for a few comments on this interview
Rick note on Yvonne Rand with Conze letter exceprts
---
8-01-16 - Rick has some comments in David Schneider's cuke interview.
---
4-07-16 - BOOK REVIEW/LETTER TO REED MAGAZINE
from Rick Levine on Crowded by Beauty: the Life and Zen of Poet Philip Whalen by David Schneider
---
10-11-13 - What do you do in this Brief Time? - a1989 interview with Rick Levine by David Schneider
---
1-07-14 - The Edward Conze audio files replaced with noise reduced MP3-320k versions worked with by Charlie Wilson now at the Cuke AV Center.
11-03-13 - 1990 article co-authored by Rick Levine and Steven Lane on caring for HIV homeless
9-09-13 - Eminent Buddhist scholar Dr. Edward Conze MP3-48k audio sent by his student Rick Levine - a talk Conze gave at the SFZC City Center around 1972. [revised link]
Thanks to Rick for scanning an excerpt on his SFZC memories from Edward Conze's autobiography
Edward Conze was an eminent Buddhist scholar who focused on Prajna Paramita scholarship and translation. We were most fortunate to have his occasional presence at the City Center and to be able to audit his courses at UC Berkeley. At the first practice period of Tassjara we studied Dr. Conze's translation of the Heart and Diamond sutras. Deep apologies to him and his publisher for having made photocopies to hand out to all 80 students. - dc
---
9-05-13 Rick Levine with Charles Leong (audio) MP3-24k (7.5 Mgs) - MP3-48k (15 Mgs) - Once Leong starts talking about fishing he doesn't change the subject till the end. In the last few seconds his voice speeds up humorously beyond comprehension due to battery death at time of recording.
Rick sent me this tape to digitize partially so David Schneider could listen to it as David went to Reed College and is working on a bio of Philip Whalen, another Reedite. I looked into who Leong was and found this: Gary Snyder learned calligraphy from an older Reed friend, Charles Leong, a Chinese American who served in World War II.

Rick writes: Chas. was a GI Bill Reed student friend of Phil/Gary/Lew, early 50's. Gary wrote "to the Chinese comrades", poem, mentioning Chas. He was native Chinese, my unofficial mentor at Reed. Lew Welch wrote about him as well. I'm astonished at how "legible" the audio file is--I listened all the way through and pretty much decipher every word. The discussion took place roughly August of 1979 at Charley's home in Portland OR--that makes it 34 years ago on an old cassette.
---
Rick also sent this audio for talk from Lloyd Reynolds at the SFZC City Center.
---
Anecdote from Zen Is Right Here (formerly To Shine One Corner of the World)
PDF of Rick's - not of that memory of Shunryu Suzuki

These words were spoken at Tassajara during August of '69 (It was during that month that the photo of Suzuki Roshi holding the teacup on the back dining room porch was taken)

Student: Sometimes I get lethargic and discouraged about life and practice.

Roshi: This is good. We must stand for improvement exactly where our problem is. All practice has these moments.
Rick in Shine Outtakes
Once in a lecture Suzuki Roshi said, "There is double difficulty for new students. Older students should help new students, make practice easier for beginners. There is also double difficulty for older students."

Once when Suzuki was quite sick and being helped to a bed, he said, "Now I can be a little child, I don't have to be a Zen Master."
Rick on Shoes Outside the Door - a letter to the author, Michael Downing
Excerpt from an email from Rick Levine on the Crews review of Shoes Outside the Door in NY Review of Books
The cuke interview with Brit Pyland was conducted at Rick's house and he's in there in a few places. Thanks Rick. - dc
6/14/04 - From Two Jobs for a Monk - Dr. Rick Levine adds that he remembers a lecture given by Richard Baker at the SFZC wherein he said that Gary Snyder had gone to his teacher, Oda Sesso, and said that he was involved with work like environmentalism and what did Sesso think of that and that Sesso replied that there are two jobs for a monk - sitting zazen and sweeping the temple.
3-26-05 - Recently I got an email from Rick Levine which referred to Brian Victoria's "hugely important" Zen War Stories. - from the Brian Victoria page
An interesting note referring to Victoria and more from Rick at the top of this page of DC Misc
---
Rick's calligraph of the Heart Sutra done for Kazuaki Tanahashi & Joan Halifax's book, The Heart Sutra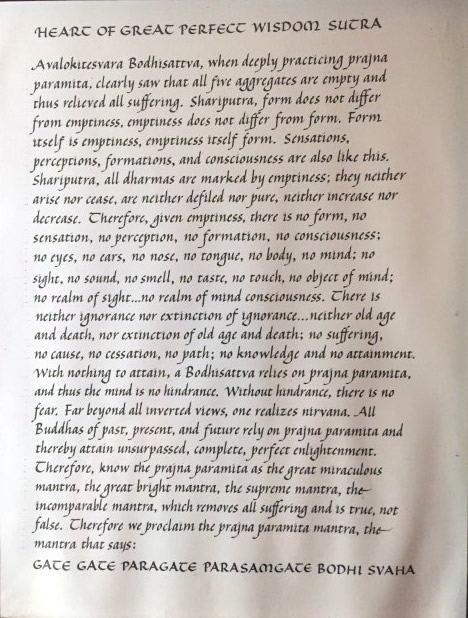 ---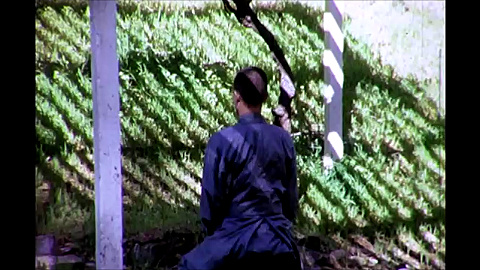 Looks like Rick to me from 1968 Tassajara Film. Rick will confirm or not and if not I'll leave it here as what he would look like if it were he. - dc
Also in Shunryu Suzuki photo archive see
SR0023
SR0071
SR0242
SR0247
SR0249
---
Rick Levine's comments with photos about a boat ride to scatter Barbara Giradot's ashes by Rick with Tom Giradot and Bruce McAllister - on Bruce's memorial page.
As an Amazon Associate Cuke Archives earns from qualifying purchases.