---
The Story of The Mother of All Buddhas
Elizabeth Sawyer founded the Back Porch Zendo with her husband Ken in Sebastopol, Sonoma County, California. She and Ken met at Tassajara Zen Mountain Center and were married by Katagiri-roshi [41] years ago. Her first training period was led by Richard Baker, who was newly Abbot after Suzuki-roshi's death; Reb Anderson was the shuso. Ken and Elizabeth lived at Zen Center for 17 years, leaving in 1988. Elizabeth also assisted Norman Fischer to establish the Everyday Zen Foundation [Update: Myogen Steve Stucky is the guiding teacher for Back Porch Zendo].
From Bay Tree Burl to Prajna Paramita
By Elizabeth Sawyer
A California Bay tree burl was exhumed from its premature grave here on Friday, by a crane we rented. The crane operator told us it weighs 12,000 pounds. That is 6 tons! It is slightly smaller than a Volkswagen. Our friend, Paul Discoe, master builder and wood lover, said that the raw material was worth well over $5,000.
Our friend Buddhist long time lay ordained practitioner and contractor, Ralph Wholey, dug up this great root ball over two years ago to make way for the new shop that he built after our old funky shop was flattened by a 185 ft. Doug Fir that fell the year before in a rare Sonoma County hurricane. Ralph initially told me it was worth a lot so I tried to sell it on E-Bay. No bites. Then I tried to give it to two woodworkers; one was an artist and the other a well-to-do wood working enthusiast, who told me that there was an article in the local woodworkers newsletter about it. No one wanted it nor could they deal with its size or the amount of work it would take to prep it, never mind creating something from it.
The burl sat above ground for about a year. One day I asked my husband Ken what we should do with it. His solution was to bury it, so he dug the "grave" with the Sawyer Construction backhoe. He dug as deep as he could with our equipment and then pushed the big rooty ball into the hole. When he tried to cover it up, it was obvious that the hole was not deep enough; the roots stuck up and out pointed towards the house. In fact, they beckoned to me day after day. One day I had the inspiration to carve a Buddha out of it. Or maybe a better way of saying it is that I heard and felt her call to me.
I called our friend and neighbor, master carpenter,sometimes sculptor, ordained Buddhist priest Myozen Barton Stone, and asked him if he wanted to help me carve some kind of a Buddha. He was enthusiastic but wondered if he could devote enough time to what would obviously be a long-term project. I told him that it was o.k. with me if it took us ten years. So he said, "Okay, I'm in, let's do it".
Barton offered one of his sculptures as the inspiration and possible template. It is a very pregnant woman modeled after one of his friends. He depicted her with some of the "marks" of the Buddha and calls her Buddhamama. We are agreed that the real Buddhamama would emerge in spite of our plans. Someone reminded me that Michelangelo was once asked how he sculpted his amazing statuary. He responded by saying "I see the angel in the marble and carve until I have set it free."
Early on in the process, Barton came over to take photos. He brought his Buddhamama. He, Ken, and I put her on the altar and offered incense to her and to Kwan Yin. We then bowed to them and to each other. I said, as we were bowing, "May Buddhists all over the world lose their denial of the Feminine," though perhaps saying, "May Buddhists all over the world fully embrace the Feminine," would have been a gentler way to put it.
I call Myozen Barton the Artiste, myself the visionary/entrepreneur. Ken was an important part of our support team. He was the enthusiastic "infrastructure man". Helping by building a makeshift enclosure out of plywood and junk lumber, with chain saw work, lending us tools like the Multi Master, sanders and extension cords, power washer, etc. There was enough overlap between the three of us in these areas that we never needed for anything. Whatever we needed from each other, appeared w/o hesitation or quarrel. Our son Micah, moved the half complete (now about 3 ton) figure from the gravesite to her current and "permanent" place of honor with a fork lift. Our dear friend Zen Man, Tony Patchell took the early photos.
We see Prajna Paramita, as she was christened by the Eye Opening Ceremony held here August 25, 2013, by Myogen Steve Stucky who is serving as the central abbot of the San Francisco Zen Center, and by Jisho Warner the abiding teacher and founder of the Stone Creek Zen Center in Sebastopol CA, as the center of ceremonies, providing a place where people can visit and contemplate. We have put her on the 6 ft. diameter stump of a 90 year old tree that we had to cut down several years ago. Thus the mother of all Buddhas, will have the comfortable seat of bliss and repose; wood arising from earth, wood seated on wood, emanating grace and compassion for us all.
Final Note: After being dug up and buried, and sitting above ground for over a year, this great burl was still sprouting branches and leaves!
---
Photos below of the 8-25-13 Eye Opening Ceremony of the Prajna Paramita a figure that Barton Stone, Elizabeth and Ken Sawyer and myriad beings have been working on for the last 7 years. She is a bigger than life sized Buddha carved from a 6 ton Bay tree Burl.

Myogen Steve Stucky, central abbot of San Francisco Zen Center and Jisho Warner, abiding teacher and founder of Stone Creek Zen Center presiding.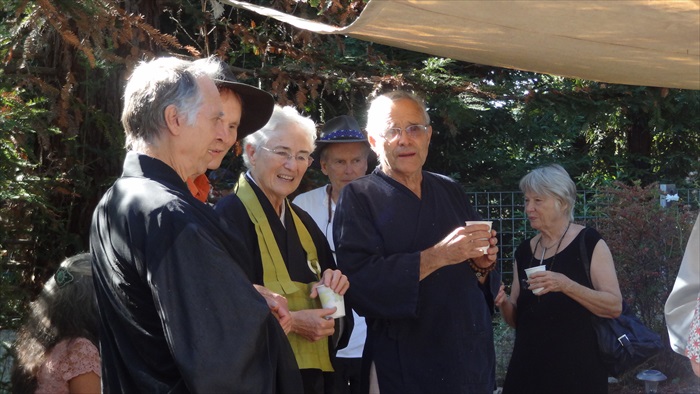 L ro R - Barton Stone, Barry Vesser, Jisho Warner, ?, Ken Sawyer, Alexandra Hart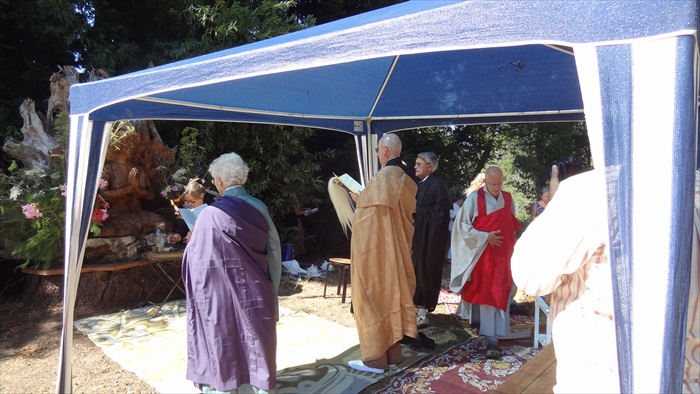 L to R - Elizabeth Sawyer at the altar, Jisho Warner and Steve Stucky leading ceremony, Ken Sawyer and Jeff Tipp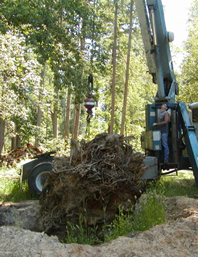 the burl being moved seven years ago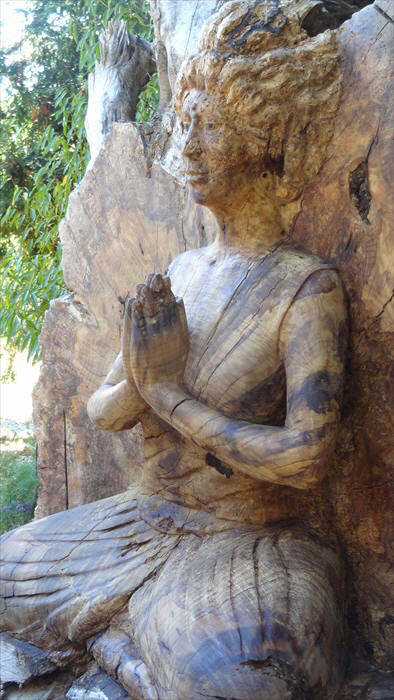 photos by Howie Klein
Barton Stone called her Buddhamama. The official name is Prajna Parimita