Tim (Thomas) Buckley
Suzuki student (now ordained by Peter Schneider) Tim Buckley's Great River Zendo in West Bath, Maine. Here's their listing on the SZBA site. Here's their Facebook link.
---
MEMORIES OF SUZUKI Roshi FROM WIND BELL AND DC FILES - #6 - Tim Buckley
Tim with Suzuki Roshi in his Garden story from that letter in Brief Memories
3-31-11 - Is That So? by Laura Burges on Tim Buckley: Zen Way, Yurok Way
on the SFZC website.
9-21-13 - Tr. McC.'s Zen memories with an emphasis on his long friendship with Tim Buckley.
---
Books by Thomas Buckley
Standing Ground: Yurok Indian Spirituality, 1850–1990 by Thomas Buckley (UC Press page for the book)
Here's a note from Tim about the book put on cuke in Dec. '09
---
Blood Magic: The Anthropology of Menstruation
University of California Press (June 2, 1988)
---
Walking in Beauty: Growing up with the Yurok Indians
by Harry Roberts - Tim Buckley helped Harry create this book, wrote the introduction, and wrote the following about the book including how to get it.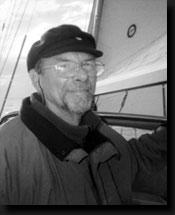 Tim has done some serious sailing.
---
Tim is mentioned many times on cuke. Just go to Home or What's New page and do a site search for Buckley to see some of these instances, some of them photo credits. - dc