Betty Warren
---
---
First Sesshin Remembrance - What do I call this? It's a souvenir - no, a pamphlet - no, a piece of paper - within a heavy black paper cover - with stuff about Shunryu Suzuki and students' first sesshin at Sokoji - kanji on the cover that reads sesshin, the temple stamp (I think so far), a statement by him, the schedule, Betty's name, the date and his signature in Japanese. - DC
These images are thumbnails - click them to enlarge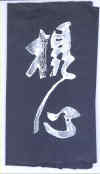 The cover reading "sesshin." Written surely by Shunryu Suzuki on thick black paper and folded over with the leading edges folded again an inch and a half to hold in the remembrance or whatever it should be called.

The left side on the interior - the Sokoji temple seal and Suzuki's statement for the occasion.

The right side of the interior - sesshin schedule and to the right of that, Betty's name, the date, Shunryu Suzuki's name and temple name, and his seal. And something I don't quite get.
Translation of the kanji, Sino-Japanese characters, of this document.

A tiny overexposed Polaroid photo of the first sesshin. Maybe. Anyway, it's early and came with the above document thingy. L to R in back, Della Goertz, Kazemitsu Kato, Shunryu Suzuki, George Hagiwara (I think). In front on left - Betty Warren and third from right Jean Ross (I think).
Suggestions for what to call the whole thing and the inside part encouraged.
See another cuke presentation of these images
---