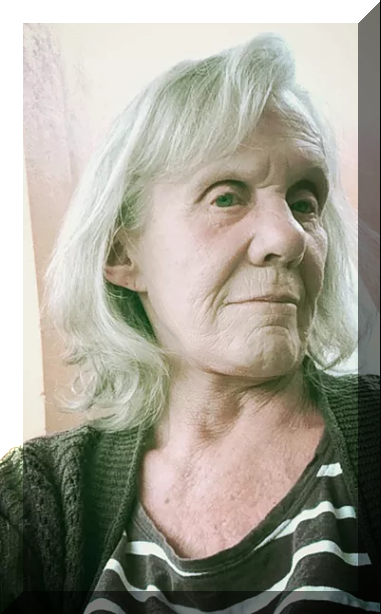 Mary Quagliata

Cuke Podcast reading from this page 🔊

On Suzuki Roshi by Mary

Mary on Vimeo - Non-profit videographer - A Facebook post by Barbara Gates about a video Mary made on Barbara

Mary's gallery for her art - and a feature on her art at ARTPAINTSTUFF which calls her art "astonishing."

There are other posts online about Mary's art and video - just do a web search for her rather unusual name.

*************

Mary was an early student of Shunryu Suzuki. I always thought of her as a potter, but she's more of a painter and videographer in recent years, decades? She lives in San Miguel de Allende or lived there for years. She was in Oakland for at least a while back in 2013.

Mary was living for a year at Genjoji, Sonoma Mt. Center, a ridge over from John Tarrant's barn where I was living. We visited some during that time around 2010. We did a nice interview which I didn't transcribe and upload onto cuke right away. Big mistake because I haven't been able to find it and I spent hours several times in 2011, 12, and 13 looking in files and notes. I can't get her to redo it either. It really bothers me still, years later. However, Mary had previously had sent the memories of Suzuki. And she has put a lot up on the web so we can enjoy all that. - DC
---
Mary on her Life

I was born in California and live in San Miguel de Allende, Mexico, and have for 25 years. I attended the San Francisco Art Institute, studying with Elmer Bischoff and Jim Weeks. I became interested in Zen Buddhism in high school, and was fortunate to be able to practice with Shunryu Suzuki and Dainin Katagiri in the 60's and 70's in San Francisco. I like to think that a Buddhist sensibility infuses my painting.

​​Within the last 15 years I've begun to travel, often volunteering in places such as India and Laos, where the education for girls and women leaves much to be desired. I've helped with art teaching and the making of videos to assist in bringing attention to the necessity for women's primary and secondary education globally.

Mary on her Art

I paint from my imagination, themes and ideas that occur to me. I paint a series of 5 or 6 canvases in a row that relate to a single idea. Often the idea is symbolic of something very large, something that I cannot grasp with reason. But sometimes the idea might be a simple one, very familiar and real, everyday life. As with Expressionism, I try to achieve the feeling of beauty by using exaggerated or distorted form, color and line. Currently I favor a composition that is rather flat, lacking scientific perspective. I think there's a lot more to say with Expressionism, more to comment on in that fertile field stretching from Matisse, Picasso, Nolde, etc. to what came to be called Abstract Expressionism.