Click here for Shunryu Suzuki Photo Archive images and links to all cuke.com pages on .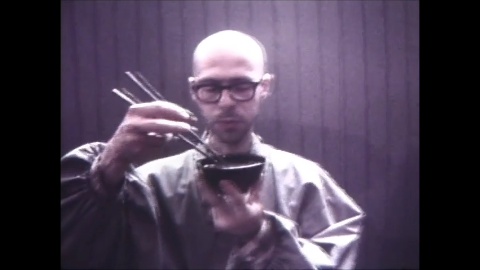 Jerry in 1970 at Tassajara from the outtakes of Zen in America segment of the film, Sunseed
---
A couple of brief memories of Shunryu Suzuki
---
Jerry in Haiku Zendo Chronicles remembering Suzuki, Kobun, Yoshimura
---
Jerry remembers Sotan Tatsugami and the Fukanzazengi.
Jerry remembers The Lost Bowl (below)
---
Los Altos Hills Haiku Zendo Ho To newsletters scanned by Jerry
In addition to stories, poems, and events which give a feeling of the Haiku Zendo Sangha when Kobun was there, these issues of HoTo include a record of Haiku Zendo's and Kobun's effort to acquire the Pentler Estate. When Charles and Fumiko Pentler died their property and beautiful Japanese style home in the Cupertino foothills was inherited by the Palo Alto Quaker meeting which intended to sell it. This came to the attention of Haiku_Zendo and an attempt to acquire the property was made by the Haiku Zendo Sangha. The Pentler home and property was ideal for Kobun and for the Haiku Zendo Sangha to develop a temple/practice_place. The eventual failure to acquire the Pentler property was a bitter disappointment to Kobun and was, in my opinion, a turning point in his life.
In 1979, some time after the failure to acquire the Pentler estate, both Kannon_Do (where Les Kaye has been chief_priest/abbot since 1982) and Jikoji were bought at the same time with the money raised for Kobun and Haiku_Zendo to buy the Pentler estate."
---
A 1999 email from Jerry commenting on Crooked Cucumber, Suzuki, Tatsugami, and the Haiku Zendo Chronicles.
---
Thanks to Jerry for helping to indentify photos of Marian Derby, her home, and the Haiku Zendo in the photo archive at shunryusuzuki.com.
Here's a photo of Marian he identified that I hadn't recognized. - dc
---
---
My recollection of an encounter with Tatsugami Roshi at shosan. I am mentioning it to you in praise of Tatsugami. I do not think he was given proper appreciation at the January, 2008 reunion at Page Street of Tassajara practitioners from 1967-1992. - Jerry
===========================================
Jerry: When speaking is only noise, and not speaking is only silence,
When acting is only confusion, and not acting misses the opportunity,
What then?
Tatsugami Roshi:
You have strong attachments. Do not be so attached and you will see what it is.
===========================================
His response (slowed slightly by the need for interpretation) was immediate.
"Seeing the rabbit, he looses the falcon"
---
WHAT I REMEMBER
I think this incident occurred during the guest season in the summer of 1970, not during a practice period. At that time I headed a "crew" of mostly temporary "student" summer visitors that washed, cleaned up and put away guest dishes and miscellaneous dishes/pots/kitchen things after the evening (and other?) meal. One day I learned (I think it was you and Mel who told me) that Suzuki Roshi was missing one of his bowls and had asked that we be on the lookout for it. I set out to find Roshi's bowl. My usual way to find something like this is to assume Nothing and to methodically "look under every stone". I think that I started this effort to find Roshi's bowl in the middle afternoon (or maybe I began during or after the evening clean up. I believe that I was at it for 1 to 2 hours. Since the interval from dinner until evening zazen was not so long, it's probable that I did my search earlier in the day). I looked in detail in every place that I could think of, first the public places where all of the oryoki type bowls (including loose bowls of this sort---odds and ends for utility) were kept or used. And I checked "special" places like those where the utensils used for preparing the mealtime Buddha offering were kept. But No Luck; I found nothing.
For a while I think I was at a loss; defeated and not knowing what further I could do. It then occurred to me that there were many bowls wrapped up in oryokis in the zendo. I thought it unlikely that Roshi's bowl would be there, but in a spirit of impartial thoroughness, I decided to unwrap and rewrap each of these oryokis (60+?) and check each of them for Roshi's bowl. About the time, or soon afterwards, that I began to do this in the zendo, I think Mel and you came by. I retain the very strong memory that before you came, I had, in accordance with my basic plan of operation, decided to check each of the oryokis in the zendo. After I had explained to you what I was doing, you and Mel may have joined me in checking the zendo oryokis (I am not sure of this, but it is my best memory). Before we had checked many of the oryokis, I found Roshi's bowl in Lynele Jones's oryoki set. Roshi's bowl had a brownish hue, was a bit oblong, and I think of a different material than that of the black (lacquered?) bowls which were in general use at Tassajara.
We, you, Mel, and I, then proceeded to Suzuki Roshi's cabin. He was there and we restored his bowl to him.
---