John Bermel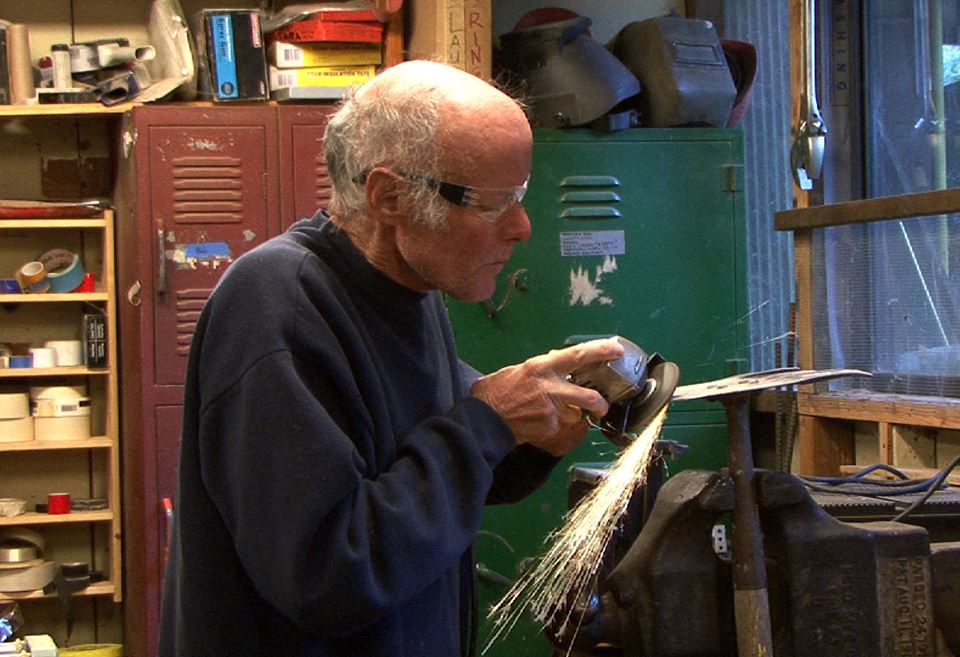 From Cuke What's New Blog (18-08-02) - Just got a Facebook post from Judith Keenan that dear friend John Bermel has died.
Klamathon Fire Wikipedia page - As David Silva pointed out, John was the only fatality of that fire, listed as John Karl Bermel dying of fire related causes.
---
From Judith Keenan's Facebook post (with 38 comments)
The above photo is of John Bermel in the shop at Tassajara Zen Mountain Center. He went to the work periods at Tassajara starting in the 1980's, helped during the summer at Tassajara if they were stretched, and went to the work periods at Green Gulch Farm. He died in the Klamathon Fire.

David Silva - Friends remember Hornbrook man killed in Klamathon Fire - on KTVL site with video

Details released in lone Klamathon Fire death - An earlier brief KTVL report
above links to stories, article text and photos only below

I, DC, posted this comment: Thanks for sharing this Judith. John was a very close friend, He used to come work on our home with Dennis Samson and me in Sebastopol and latter at John Tarrants when I was in the barn there. Katrinka and I are sad to hear the news.
Dianne Renshaw wrote: John was a pillar of work period and a wonderful man to have known all these years. Gate, gate...missing him already.
Renshin Bunse wrote: Oh wow. I remember him. He told me the fig tree down by the suburbs came from a slip off a tree in his family's yard. Nice nice guy. He was one of the ones who'd sleep in the parking lot the night before work period started.
Graham Ross wrote: Oh my, Heartbreak! John was a dear friend and one of those long time practitioners who was so dedicated to the service of the Sangha. I totally admired him. Deep loss here. Many bows.
Linda MacElwee - Safe journeys John. A Good, kind hearted soul. Always volunteering his time at Tassajara and he helped out up here at Shenoa. He always liked that Andy had a made a rooted cutting of that fig down by the Tassajara lower barn, a Desert King variety, now growing at our home.
Taiyo Lipscomb - Thanks Judith, i remember his well as he usually had something sage to say when we bowed in at the shop during the work period. So sad ...
Mako Voelkel - I am so sorry to hear that John Bermel died! He was the longest-going work period person and Tassajara-lover that I had ever met, and I looked forward to seeing him each WP... Judith, do you know the details of what happened? He was such a kind and sweet person, always ready to jump in and help with whatever was needed!
---
From Tassajara Newsletter
Gentoku Smith, City Center's Director, remembers John Bermel (above), a good friend of Tassajara who died in the Klamathon Fire in June [July 5]:
John first came to Tassajara in the early 70's and set up a tent on the lawn during one of the early work periods. He came nearly every spring work period since and even spent most of one summer at Tassajara as a guest student I remember that he was very excited to try something different by being at Tassajara at a time other than a work period. I admired him for doing that in his late 60's.
He cared deeply about Tassajara, the people he spent time with there, and the work that he took on during work periods. I don't think it's an exaggeration to say that he has worked on every structure at Tassajara through the years. He was also mechanic and did a fair amount of tree work. By the time I was plant manager, John had slowed down a bit so we assigned him the job of making small fixes on all the residential cabins. He was meticulous about carrying out the tasks.
I remember him as being incredibly sincere and curious with an unflagging desire to help. For me, his presence permeates Tassajara.
---
July 14, 2018 - Friends remember Hornbrook man killed in Klamathon Fire - KTVL - by Genevieve Grippo
Hornbrook, Cal. — Friends are expressing deep sadness in the loss of the man who died as the devastating Klamathon Fire tore through the town of Hornbrook, which burned nearly 38,000 acres in northern California and southern Oregon.

The Siskiyou County Sheriff's Office identified the victim as 72-year-old John Bermel. The office said an autopsy confirmed his injuries were consistent with a fire-related death, but the cause and manner of death will not be determined until toxicology tests return from the lab.
According to Sheriff Jon Lopey, evidence shows he was packing up his truck with his belongings when he was overcome by the flames.
"From what we can determine, John was planning to evacuate," said Christina Mickle, a long-time friend and ex-partner of Bermel's. "And then for some reason he went back into his house, and we don't know why and we will probably never know why."
In the meantime, those who knew Bermel remember him as a kind and gentle personality. She said he lived alone in his Hornbrook home, but was a skilled handyman.
"He is probably one of the most generous souls that I have ever met," said Mickle. "And due to his humility, he probably would not acknowledge the impact that he had on others, and how much he was truly loved and appreciated."
Mickel said Bermel was born in Berkley, California, and lived in the state nearly his whole life. She said he was a Vietnam Veteran, and described him as having a "brilliant mind."
"John Bermel is a very unique individual, and I've never met anyone quite like him," she said. "It was his ideals that compelled him to make the world a better place."
Mickel's words are echoed by the staff of the Klamath-Siskiyou Wildlands Center, an Ashland-based organization focused on preserving and restoring local wilderness. Bermel volunteered there on and off for 15 years.
"He was really interested in our stewardship program, where we go out and restore and protect special places on public lands," said Joseph Vaile, Executive Director for KS Wilds. "And he had actually been planning to go on a trip we're doing this weekend."

According to Vaile, Bermel was active and did not show his 72 years of age. He was the type of volunteer who was always prepared and willing to share.
"He would always bring stuff to these events like all the cooking gear you could ever imagine on a wilderness trip," said Vaile. "He was always the one who had the thing you needed when you forgot it."
Both Mickel and Vaile said Bermel was not an avid user of technology. He did not own a computer and would go to the public library to use his email. Instead of social media and texting, he preferred hand-written letters-- the most recent of which a staff member at KS Wild received last month.
"You don't find that often in this day of Twitter-- people writing long letters about what they're doing, what they're working on," said Vaile. "But it seemed like John was one of those people that valued that kind of correspondence."
Bermel is remembered to have a passion for the outdoors, specifically the hot springs found along the Klamath River. Vaile said it would be incredible to see the area restored as a tribute to Bermel's life.
***
July 12, 2018 - Details released in lone Klamathon fire death
SISKIYOU COUNTY, Calif. — Siskiyou County Sheriff Jon Lopey has identified the man who was killed as a result of the Klamathon Fire.
During a community meeting Sheriff Lopey identified him as 72-year-old John Karl Bermel.
He was found on his property on Pilot St in Hornbrook.
Sheriff Lopey says it happened July 5th, during the mandatory evacuation in his neighborhood. Evidence shows he was packing up his truck with his belongings, when he was overcome by the flames.
The autopsy results were conducted Wednesday, but toxicology results have not come back yet.