Record box cover
text on cover:
The Way of Eiheiji: Zen Buddhist Ceremony
Notes by Mrs. Elsie P. Mitchell
Recorded in Fukui Prefecture, Japan
by John Mitchell
Under the Supervision of Rev. Tetsuya Inoue
Click on thumbnail to enlarge

Record box back cover

Click on thumbnail to enlarge
and read table of the contents

Read it bigger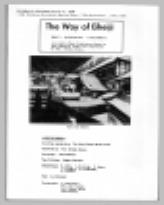 Booklet
that accompanies the record set
by Elsie Mitchell

Click on thumbnail to enlarge
The Way of Eiheiji - Entire booklet to accompany the recordings - 2013 scan.
---
Read the booklet included with the record set
Brief comments by DC
Cover (OCR approximate version)
Text - by Elsie Mitchell
Sutras and chants in Chinese characters
Glossary - English and Chinese characters
See the enlarged Chinese character list
View the photos from this booklet
Listen to a sample of the recordings [not yet]
---
Read about the creation of these recordings in article on Elsie Mitchell.
---
This music is now sold in cassette, CD, and now downloadable digital form through Smithsonian Folkways Recordings
- go to information on ordering -

A Smithsonian Folkways link to Japanese Buddhist Ritual from various sources.
---
---
The Way Of Eiheiji - Zen Buddhist Ceremony
Youtube audio - the whole two record set in one file
Audio here in four parts
Side 1 (101) - Side 2 (201) - Side 3 (301) - Side 4 (401)
101. Time-Telling Drum and Gong (Koten).
101. Hand Bell.
101. Meditation Bell (Kyosho).
101. Metal Gong (Dai Kaijo) and Small Board.
101. Sodo Bell (Nairansho).
101. Verse for Putting on Kesa (Takkesa-Ge).
101. Morning Ceremony.
101. Hannya Shingyo (Chant).
101. San Do Kai (Chant).
101. Eko (Chant).
101. Juryobonge (Chant).
201. Breakfast Preparation Bells and Gongs.
201. Eating Verses (Jikiji-Ho).
201. Dai Rai Drum.
201. Densho Drum.
201. Dai Hi Shin Dharani (Recitation).
201. Ryaku Fusatsu Ceremony.
201. Midday Service in Butsuden.
301. Fire Protection Ceremony.
301. Dai Hi Shin Dharani (With Eko and Refrain).
301. Interview of Novice.
301. Shomyo Chant.
301. Jikiji-Ho Chant.
301. Densho and Inkin.
301. Mokugyo.
301. Dharani Prayer and Refrain.
401. Evening Ceremony.
401. Memorial Service for the Dead (Segaki).
401. Kanromon (Gate of Immortality).
401. Shushogi (Taking Vows).
401. Konsho (Evening Bell).
401. Myohorengekyo Fumonbonge (Chant).
401. Jiho Sanshi (Close of Ceremony).
401. Hatto Bell and Keisu.
From Terebess