San Francisco Zen Center, the Suzuki and Uchiyama families, and Beginner's Mind Temple cordially invite you to join us in honoring the third anniversary of the passing away of Suzuki Roshi's sister, Aiko Uchiyama, whose Dharma name is Entai Myotatsu. To mark this occasion, we will hold a Sankaiki Houyou ceremony at the time of morning service, approximately 7-7:40am.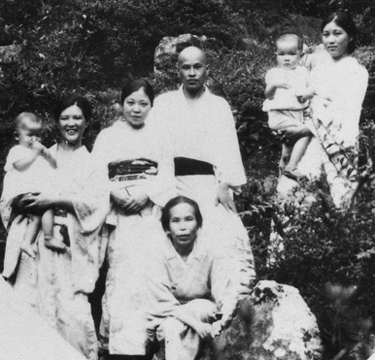 Photo from SF Zen Center's Archives: Suzuki Roshi with, from left, Haruko Shima, Chie (Muramatsu) Suzuki, Yone Suzuki, and Aiko Uchiyama at Zoun-in temple in Japan. Circa 1935.
During the ceremony, the family and sangha members will recite sutras for the deceased, and everyone will be invited to offer incense. A special open breakfast will be served following the ceremony.
---
AT the memorial yesterday I heard that this isn't Aiko but I'm not going to change anything till I get confirmation. Met her granddaughter, Haruko at the memorial and we exchanged email addresses. - dc - 10-14-12
---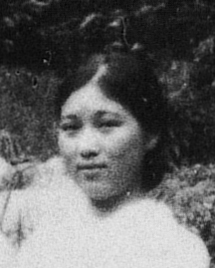 Detail of Aiko Uchiyama from photo above.
Aiko Uchiyama, Entai Myotatsu Zen-ni was born January 4, 1911, the youngest of three children, to Sogaku Suzuki and Yone. Sister to Shunryu Suzuki, the founding teacher of San Francisco Zen Center, Aiko married Tatsuzo Uchiyama in 1937, who later became the abbot of Zuienji, and had 3 sons and 4 daughters. Aiko was known to be diligent in her duties as a temple wife, and shared her Buddhist nature with the women in the community through sewing, flower arrangement, and tea ceremony. Her hard work and contributions have been recognized by Eiheiji, the main Soto Zen temple in Japan. In later years, Aiko's health problems became a great struggle; however, she always had an interest in her brother Shunryu's work in America and hoped to visit some day. Unfortunately, she passed away on December 31, 2010, just a few days short of her 100th birthday. In honor of her memory and life, Aiko's eldest son, Shuzo, his wife Tomoko, and daughter Haruko have requested that her 3rd Memorial Service be held at San Francisco Zen Center. They plan to be present at the ceremony, along with local members of the Suzuki family.
Ceremony: No reservation necessary; please arrive by 6:50 a.m. to be seated.
Breakfast: Please call 863-3136 to reserve a place at breakfast.
Gifts and Donations: Not yet determined.
---
posted 10-04-12 - from the recent SFZC's Sangha News Weekly
3-07-15 - See note on something Shuzo, Aiko's son, said to me at this event at the bottom of this page.